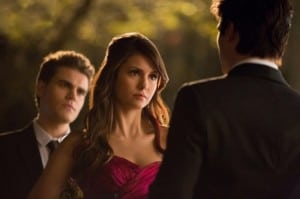 As is tradition in Mystic Falls there can't be a big event without someone getting staked or their neck bitten and Senior Prom is no different on The Vampire Diaries. What does make this event unlike the many that have come before it is that Elena is the one doing the biting.
Elena demonstrated just how much she doesn't want the cure in the last episode when she killed a waitress and threatened to kill many more if Damon and Stefan continued with their "fix Elena" quest. This hasn't deterred the pair, instead they are trying to think of a subtle way to flick Elena's humanity switch and prom is the destination for plan A. The theme of this dance is "Pictures of You" and so digital photo frames display a variety of memories from happier times; Stefan and Elena, Elena and Matt in a photo that was taken by Elena's mother and of course Jeremy. These memories and Stefan's attempts to reignite Elena's feelings through dance and touch do nothing but annoy Elena and it's only when Elena's life is in danger that Damon realizes how they can bring her back. Fear is key and so they plan on making her life a living hell; this involves being drugged and thrown in the Salvatore dungeon (this place is the official rehab center of Mystic Falls).
The no humanity Elena has been more entertaining to watch than regular vampire Elena and while I know that this conflict has to be resolved, it's also disappointing to see it framed in a way that suggests that Damon and Stefan are the ones who have to do the saving. Elena spent the first half of the season with blurry free will thanks to the sire bond and now she has freedom she gets locked up in a basement. An important question is asked about what will happen if/when Elena's emotions come flooding back; Stefan suggests that Damon will be there for her because Stefan will be long gone as he wants to quit this loving the same girl cycle. This is easier said than done as he realizes after their dance together and while I am a huge Stefan/Caroline friendship cheerleader I am not cheering the slight hint that something romantic could develop between them.
Doubts are beginning to creep in for Damon when it comes to his relationship with Elena; first of all she hits him where it hurts and says that none of the love stuff was real and then Silas as Stefan compares his grand love with Elena to Damon's one night stand. It's not surprising that Damon hits the hip flask with Caroline later on as they've both had a pretty terrible night. In fact prom is pretty much a bust for all of them; Elena tries to kill Bonnie and Bonnie returns the favour, April almost ends up dead and Rebekah saves her ruining a chance to become human and Stefan and Damon both end up with a stake to the gut.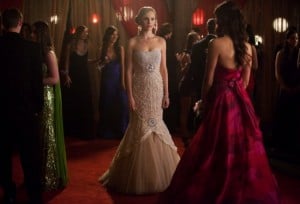 Caroline's night is awful thanks to stolen dresses and a missed boyfriend, but this is rectified when she goes to set up the post-party. The only issue with this touching scene is because Silas was impersonating multiple people; I was convinced that it wasn't Tyler until the confrontation with Klaus outside. It's definitely one that needs to be rewatched to appreciate this tender moment. Stefan is right about Caroline having Klaus wrapped around her little finger; if he wasn't then Tyler's heart would have been in Klaus' hand before he even said a word.
It's not that Matt had a good prom, but at least he didn't get bitten, staked, have his head smashed into a table or dance with his ex that turned out to be Silas instead. Instead he got to be Matt "loyal, kind, honest" and "so beautifully human." Rebekah has always had a soft spot for Matt (ignoring the time she caused him to drive off a bridge) and his opinion on whether she would make a good human matters to her. At first he thinks she would be terrible (see earlier reference to bridge incident) but after she gives up on her chance to become human he promises to keep her secret and apologises for his harsh words. Matt Donovan is the true gentleman of Mystic Falls.
Talking of gentleman, Elijah wants to give Rebekah a chance at happiness much to the disgust of Klaus and despite Elijah's suggestion as to why Klaus shouldn't get the cure – "Your personal discomfort might not be sufficient reason for putting the entire world in jeopardy" – Klaus still goes ahead with a nefarious plan. The return of Elijah is part of the whole Originals spinoff set up and Katherine's letter sets up next week's backdoor pilot episode that will focus on New Orleans, the Originals and some new characters.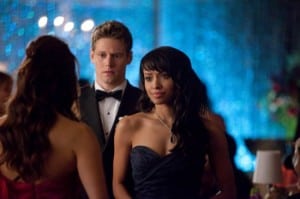 Bonnie got to display how powerful she is, even if she isn't always in control of this power. Silas attempted to manipulate her throughout the episode and he took the form of Jeremy to do this. Bonnie has always been a character that the writers have struggled with in terms of her power and how this fits into the overall narrative and quite often she turns up when it is convenient to the plot. It was good to see her take control and fight back against both Silas and Elena and now she has seen Silas' true face.
Other thoughts
– Friend prom is a great idea, even if all the usual Mystic Falls issues ruined the execution of said plan.
– Both of Caroline's dresses look spectacular and Elena continues her mean girl quest against Caroline by stealing the first one (it also looks great on Elena).
– Sorry, April, but I forgot you were a character on this show.
– Having both Michael Trevino and Steven R. McQueen back for this episode was much appreciated, especially when both were in formal wear.
– Some helpful advice for Elena before the prom "Don't eat the Prom Queen" especially when that Prom Queen is Bonnie and she can both heal herself and inflict a huge amount of pain on Elena.
– The vervain in the town water supply has run out, this feels like a small detail to remember for the future.
Next week The Vampire Diaries takes a break from Mystic Falls and head to New Orleans to check out promo photos and a promo video for the April 25 episode head here and here.