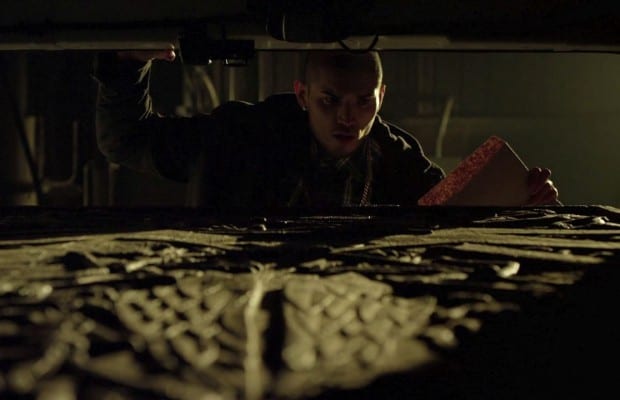 Without the visual panache of Guillermo del Toro's eye behind the camera, The Strain's second episode "The Box" has to turn elsewhere for its thrills in its second episode – and unfortunately, it does so by turning to its characters and mythology, two aspects of the show completely incapable of handling the task, at least in their current undeveloped state. It makes for a blindingly dull hour, one highlighted by a few scattered moments of terror, more of the pilot's attempts to be vague and enticing, and an overwhelming amount of repetition in establishing just who our protagonist is.
Thankfully, there's no milk to be drank in this hour for ol' Ephram – however, that has been replaced by him stating over and over how important his son is to him. But even that singular, superficial character thread doesn't carry through: he pushes his son's custody hearing aside until an impassioned, take-my-glasses-off speech from his companion doctor/lover-that-he-doesn't-really-love convinces him that he should go. It's a classic case of "man tries to have so much, and has nothing" story: there's literally nothing else to it than that, though. Everything about Ephram's character comes from manufactured "struggle": his alcoholism led to the end of his marriage, as did his passion for his job – the one commitment he can never give up, because it's the place where he can assert his power by generally acting like a dick. It's also just too much: he's got every protagonist quirk and flaw one could imagine, and it all combines to make his character as constructed as Corey Stoll's wig. It's hard to even enjoy his performance; being tied down with all this narrative baggage doesn't give Stoll a lot of room to deliver anything, just jilted, cliche lines about loving his ex-wife, and "walking past a bar to an AA meeting instead" – he literally exists without dimensions, a cardboard cutout of a man where a breathing, believably flawed hero would exist.
What's even worse is how much less everyone around him gets, if you can even believe that. Dr. Martinez, for example, serves no purpose beyond Ephram's lackey, a woman whose only distinguishing character feature is that she removes her glasses when she's "serious", and supports the man leading the way, even if he's emotionally distant and difficult. There's also the Latino gangster family, complete with speeches about "who was there for Mama when you was upstate, yo?" and the mother who goes to mass at midnight, and doesn't worry herself what her children might be doing when she's out praising the Lord. Or the "survivors" of the plane crash, which amounts to a whiny lawyer and a goth rock star who snorts Viagra and has his assistant pick out women for him to be with?
I could continue, but I've made my point: so far, The Strain has been tiny moments of "Cool, vampirism as a virus!" packed in between long stretches of nonsense that is not only simplistic, but explicitly explained to the audience around every turn. Do I need the details of how the Master killed Abraham's wife? Knowing the wife's heart was the one in the jar we saw in the pilot would've been enough information for me. Things that should be explained – like why NOBODY has gone to the morgue to see the 200+ bodies that are supposed to be there, or why everyone is so laissez-faire about letting survivors go from an unexplained, possibly viral event – are left in the shadows, which leaves us with a bunch of mindless characters in pursuit of something that isn't really mysterious (the first two episodes have gone to great lengths to point out the obvious threads of what's happening here; vampires are trying to take over the world, one blood-sucking parasite at a time).
Fortunately for "The Box" – and it's one of the only things working in it's favor, along with Kevin Durand's first appearance and David Bradley's angry face – it's the second episode of the show, and there' plenty of time for things to improve. Abraham's history, albeit a predictable one (did anyone watch Penny Dreadful recently?), is one that provides a new window into the mythology of said vampires (which includes a sacred sword of some sorts, always a fun, gimmicky addition to any supernatural adventure) – if anything, this episode exposes that singular thread, something that could grow and breathe life into the dark, nuance-free corners of The Strain. So far, not so good – but even in The Strain, the sun is still rising tomorrow for a new day.
Other thoughts/observations:
– "If the mountain won't come to Mohammed, we'll go to morgue." Oh my, that is some terrible dialogue.
– sorry, Dad of French daughter: you got what you deserved, trying to usurp the almighty influence of Dr. Goodweather.
– The Master has large hands. Very large hands that make Eldritch quiver (added note: LOVE the use of practical effects here).
– I'm going to hate these all-seeing UV lights by the end of the season, aren't I?
Photo via FX