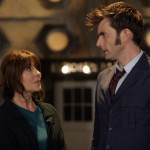 The Sarah Jane Adventures is in the world of Doctor Who, the children's equivalent to Torchwood. Span off from its parent show after the episode "School Reunion" from Season 2, where Sarah Jane – a companion of the fourth doctor meets his tenth incarnation, Sarah Jane is purely kids TV. However, for the first time in his 46 year history, The Doctor himself has appeared in a spin-off, and its not to give the blushing bride-to-be away!
WARNING TO NON UK VISITORS : THIS REVIEW CONTAINS SPOILERS.
Sarah Jane has secretly been seeing a new man, Peter Dalton (played by Chariots of Fire star Nigel Havers). Her team of her son, Rani, and Clyde, who were suspicious of her behaviour have used the super computer Mr. Smith to track her. In the midst of Mr. Smith and K9's jealous bickering between them, they follow her and find her on a date.
As the sound of a particularly unhealthy sounding TARDIS is heard (masked by the background noise of a train) the team head home. When Sarah Jane arrives back, Mr. Smith and K9 let slip that they've been tracking her. Angry Sarah Jane tells them about her new man, then sends them to bed. Wondering why shes not in love K9 tells her he senses shes in love.
Whilst talking to her son Luke (played by Tommy Knight, who at only 17 actually looks significantly older than the 16 he is supposed to play) she explains how she likes her new man, and is worried about springing her life on him, telling him about her adventures, and her deadly sonic lipstick. They all go to bed, and Tommy once again hears the sound of the TARDIS, not sounding well, leaving him confused. Did he just hear that?
As Sarah Jane receives a decidedly noisy parcel, Luke gets to meets Peter (with the team "accidentally" turning up) for the first time, worrying about the impression he'll give (and not being helped by K9's inability to advise). Peter is amazingly charming, and smooth.
Gita and Clyde take the parcel from Sarah to Rani's home. An alien then bursts out, with K9 suddenly reactivating and alerting Sarah Jane to the alien threat, ignoring Peter's presence and heading off to find the alien, amsuingly stating "Do not look at me, everything is normal" Peter wants a K9, after Luke tells him its his Japanese toy.
Whilst Sarah, Luke and Peter go for a meal, Rani and Clyde capture the alien and get him sent to this home planet with the help of Mr. Smith and a phone call to Sarah that interrupts the meal. During this call, Peter and Luke begin to bond well. Back with Rani and Clyde, they decide that they want to investigate Peter some more, as Clyde doesn't entirely trust him. They goto his house, and find that his house looks as if its never been lived in. meanwhile Peter and Sarah declare their love for each other and Peter asks Sarah to marry him. She says yes. As he slips the ring on her finger, it glows red…
Sarah gets home, and Gita and Clyde tell her of what they found. Sarah sounds concerned about it, but suddenly the ring glows, and Sarah changes her outlook, and isn't worried anymore. Sarah tells them that they are to be married at the end of the following week, which Clyde is worried about. Its a bit fast. Mr. Smith recognises the threat and as he tries to warn Sarah, she permanently deactivates Mr. Smith. Sarah Jane wraps up the team and their work as a familiar laugh rings in the air.
Its the day of the wedding, and Clyde is still suspicious. Luke warns him not to spoil her big day. The wedding begins, and Luke waits outside for Sarah Jane's arrival to escort her into the church to give her away. Luke wonders why she hasn't wanted The Doctor to give her away, as Sarah explains she wanted someone reliable to do it. As they enter Rani hears the familiar sound of the TARDIS again, sounding once again like its having difficulty.
Clyde, has snuck K9 into the wedding, and asks him to scan the wedding for suspicious activity. As the registrar asks if there is anyone who wishes to the stop the wedding, and suddenly The Doctor appears shouting to "STOP THE WEDDING NOW". Wind fills the room, as Peter refuses to let her hand go. Trickster suddenly appears and kidnaps Sarah Jane…
Is the show particularly great? Not really for adults no. Its fun enough, and enjoyable enough, but its also not designed for adults, and has been a great success for the BBC's Children's unit. Its very much part of the Doctor Who universe, even more so now he has appeared in it (unlike Torchwood, where they won't bring The Doctor into the show to avoid encouraging children to watch).
Its just nice to see brand new content featuring David Tennant as the Doctor before the final three episodes of his reign air on BBC One November and December.
Part 2 of the Wedding of Sarah Jane Smith airs tomorrow, 4:35PM GMT, on BBC One. BBC America is expected to pick up the show in 2010.
Tell us what's wrong with this post? How could we improve it? :)
Let us improve this post!