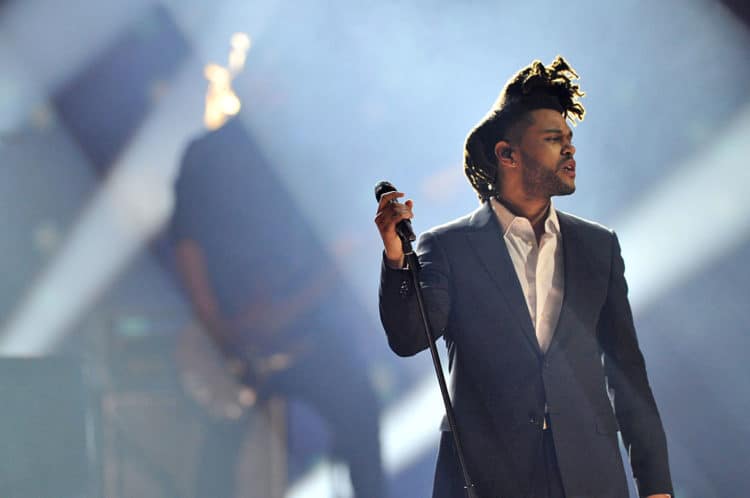 Names are a very important thing in the entertainment industry. What a person decides to call themselves can have a serious impact on their career, and it goes without saying that some names simply have a better ring to them than others. When R&B singer, The Weeknd first hit the scene back in 2011 his name had just as much mystery surrounding it as his music. Was The Weeknd a group? Were they American? Over time, we've come to learn that The Weeknd, who was born Abel Tesfaye, is a solo artist from Canada. Where does the stage name come from, however? Let's talk about it. Keep reading to find out why The Weeknd changed his name.
Why The Weeknd Decided To Use A Stage Name
While stage names are very common in the entertainment industry, it's also common to see people use their legal name — or some variation of it — as well. Some may be wondering why The Weeknd decided to completely ditch his own name and come up with something else. The answer is actually pretty simple: he just isn't a fan of his real name.
How He Chose The Weeknd
The reason behind picking a stage name is pretty straight forward, but what about how he chose the name itself. The answer for that is actually pretty simple, too. He really liked the way it sounded. In a Reddit thread in 2014, The Weeknd explained how he chose his stage name:I left home when I was about 17 dropped out of high school and convinced Lamar to do the same lol. We grabbed our mattresses from our parents threw it in our friends shitty van and left one weekend and never came back home. It was gonna be the title of HOB. I hated my name at the time though so I tried it as a stage name. It sounded cool. I took out the "e" because there was already a canadian band named the weekend (copyright issues)."
Although there are some artists who decide to legally change their name to their stage name, that doesn't appear to have been the case with The Weeknd. As far as we know, his name is technical still Abel.
How The Weeknd Has Grown Over The Years
Breaking into the music industry is only half the battle. Actually being able to stick around has proven to be an insurmountable challenge for countless artists. The Weeknd, however, has been able been able to really establish himself in the industry. Although most people were introduced to him when he released his debut mixtape, he actually started recording music back in 2010. At that time, however, he was anonymously uploading music to YouTube.
When The Weeknd released his first mixtape, House of Balloons, the following year he quickly became one of the most talked about new artists of the year. His unique sound and interesting content made for the perfect combination. It didn't take much time for people to start comparing him to musical legends like Michael Jackson and Prince.
Not long after, he caught the attention of Drake. For a while, the two appeared to be a dynamic duo and all signs were pointing to Abel possibly signing with Drake's OVO record label. The Weeknd, ultimately decided to take a different path and he signed with Republic Records in 2012. Since the release of his first project, he has gone on to put out two additional mixtapes and four albums. His music has reached people from all over the world and his fan base consists of millions of people.
The Future For The Weeknd
Even though he's already accomplished a lot, The Weeknd still has lots of great things to offer the world. His 2020 album, After Hours, has earned several accolades including being certified 2x platinum. Even though it's been less than a year since the project's release, people are already looking forward to seeing what he's going to do next. In addition to music, he has also been focusing on different business ventures.
There's also a chance he may decide to venture into the world of acting. Although he hasn't done any major live action work yet, he has had a few minor voice acting roles. Since the music and acting worlds share so much overlap, it wouldn't be too surprising if he decided to give it a try.
If there's one thing we know about The Weekend based on his track record, it's that no matter what he ends up doing, there's a very good chance that it will end up being a success.
Tell us what's wrong with this post? How could we improve it? :)
Let us improve this post!