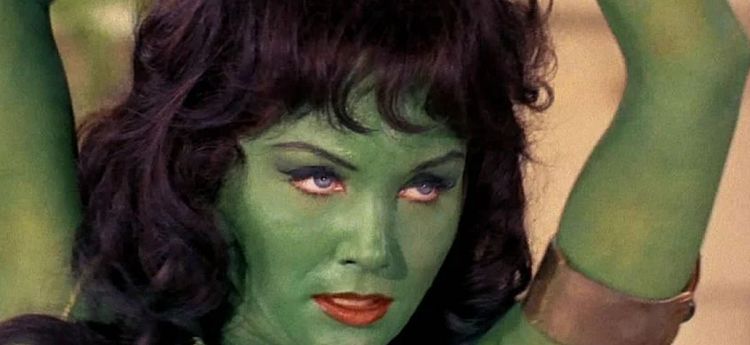 Imagine if you will a picture that shows Star Trek fans and columnists talking about Orion slave girls, in which the depiction is a hopeful, smiling fan striding forward into the future of Star Trek while holding onto a bag of bricks titled 'the past' in which there are several Orion slave girls dressed in flimsy outfits and looking highly seductive. Now imagine that the two best examples of said Orion girls are off in the distance, dressed as Starfleet officers and looking entirely competent as they beckon the fan forward. But the fan is struggling, trying hard to move forward. And why? The past is holding them back, or rather, they're holding onto it and refusing to let go. All one has to do is let go and accept the more positive changes that lie ahead. There's no need to forget the past, it's going to be there to peruse again if need be, but moving forward to a more positive future and letting the past sit as it will sound like a highly preferred solution to the problems that the controversial Orion slave girls presented back in the day and even now. Thinking that they could be adapted into a TV show that could be a spinoff of Star Trek is entirely reasonable, and painting them in a much more impressive light would be a thing of ease. Trying to decide which era to put them in, that might be a little more difficult. But there are ways to do it.
When a person looks at it, the way that Star Trek exists at this time is evidence that things are changing and have changed since the two most recent Orion girls haven't been slaves since the animated girl on Lower Decks is more of a tech nerd while the green-skinned officer in the first Star Wars remake was definitely caught in a sexual episode with Captain Kirk, but she was also shown in her uniform as well, proving that she was more than just a sexualized character that had no other purpose in the movie. It's uncertain what happened to the second character, but Tendi from Lower Decks is making it obvious that the Orion girls can easily lose the slave portion from their description and possibly become known as something else in the history of Star Trek. Needless to say, the Orion girls have been somewhat problematic throughout the history of Star Trek thanks to the way they've been depicted, but letting that thought block any forward progress would be a serious disservice to the idea that they've already been seen to do something else with the characters and can easily make even greater progress with a set of characters that at one time was used for a very specific and somewhat sexist purpose. It's a good question at this point as to whether or not there are even any slaves left on Orion since things tended to change after the initial Star Trek franchise was rebooted thanks to a backward leap through time by the main protagonist. One thing that anyone should be able to argue about at this point is that changing something in the past one will end up changing things in the future to come. How that's worth arguing about is kind of hard to figure since it's kind of like going back to switch out the foundation of a building for something just as secure but still different enough that the entire structure will need to change to accommodate it. But thankfully this article isn't just about time travel.
The Orion girls are another part of Star Trek that kind of need a redesign when it comes to their character and their purpose since in this current era the word 'slave' still isn't something that a lot of people want to hear, no matter what context it's being used in. But if it has to be used then maybe there can be a huge slave uprising that allows the Orion girls to expand and find other things to do with their lives that don't include being sex slaves. If they're really that deadly, maybe they can still use their natural allure to become something akin to assassins, spies, or something else that could benefit their world and their people. Or maybe they could continue to diversify as they've already done and continue to expand in their interests. Let's be honest here, women are definitely attractive when they're trying to seduce a person, but they're even more attractive when they find their own sense of worth and are able to make it work for them in a number of different ways. In this manner, the Orion girls could possibly continue to be just as alluring while going on to find other areas within the galaxy where they can excel.