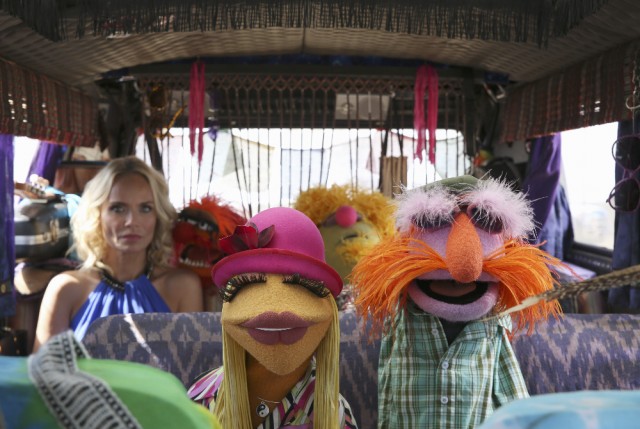 The Muppets, now in its sixth episode, has got a lot to prove. It's had some pretty good episodes, some hilarious moments, and some missteps, as freshman series are wont to do. But now in the sixth episode and beyond, The Muppets has got to prove that its characters are interesting and that the arcs are something sustainable. I think the "Ex Factor" does a lot of building toward that goal, and was a solid installment in creating the new Muppet world.
This week on The Muppets: It's Denise's birthday, so Kermit must come up with a gift. He's a terrible gift giver, so he turns to the best one he knows: Miss Piggy. Up Late guest Kristin Chenoweth agrees to join Dr. Teeth and the Electric Mayhem at Floyd Pepper's parents' anniversary party.
The reason I liked this episode so much can be pretty easily discerned from the above synopsis: it was simple. It didn't try to over-complicate the episodes by having a C, D, E and F plot, and it just existed in the world it has created. It portrayed Kermit as vulnerable and realistic instead of whiny, and Miss Piggy as a kind soul under her tough exterior. It also explored minor characters (something I've been clamoring for more of) en masse with the members of the band. "Ex Factor" flowed nicely and was well structured. It didn't try to include characters it didn't need, either, like Fozzie, Rolf, Swedish Chef, etc.,and that worked well in this case.
In previous episodes, I've done a lot of laughing at gags, like the Swedish Chef performing 'Rappers Delight'. This episode was funny because the characters were relatable. They were still funny (and Pepe the Prawn is still insane) but the problems were realistic and the characters' reactions were funny because they were realistic. Kermit isn't a jokes guy necessarily, but he created lots of funny moments just by avoiding asking Piggy for help. He got the writers room together, and even went painting with Scooter. It felt like such a natural reaction. Kermit has proved to be a pivotal, versatile character for this series, and I'm really enjoying the direction they're taking him.
Everything they explored with the band felt really natural too. I liked the way they inserted Kristin Chenoweth seamlessly and still made it about the characters in the band. I always knew they'd have some problems, but they also care about each other and proved to be real, vulnerable characters. They better start paying Animal, though.
As always, here are some of my favorite quotes/moments from the episode:
"Oooh, what'd you use? Your CVS reward points?"- Uncle Deadly, criticizing Kermit's gift
"Animal always want to perform with snakes! But Zoot big baby!" – Animal
"Put on a robe, Ken!!"- Scooter, working out some issues with his mom's "friend"
"Then start growing them for the next ex-girlfriend because this one? She's a lost cause"- Pepe being both deep and hilarious
Scooter's story about how he discovered his hobby is both sad and hilarious
"Orange is great if you're painting an um….an um….an um…an orange!" – Scooter
"It revolves around the MOON! Which is why we have winter!"- Floyd Pepper, in a bit of misguided geography
DonJuanPrawn@IAmPepe.Com. Best. Email. Ever.
"Hey Cheryl, how'd you like to meet me at the whoopsie bin?" – Pepe the Prawn
This episode was charming, and funny, and everything you'd want from a show like this. There's humor for adults but it still makes for a pretty great family show. If The Muppets can make me sympathize with Miss Piggy and continue making episodes like this one, I'm in for the long haul. "Ex Factor" hit all the right notes, even if it didn't pay its drummer. Best episode yet.
What did you guys think? Did you enjoy the episode? Let us know in the comments!
[Photo credit: Carol Kaelson/ABC]