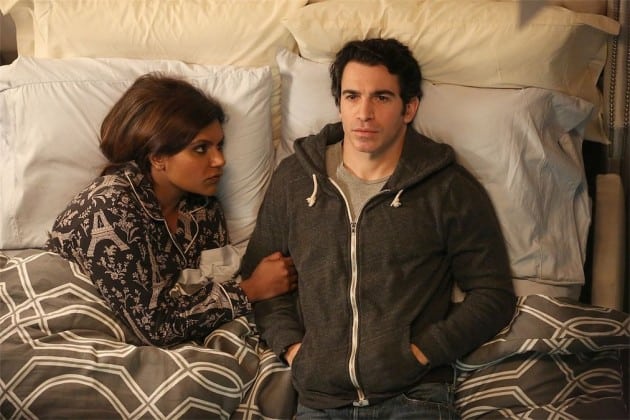 When Mindy Lahiri sets an episode's unofficial theme by announcing her visit back to New York as #ItsHappening, then you know a whole lot is about to go down. The Mindy Project seriously packed so much into this one episode! Now it's time to break it all down.
Three months have passed since Mindy began her fellowship in San Francisco. So far the only downside is being so far from Danny. He makes regular weekend trips out as often as possible, but that's not the same thing as basically living and working together. In a quick montage, she tries to sell Danny on loving San Fran as much as she does, but the earthquakes seem to negate any positive progress made on the subject. When Rob proposes that she stay there and open a fertility clinic with him after her fellowship, she faces a whole new problem. If Danny wasn't on board with San Fran yet, why would he ever consider moving there?
To complicate things even more, Danny surprises the "bicoastal babe" with a brownstone he bought for them in Manhattan. The house isn't even close to move-in ready, as Mindy observes that "it's like the brothel that Don Draper was raised in." Plus, there's the rat infestation to deal with too.
This all comes to a head when Rob crashes a Bon Voyage party in Mindy's apartment, and mistakes it as her own rather than taking a second to notice it's for Peter. Yes, Peter chose to leave New York and follow Lauren to Texas. Is it weird to say I might actually miss him now? He was never one of my favorites, but it's clear now how close he and Mindy have really become. She asks him to run her gyno exam before he leaves, which all leads up to the biggest surprise of the night and of the series when he calls her from the cab to say she's pregnant!
I'm so excited to see how this pregnancy affects Mindy and Danny going forward. Obviously, now she'll have a lot more to consider when weighing her career options. Things were left a little shaky with Danny. They really don't know what they're going to do given this opportunity to stay in San Fran. Danny made a great point when he told Mindy that he's changed slightly since they got together, and maybe for the better. But he can't change anymore because she wouldn't like him if he became a different person entirely. I know I wouldn't recognize Danny not being so close to his Ma for their weekly dinners together. Unless maybe he could convince Ma to move across country with them? In that case, I would need the entire Shulman & Assoc. employees to relocate, too.
Notable quotables:
– "Home is where the person you love is." -Peter, dropping some unexpected wise words of wisdom to Danny
– "Here, here! To groundin' and poundin!" -Beverly
– "Lahiri, Castellano and Gurgler. Rolls right off the tongue!" -Mindy
– "This is the final, final boarding for people having a moment." -Airline steward, interrupting Peter and Lauren's rom-com airport 'moment'
– "I am also moving. I am moving from the basement of my grandmother's house to the attic." -Morgan
How do you see this all playing out? Will Mindy and Danny stay in New York or San Francisco?
[Photo via FOX]