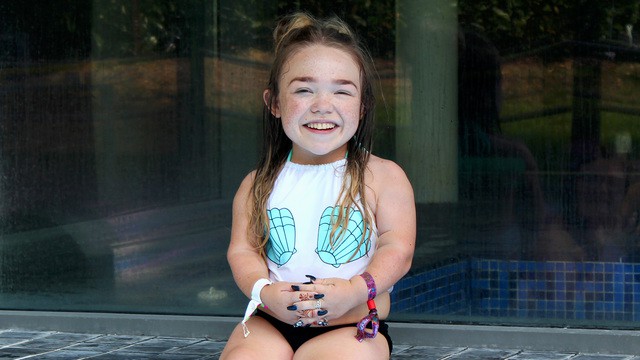 The reality/documentary television series "30 Inches Tall and Turning 18" follows the life of an exceptional teenager who is from Great Britain. Georgia Rankin is the star and she was diagnosed with a rare medical condition that is called Tufting Enteropathy. The diagnosis came when she was just a toddler. Although she's struggled with the condition for most of her life, she carries on and has done some rather amazing things. Here are 5 life lessons that "30 Inches Tall and Turning 18" teaches us.
1. Courage comes in different forms
For some people, it takes courage just to get out of bed every morning. While this isn't the case for most people, it certainly is for Georgia Rankin. There isn't a day that passes that the teenager is not racked with pain from the moment she wakes up until she lies down to sleep at night. It's the medical condition that she was born with. She must take a regimen of painkillers every day to try to take the edge off of the pain and keep it within manageable levels. We learn through her story that putting off the discomfort to live life to the fullest takes a special kind of courage that Georgia definitely possesses.
2. It's okay to be different
We learn from the documentary series that it truly is okay to be different. It doesn't really matter what other people think about you, just so you're satisfied with yourself. There is no escaping the fact that Georgia is different than anyone else in the world. The is the smallest person in all of Great Britain when it comes to stature. At just 30 inches in height, she's smaller than many toddlers, yet she's a smart and funny young lady. We learn that it's important to value ourselves for who we are and to not get hung up on the opinions of others.
3. Even if things aren't perfect we can choose to be happy
We can learn from Georgia Rankin that there are some things that simply cannot be changed. It doesn't mean that we need to let a problem ruin our lives, or worse yet, out outlook on life. We learn that even when things are not the ideal that we hope for, there is so much more that can be enjoyed in our lives. We also learn that instead of dwelling on the imperfections, it's of greater value to turn our attention to the things that are good and enjoyable.
4. You can be successful if you really want to
Georgia's small stature along with her medical complications from her condition take a toll on her health. Most days she doesn't feel great and she doesn't know what it's like to live without pain. This hasn't stopped her from pursuing a lucrative career. She's a famous YouTuber and the name of her channel is Madeup JunkieG. This is not to mention the fact that she is the star of a reality documentary show on the TLC Network. Georgia Rankin was born with the deck stacked against her but she took a disadvantageous situation and turned it around to use the thing that makes her different inn her favor. Isn't that what we should all be doing?
5. People are not always fair but you should still be yourself
We see in the story of Georgia's life that there are times when people that you don't know will treat you poorly and exclude you from their circle if you're different. We're all different in some way and the truth of the matter is, not everybody is going to like you. Instead of trying to conform to meet the expectations of judgmental people, it's best to just be yourself. When you try to change who you are, the world will miss out on the benefit of your full presence and your real friends love you simple for who you are, and that's enough. While going through school, Georgia was left out of a lot of things that the people in her class were doing. She wasn't invited to many parties and the other girls excluded her from their inner circles. Georgia has gone on to make real friends who don't judge on appearance or size.