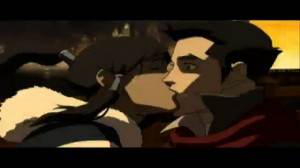 The Legend of Korra returned yesterday and the hormones were just flying around everywhere. Avatar returned to one of its most unique selling points in the world of cartoons; believable, cartoon love. A hard thing to master indeed, but all involved seem to have it down to an art. More teen drama than cartoon this week, thankfully it was all set to a rip-roaring Pro Bending contest. And most importantly, I am able to quote everyone's favourite fictional theoretical physicist: 'I informed you thusly, I so informed you thusly!'
See, much as I predicted, MaKorra is happening. A juggernaut of inevitability heading straight for the top spot of coolest cartoon couple. Okay, so there may be obstacles to overcome, but we'll get to that. The episode started with the Fire Ferrets training for their upcoming Pro Bending match. The team is gelling well together until Asami, the beautiful wench stealing Mako's heart, yet also helping fund the team, appears and delivers the new uniforms before whisking Mako away. Bolin, a comedy genius, tries to drop hints to Korra but she quickly flees back to the Air temple.
At the temple, Korra is quizzed on the handsome Firebender by Jinora and Ikki. After a discussion with the two young girls, and their mother Pema, Korra decides to just tell Mako everything. At the first match in the Pro Bending tournament, the Fire Ferrets are electric. Dazzling with combo's and quick moves, they dazzle their opponents and make easy work of them. Walking out of the arena, Korra clumsily tries to drop hints to Mako but then, in what can only be described as cringe-worthy, she reveals that she wants a bit of Mako. He lies, (I know he's lying) and tells her he doesn't feel the same. That annoying fragrance, 'Allure of Asami' wafts through the room, taking Mako with it. However, this leaves Bolin free to make his move and after some excessive, but well-played, flattery, Korra agrees to go on a date with Bolin.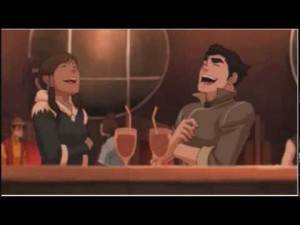 At the date, Bolin is still working hard. They come across the Wolfbats, the Pro Bending champions but Korra eventually just scares Tahno, their cocky leader, with Naga, rather than rise to his bait. Bolin and Korra enjoy the rest of their date. Before the quarter finals, Mako meets Korra on the steps of the building and arguments ensue. He accuses her of using Bolin and she accuses him of being jealous. Neither one of them are wrong of course, but try explaining that to teens with a crush; like banging your head on a wall.
In the match, the team are not the well oiled machine they were earlier. Mako and Korra are all over the place and it is only through Bolin that they manage to get a tie-breaker. Mako goes to take the challenge but Bolin stops him, taking it himself as he has noticed Mako just isn't focused. I wonder why? Bolin, cool as the proverbial cucumber, wins his one on one Earthbending match. Being happy with the girl of his dreams clearly suits the young rock distributor.
After the match, Korra and Mako meet upon the rooftop. She's mopey, poor girl, but when Mako tells her that it's just a bit complicated, but he does like her, she kisses him, bad girl. In fairness to Korra, Mako kisses back. But as always, true love never runs smooth – for Bolin, who see's his brother kissing the girl he thought was his. He doesn't handle it in a particularly manly fashion but then no-one really does, do they?
Mako finds his brother at the restaurant he took Korra to. He's seemingly drunk on noodles, and is not really in the mood to deal with Mako, but he's pathetic and still crying a little. Mako carries him home whilst Bolin's over-fed Fire Ferret, Pabu, shuffles after them. At the semi final match, all is not well with the Fire Ferrets; the kiss has seriously ruined team unity, as you would expect.
The get hammered; Korra gets a yellow fan for illegal grabs, Bolin and Mako both get knocked out the ring (twice in Mako's case) and Bolin suffers a rough shoulder injury. It is left to Korra to save the match. Luckily, our girl is in fine form, dodging every attack the opposition can throw. Bolin and Mako make peace as they're climbing out the water. They're brothers, women will cause problems but they'll be alright. Korra meanwhile wins the match for the Fire Ferrets, knocking the three opponents out of the ring in one go for a stylish hat-trick victory. The girl is good.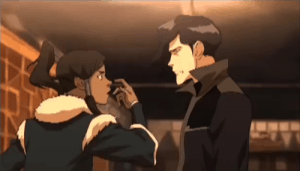 They all agree to still be friends as the Wolfbat's saunter through the prep area. Tahno calls them losers as they head out for their semi final. Korra hopes they meet the Fire Ferrets in the final. Tahno is the Waterbender of his team, I see a duel coming up. Asami floats back into the dressing room but Korra is dignified, even thanking her for her help in getting them funded. Bolin however is not so amused by all the love in the room, needing his shoulder attended to. Korra reveals that she was taught healing by the best, Katara. Korra sets to work on Bolin's shoulder but as they are joking around, and sweeping their personal issues under the carpet, the Wolfbat's have won their match.
Quick and brutal first round knockout, the announcer states that the Fire Ferrets better know a good healer because they're gonna need one. Well, they do know one, and I have a feeling that in next week's match, it'll be the Wolfbat's needing a healer, but then I admit to being biased. Next week's final should be brilliant, plus, we can find out why Korra hasn't been on cretinous Tarrlok's task force so often. And address that kiss. It might have been slightly obvious but Makorra; everyone welcomes you into our cartoon world. Just swiftly lose that prissy Asami!