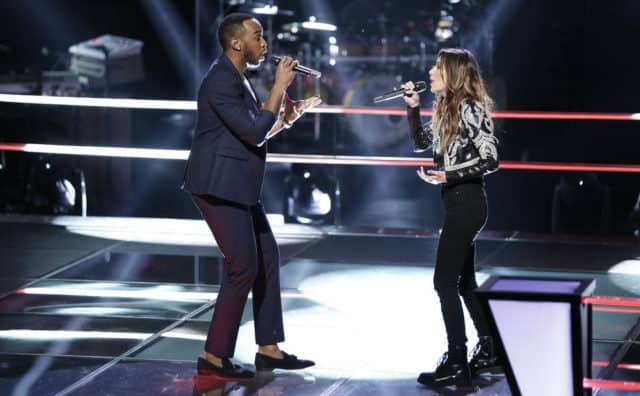 Tuesday was the last night of The Voice season 12 battles. Gosh that went fast! Here's the rundown of those finale battle rounds. Then we'll take a quick look at the teams for the knockouts!
The Last Night of The Voice Season 12 Battles
For the night's battles only coach Adam Levine has a steal left – and he says that he wants another female artist. Hmmm….
Battle 1. Team Alicia: Lauryn Judd vs. Lilli Passero
This was one of those battles that from the rehearsal you knew who was going to win. It wasn't about talent so much as maturity. Aside from her voice being lighter in general, Lauryn's a young seventeen-year-old. "Every Little Bit Hurts" by Brenda Holloway requires getting into some emotional depths that she doesn't have yet. Some kids are what we call, "an old soul." A young person like that could pull this song off – but that's not Lauryn. She is a happy, bubbly, very talented, teenager – which makes giving the song what it really needs difficult.
There's a nine year different between Lauryn and Lilli. While it matters little in terms of talent, it does make a difference in their performances. At twenty-six Lilli's had the kind of heartbreak to sell the song. She's also got more to lose. If Lauren goes home she's looking at going back to high school and being someone who made it onto The Voice. It means being a minor celebrity. If Lilli loses she's back to waiting tables while going on auditions. Her stakes were higher – and it shows.
Winner: Lilli
During this battle it sounded like Lauryn's voice is better suited for country. If coach Blake Shelton had a steal left I bet he'd have taken her. Unfortunately he doesn't.
Battle 2. Team Adam: Jesse Larson vs. Taylor Alexander
It's the uniqueness of these two men that led Adam to pair them. He's also the only one to have turned for either of them. Jesse worked with Prince as a guitarist when Prince produced an album for past Voice contestant Judith Hill. Taylor is a country singer. His blind audition with a Cher song turned country impressed Adam. Despite being such different singers in tone and style they sound great together. Adam's choice of, "Shameless" – a song originally by Billy Joel, but more recently covered by Garth Brooks, is perfect!
Winner: Jesse
Once again, Blake is sorry that he doesn't have another steal. However, Adam and fellow coach Alicia Keys both compare Jesse's sound to last season's winner Sundance Head. (Of course, to me, that sounds like he probably won't win. Similar winners two seasons in a row? Probably not.)
Battle 3. Team Gwen: Brandon Royal vs. Davina Leone
Coach Gwen Stefani gets the last battle. However, there's is no mystery to the outcome. It's the only one left and Adam still has his steal. Remember, at the top of the show he said that he wanted another female singer. Why do they keep doing set ups like this? Like, gee, I wonder who's going to win?
Winner: Brandon
Stolen: Davina
Honestly, this ending was awkward and weird. It seemed to be about forcing the Blake & Gwen relationship into the coaching equation in some form or fashion – again. I guess the bit was supposed to be funny, but as Adam told Blake:
So much about what you say is so strange.
Exactly, Adam. This was totally strange. Please, someone make it stop!
The Knockouts – Here are the Teams!
Each coach has eight singers for the knockouts – and one steal. These are the teams they have going in. (Artists with a white background are ones that were stolen.)
Team Adam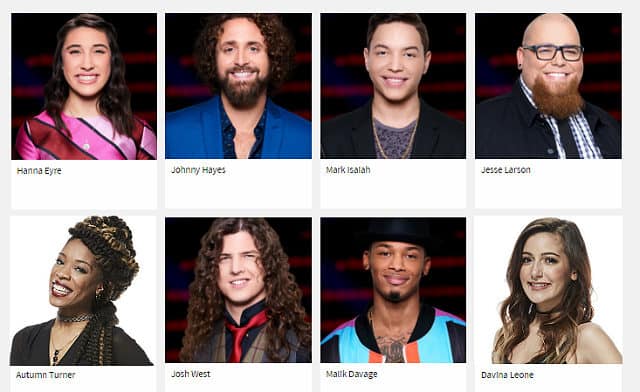 Team Alicia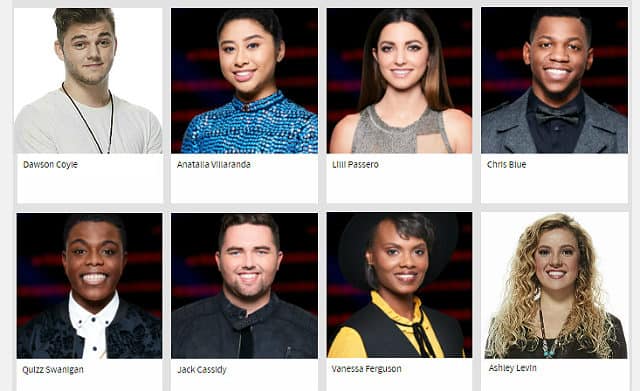 Team Blake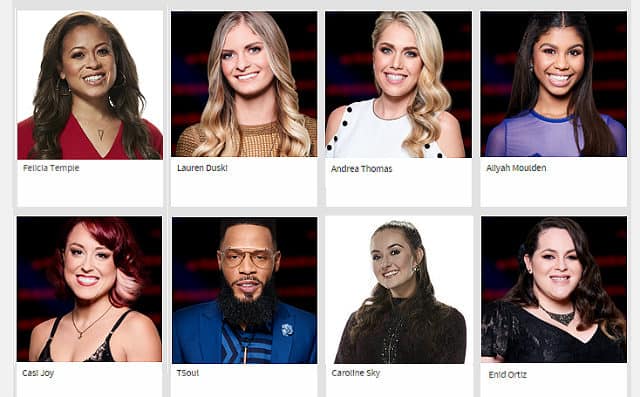 Team Gwen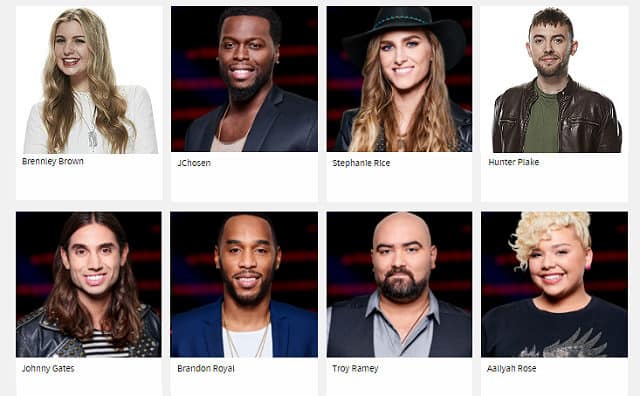 Starting Monday, each of these singers will have to pick a song that they think showcases their talent. Unlike the battles, which test things like commitment and the ability to collaborate, the knockouts test each performer on their artistry. It's about how well they know themselves and how they see themselves moving forward in a career.
Top Picks
I'm horrible at March Madness brackets, but I do like guessing at the final four. So, if I had to pick one person from each team that will definitely make it to the live shows they would be the following.
Team Adam: Marc Isaiah. Team Alicia: Vanessa Ferguson.
Team Blake: Casi Joy. Team Gwen: Stephanie Rice
It's not that I don't think the others aren't as good. However, they do stand out as the most unique on each team. They also are incredibly confident in knowing the type of singer they are. As for the other three slots per team….I haven't a clue!
Come Monday, people will start going home! Who do you hope will make it through to the lives? Leave your favorites in the comments. Good luck!
Save
Tell us what's wrong with this post? How could we improve it? :)
Let us improve this post!