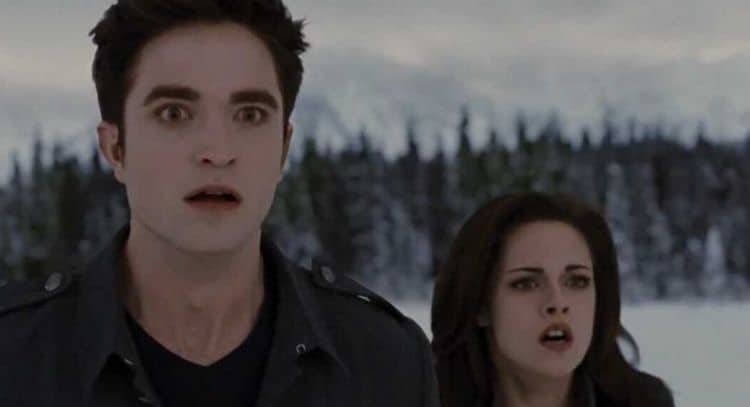 Join me in saying 'Aaah, vindication'. Okay, the moment's over since there's still the reality that Breaking Dawn, as well as the other Twilight movies, made a fortune because they played upon the sensibilities of young girls and mothers that wanted to see the male stars with their shirts off. If that sounded creepy to you then don't worry, it was entirely creepy to a lot of people. Breaking Dawn actually had a chance to be one of the best in the bunch since they had a great fight at the end…that turned out to be nothing more than a vision, meaning that like every other Twilight movie the end result was a happy ending or as much of one as could be had, and the sudden realization that the Volturi were a bunch of sissies that were scared by a vision that shouldn't have happened since Alice admitted to not being able to have visions with werewolves nearby. It was almost as though the movie was being wrapped up as quickly as possible and those that were behind it were saying 'ah we don't need this stuff anymore, we need action and lots of it'. That would be kind of accurate really since unless a viewer was heavily into the drama that this series offered they were probably getting pretty bored after the first movie and didn't want to watch any more of them, which is easy to understand.
But money is of course a great motivation and the reason that things get done the way they do in Hollywood sometimes since there was literally no other reason to make Breaking Dawn into two movies other than to play on the emotions of those that had attached themselves to these movies in such a profound way. Money also explains a lot of the plot holes, the length of some scenes, and the overall ridiculous nature of the story in some parts. Let's just get down to it, Jacob imprinted on an infant, an INFANT. Does no one see a problem with this? Does no one think that it's a tad bit creepy that he would help to raise the child that would one day become his love interest? No one's going to think that this is something that might be kind of problematic if it ever happened in the real world? There are so many Cher jokes that could be made out of this idea that it's hard to keep from busting even one of them out at this point, but the fact is that it's a part of the movie that people are willing to gloss over since so many want to think that it's about true love and how strong it can be and blah, blah, blah. The Twilight story isn't the worst in the world, but there are times when it becomes a bit disturbing since it deals with ideas that would make a lot of people physically ill. The whole idea of Jacob and Renesme getting together after she grows to adulthood is just, wow.
There are so many other aspects of this series that are kind of hard to take since it takes the vampire legend and kind of turns it on its head in a way. They're still capable of being vicious, they're still immortal, and they still need to consume blood. They're cultured, they're peaceful, and yet the idea of a vampire, indeed, an entire vampire family, going undetected for so long feels unlikely since despite hiding in plain sight one would have to wonder just how many years the kids could attend high school without arousing suspicion. Then, the fact that they glitter in the sunlight is a problematic event since like it or not, Forks does get sunlight from time to time, as the Pacific Northwest is, I'm proud to say, not as gloomy and overcast as some folks would like to think. The first time the vampires started sparkling like walking disco balls it feels certain that someone would notice, especially since regular human beings don't do this even when they're covered head to toe with glitter. There are so many holes in the Twilight series that one can't help but walk through them on their way to the next one, seeking to make sense of them even as the fans continue to gloss over them, saying that it doesn't matter, the story is the only thing that really matters. To that, I would simply say…touche.
This is why a lot of people become fans in the first place, since they enjoy the story that's being presented, even if it has plot holes that are big enough to drive a semi-truck through. Money is what drives movies such as this, and the money isn't bound to dry up so long as the movies are willing to cater to the fanbase.