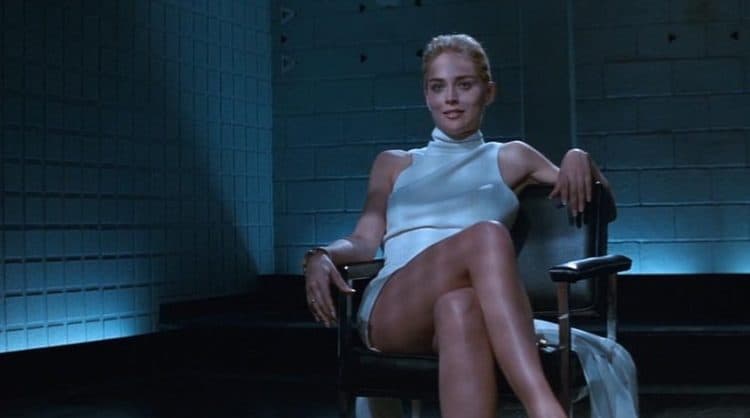 Remember when Sharon Stone was still a stone cold fox? Well to be honest she's still quite attractive but she's not the sex symbol she used to be. Instead she's the woman that has matured and become a more well-rounded actor at this point and someone that you can look back and say was one of the many that led movies into the era that we have now. Seriously, she was one of those that people would line up to go see since she had the kind of star power and influence that was sometimes regarded as a little racy but was still top of the line and able to carry a movie to the box office at least. As of now she's a lot more distinguished a little less wild than the films of back then would have indicated, but she hasn't lost any of her charm and glamour at the age of 60. She had to move on from the role of the sex symbol, but she did set the bar pretty high at one time.
Here are some of her best movies.
5. Total Recall
The original Total Recall was a crazy movie through and through since it made you continually guess whether it was all a dream or if it was really happening. The remake didn't really do that but in this movie it's pretty obvious at some points that Doug could very easily be dreaming, but then there are moments when a sliver of doubt creeps in and insinuates itself into the front of your mind, promising that it's not quite as simple as you think. That's when you start to think on whether or not the whole thing is some screwed up dream that was implanted or the bad guys really are out to get him.
4. Alpha Dog
She doesn't have a huge part in this film but it's enough to know that she's the mother of the young man that gets kidnapped and as a result is more than a little shaken up to discover that he's missing. But when he's executed and she finds out she becomes absolutely suicidal and then depressed in a way that would make perfect sense. If you've never seen Sharon Stone so grossly overweight in your life you'd be surprised to see her at the end of this movie when they go into testimonials. This story was based on real events, but obviously things have been changed around to make it more entertainment than documentary.
3. Antz
Unless you take the time to notice them a lot of people don't tend to think about ants until they're on the big screen and can't be ignored. In this movie however you get to think about what might happen if a single ant didn't do as the colony instructed and expected. In real life they might be killed or ostracized from the colony, with the former being more likely. But in a cartoon of course this isn't going to happen since Z is the protagonist that needs to lead the ants in a new direction that doesn't include a mass homicide that's been orchestrated by the general so as to create a new colony with the soldiers in command.
2. Casino
To think that Las Vegas was once a city of bright lights and creature comforts that were far more personalized isn't too hard. And to think that it was once run by the mob for the most part isn't hard to believe either. However true this story is or isn't according to factual data the movie is something that shows you that once upon a time Sin City was a place that catered to those that had money, not just everyone. The old days are just about gone if they're not already, but back in the day Vegas was not the place you went if you felt like losing a few bucks, and it certainly wasn't the place to get caught cheating.
1. Basic Instinct
Chances are when someone knows just how a murder is going to go down they might have the skinny on what's about to happen through a source, or they're the killer. Catherine however is an author, and as a lot of us should know by now we're not all that tightly wound when it comes to reality. Be that as it may however the whole idea of Beth being the killer is something that might have shocked a few people but not fooled a few others since there was something odd going on there to start with. But let's face it, the biggest draw of this whole movie, for guys and perhaps some women, came during the interrogation of Catherine when she decided to show everyone what she neglected to wear that day.
Yes, it went that far, and a lot of people loved it.