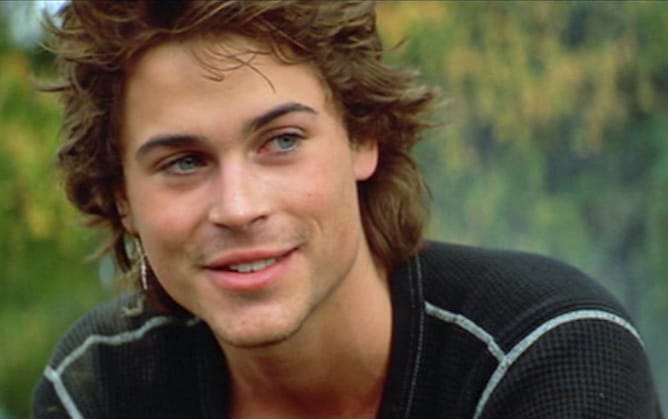 Robe Lowe in the 80s was one of the hottest guys around and one of the stars that people thought would stick forever since he had the looks, the attitude, and the acting talent to really pull it off. But then something happened and he wasn't seen for quite a while. In the 80s he was a great actor and had a lot of promise but when he went away for a while, or just wasn't seen perhaps, it kind of felt like he'd just up and disappeared. Lately he's been making a big comeback with a lot of different projects that have been seen on film and TV. His career is something that a lot of people have been interested in for a long time since he is a premier actor and someone you don't want to see go away. However it happens though there have been people that have kind of discounted him for a number of years for their own reasons.
Here's a few movies that he did in the 80s.
5. Illegally Yours – Richard Dice
It's kind of amusing when a film can be universally hated by critics and even the director can still be liked by the fans who are in essence the biggest influence on anything that comes out since their reaction can make it sink or swim. In this comedy the kind of subject material that's put into place isn't exactly high art but it's just funny enough that a lot of people in today's era might actually call it a masterpiece and a work of art. The trends within society at the time it was made might not have allowed it to do much but by today's standards it might actually go somewhere that people could follow.
4. Masquerade – Tim Whalen
Lies, deceit, murder, double-dealing, all of it seems very 80s since in the 90s it would have involved more death and been a great deal more vicious, and in the current era it seems that people would rather talk each other to death before delving right into the bloody festivities. The 80s were definitely about intrigue since Tim had feelings for Olivia even if he had initially agreed to kill her. The act of trying to save her gets him killed, but the one thing that seems to matter to Olivia the most is that Tim did manage to redeem himself in her eyes somewhat since he was doing his best to prevent her death.
3. Oxford Blues – Nick Di Angelo
This movie is all about following your dreams and keeping your passion alive but also realizing what's right in front of you and how to recognize it. The 80s movies were rife with life lessons that were constantly put up in very cheesy ways that are laughed at continuously these days, but at the same time are as strong now as they were back then. A lot of us cringe when we remember the 80s or watch anything from that time period, but quite honestly it did manage to lay another foundation stone for what we have today, so being thankful no matter how we look at it would be more appropriate.
2. Youngblood – Dean Youngblood
As hockey films go this one was pretty good since it took someone like Rob Lowe and made him earn the spotlight with a lot of hard work and took the risk of making him look bad on camera which in his line of work was something that Lowe rarely did at times. The film itself was pretty well done and the character wasn't overplayed or even given too much of an advantage since he had to square up and really earn his keep. It's one of those movies when you don't expect the main character to have to fight but when it comes you can't help but hope that he's going to get tough and actually duke it out.
1. The Outsiders – Sodapop
This is one of those stories that you read in high school and never really forgot. While Johnny and Ponyboy were really the main focus of the story for a good deal of it the others were just influential since they were part of a group and were therefore memorable in their own ways. Sodapop wasn't exactly a main character but he was still someone that was there and was noticeable since he was one of the big brothers of Ponyboy, who was one of the leads. In fact it's kind of easy to say that this film didn't have leads so much as it had a whole list of big-name stars before they were stars, almost as though the movie itself was an attempt to find out just who had a bright future.
Rob Lowe was definitely a big player in the 80s, and he's become a big player in the current era as well since he's been seen in so many different projects.