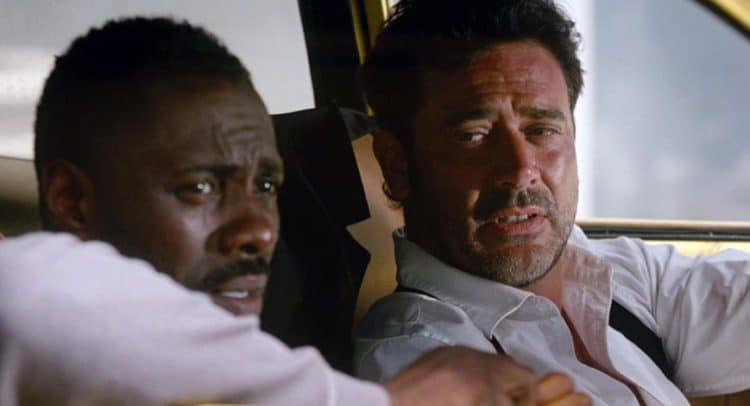 Actor Jeffrey Dean Morgan has solidified his Hollywood status over the years. He's one of those actors that can really pull off anything–drama, action, and even horror. He's been active in the industry for almost 3 decades now, and there really are no signs of slowing down for this actor. Matter of fact, it seems like he's just getting better and better. We've sat down and thought about all the great roles he's played on TV and movies over the years, and we've come up with a list of his bests. In no particular order, here are five of the best movies that Jeffrey Dean Morgan has starred in throughout his career.
1. P.S. I Love You
We've seen Morgan in romantic roles before, and as rugged as he looks, somehow he just makes it all work. One of his biggest roles on TV was Katherine Heigl's love interest in the early days of Grey's Anatomy. In P.S. I Love You, Morgan basically played the role of Hilary Swank's next man, after the love of her life passed away. Morgan was excellent as an Irishman, William, who eventually helped Holly (Swank) get over the loss of her husband. William was a sweet, simple guy, and his charm was definitely his best quality. Morgan is nothing if he isn't full of charm; that smile of his alone could probably melt any woman receiving it. While Morgan isn't typically the go-to leading man in a romantic film, we know for sure that he can pull it off because of P.S. I Love You. This movie review from the NYtimes.com even called Morgan a "temperature-raiser." You get what that means. It's even interesting that the older he gets, the more he fits the romantic bill. Who knows? Maybe we'll see him in a romance film soon.
2. Rampage
In last year's Rampage, Morgan starred alongside Dwayne Johnson and a few other big stars in order to take down an albino lowland gorilla that's become uncontrollable. Morgan took the role of Harvey Russell, a government agent. He was basically the guy that captured gorilla George. Morgan seems to have channeled his Walking Dead persona somehow into his portrayal of Harvey in Rampage, and the end result actually worked. While it's hard to stand up against The Rock in any film whatsoever, Jeffrey Dean Morgan definitely held up his own in a film that's full of big, good-looking men. In making the film, Morgan has repeatedly claimed how amazing it was to work alongside Dwayne Johnson. In an interview on Good Morning America, Morgan stated that his son thought he was the coolest person in the world–but that was until he met The Rock at the premiere of the movie. We're here to say that Morgan comes fairly close–at least close enough–to The Rock's cool.
3. Taking Woodstock
Morgan's role in Taking Woodstock may not have been one of the leads, but it was certainly important enough for the film. Taking Woodstock was one riot of a movie, and the comedy-drama depicted the chaos of the 60s music festival scene quite well. Morgan played the role of Dan, brother to Billy. Emile Hirsch played the role of Billy, and the two actors might as well have been brothers in real life. Their chemistry was palpable, and Morgan was excellent in the big brother role. Billy was a Vietnam War veteran, who was also friend to the main character, Elliot (the entire film was the story of Elliot's life). Basically, Billy wanted to go to Woodstock with his friends, but big brother Dan was highly against it. It's all for good reason though, PTSD and everything. Morgan showed a different side to him when he played Dan in this movie. He was utterly believable as big brother, and the film wouldn't have been the same without Morgan in it.
4. Watchmen
Perhaps this movie role is probably what Morgan is most noted for. In fact, he was perfect for the role of The Comedian/Edward Blake in Watchmen. According to film expert Roger Ebert, the death of the Comedian is ultimately the catalyst for the entire movie, the reason why the Watchmen had to get back together again. Morgan's role in the film, though short again, is pivotal to the storyline. Morgan pushed himself physically at the gym to get to the body size that the character called for. He definitely got big for the role. Although he was donning the mask majority of the time in the film, which looked good on him by the way, Morgan made the Comedian his own. We're left wondering now why he never got into the superhero game again. But come to think of it, we probably prefer him as Negan on TWD more than anything. Watchmen was a remarkable film that got rave reviews. With the new series coming out on TV (which happens to be Morgan's realm), we're wondering if he'd ever make an appearance. We're crossing our fingers that he does.
5. The Losers
This 2010 film is a little obscure. Not many people have probably even heard of it, but it just so happens to be one of our favorite roles for Jeffrey Dean Morgan. Morgan starred alongside some big names on this film including Idris Elba, Zoe Saldana, and Chris Evans. In the film, Morgan actually played one of the lead characters, Colonel Franklin Clay. Clay was a leader of an elite black ops team for the US Special Forces. Here's just another role that Morgan played impeccably. He played an excellent leader, and he took the role seriously. There were rumors that he actually showed up on set every single day, even though he wasn't scheduled to film that day. Talk about dedication–it's one thing that we admire about Jeffrey Dean Morgan among so many other things. He's certainly a great actor, but it seems as if he might be an even better human being.
Tell us what's wrong with this post? How could we improve it? :)
Let us improve this post!