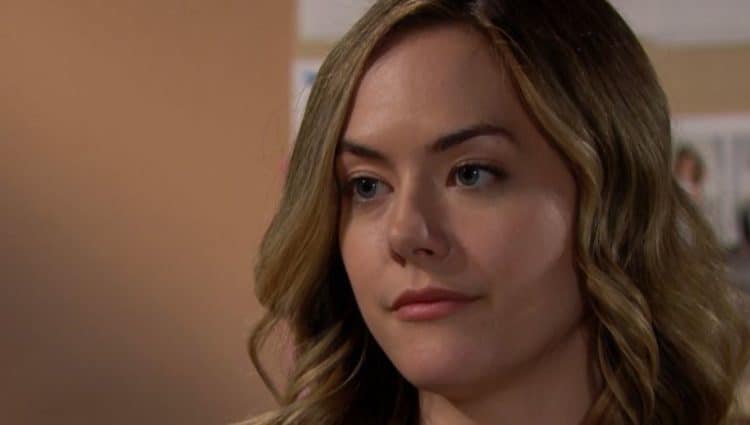 The Bold and the Beautiful fans know that so many things turn out to be a mess around here when people aren't honest, and Hope might be getting hurt worse than anyone around. Steffy found Liam looking at her private adoption papers, and we can see that she has a few questions about why. We do appreciate that Liam came out and asked her to tell him the story of how the baby was adopted and what she was told. He should know that whatever he suspects, she had nothing to do with it. She's going to end up just as crushed as everyone else in the moment, and it's not that big of a deal. It's not like things will turn out worse than they are for all of them when they find out where the baby belongs, but they just don't know this yet. She's answering his questions, but she also wants to know what he is thinking and why he is thinking it.
Meanwhile, Thomas has a staycation planned for Hope, and she is just not into it. It's clear to everyone around here that she is not into this marriage, and nothing will change that. There is very little chance we think that anything will improve for her, but that's all there is to it. We aren't sure that she has the ability to move on or see things from another perspective right now, and that is all right. She's not into this, and that is her situation. She's not into this for so many reasons, and that's just how it is going to go. But, for now, we are going to see her unsettled, unhappy, and unwilling to move on from this without much else in her situation. Whatever works, though, because the truth is going to come out much sooner than it is later.
What's Happening on Bold and the Beautiful
Since it's #TBT, here's a throwback in honor of the birthday 👸! Do you remember this #BoldandBeautiful wedding? pic.twitter.com/ZaaAyJMDqt

— Bold & The Beautiful (@BandB_CBS) July 25, 2019
We love wedding throwbacks.
What's Next on Bold and the Beautiful
He made enemies, he made threats, and this week Thomas will make one critical mistake. You won't want to miss this on #BoldandBeautiful! pic.twitter.com/PHeFm9ibD6

— Bold & The Beautiful (@BandB_CBS) July 22, 2019
Zoe is about to find out something that doesn't work for her. She might not like Flo all that much after the secret that they share, but she is not about to let her get hurt. She heard something that upset her tremendously. She's aware that there is a chance that there is something going on with Thomas, and she knows now that he threatened to kill Flo if she ever spoke a word about him knowing about this. We suspect that Zoe might just have a situation that might change. She might have a plan to make sure he pays for all that is going on around here, and it might just be a plan that works for all involved. And, it might mean that Hope gets her own baby back. But, what will she do about the little boy she's caring for in the meantime? She's agreed to be his mother, after all.
Liam is listening to Steffy talk about all she knows about the adoption, and he is trying to figure things out. After overhearing what Flo and Thomas talked about, he knows that something is not right and there are some questions that need to be answered. He's trying to piece together what is going on in his life right now, but it's not working for him. He's not about to get it right this second, but we suspect that he will get it in some time. He's going to find that something will work for him, but what is it that might work in his favor? He's not going to give up until he founds out.
Stay tuned for more The Bold and the Beautiful and be sure to check out TVOvermind daily for the latest The Bold and the Beautiful spoilers, news, and updates.