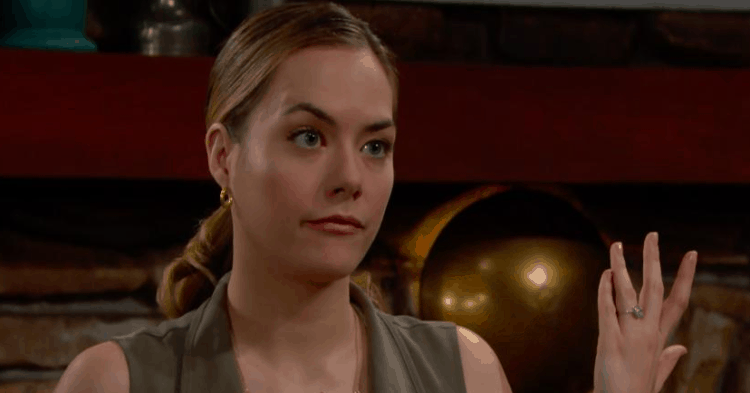 The Bold and the Beautiful fans are not surprised by so many reactions this week. For one, Liam is nothing short of totally shocked to hear that Hope and Thomas are engaged. After all, she just ended her marriage to him recently, and now she is marrying a man who Liam is not happy with. He is looking to find a way to make this stop. But he's not sure he can. Hope is not looking forward to getting married to Thomas. She does not love him like that. She likes him, and she loves his son. But, she's only marrying him because his little boy asked, and she's got this gaping hole in her heart from losing her own baby. She knows that Douglas has the same hole in his little heart after losing his own mother, too, and he is looking for a new mother to spend his life with. And that's why she said yes.
Xander is horrified by this, and he's taking his concerns to his own girlfriend. However, he's more than a little surprised to hear that Zoe does not share his concerns. She, in fact, feels this is the best possible outcome for them. This is the best possible thing that could happen in her mind. They have something to live for now. She's not going to be so miserable, and perhaps that will help them all ease a bit of their own guilt and bad feelings about knowing that baby Phoebe is really baby Beth. Zoe feels this might be the big answer they're all after, and Xander is nothing short of horrified that this is how she feels after getting to know Hope and her feelings. He's not happy, and we can imagine he's losing his feelings for Zoe quickly in this situation.
What's Happening on the Bold and the Beautiful
https://twitter.com/BandB_CBS/status/1148328361799766016?ref_src=twsrc%5Etfw
There's no way there will be a wedding for these two.
What's Next on the Bold and the Beautiful
https://twitter.com/BandB_CBS/status/1147867867871928329?ref_src=twsrc%5Etfw
There's a lot happening right now, and Xander is right in the middle of it. He suspects that it might have been Thomas who killed Emma, and he might have done it to keep this secret so that they didn't have to find out the truth and ruin his situation with Hope. He's engaged to her now, but Xander is too worried for her safety and for her life to let this situation go. On that note, we have to wonder if there is anything else going on that we don't know about. Is there a chance that we might see things improve for someone around here? Is there a chance we might see him confront Thomas and further put himself in danger? That's where we think this is going, but what do we know? What does this mean for us? We are not entirely certain.
Then there is Liam, who has decided to tell Hope he loves her and that he hopes she will not marry Thomas, but he should know she clearly doesn't care. She divorced him — well, had their marriage annulled like it never even happened — and he slept with Steffy about seven seconds later. She's not about to go back in time and do all of this again, and we totally get that. We get it, we appreciate it, and we aren't sure how he thinks this will play out. Will he find things working in his own favor again, or will he simply figure it out on his own and move on from there? We cannot decide, and we do think this is not a good call for him.
Stay tuned for more The Bold and the Beautiful and be sure to check out TVOvermind daily for the latest The Bold and the Beautiful spoilers, news, and updates.