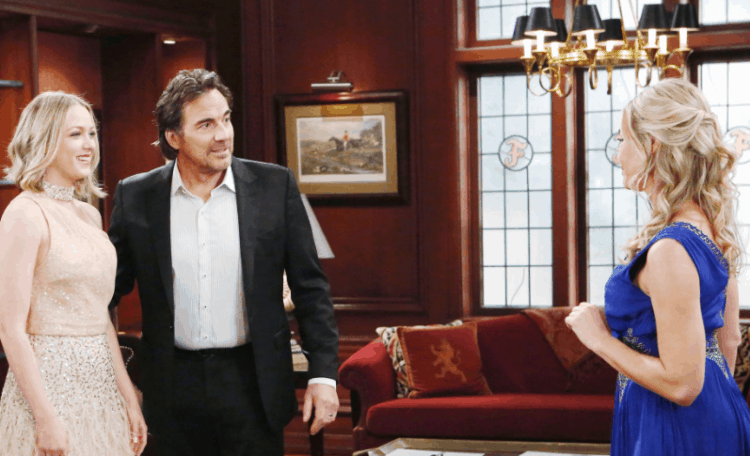 The Bold and the Beautiful fans are seeing a chance in Shauna. Admittedly, we don't know her. We have no idea what kind of person she is, what kind of person she will be, and who she is in life, but she's already changing right before our eyes. She's making changes in her own life because of her daughter. Since learning that her daughter is a Logan, she's managed to put herself right into the lives of people who are not her own family. She's been a disaster in so many ways, and she's not making it better. She's loving this new life that her daughter has, and she's riding on her coattails. She's loving the money. The fame. The benefits of being 'related' to those people, and she's not about to let her daughter ruin anything she's working so hard to make happen.
Flo, on the other hand, is not going to make her life easy. Her guilt is too much. She's not happy being around Hope and her family. She's now related to them, and she's not happy that she is being dishonest. She cannot handle the guilt in her life that she is feeling, and she's struggling. Hope offered her a job, and Ridge is being so nice to her, and everyone is welcoming her. Wyatt kissed her, even though he's with Sally, because his mother made him doubt things. Thomas is using his own son to get to Hope while her husband is in Paris visiting his child. We are horrified more so by that than just about anything else. People who use kids are ugly, and we don't love that. But, we do know that there is so much more than might happen around here. We just have to focus on catching up.
What's Happening on the Bold and the Beautiful
Tomorrow don't miss @MarianaPVicente on #BoldandBeautiful! Her husband, @Dodgers player, @kikehndez was on B&B in 2016! Do you remember why he was at Forrester Creations? pic.twitter.com/pbXfQcflfn

— Bold & The Beautiful (@BandB_CBS) May 2, 2019
We love when couples act together. Even if it's in different years.
What's Next on the Bold and the Beautiful
Spring Fever symptoms include:
Rapid Heart Rate
Restlessness
Appetite for Love
🌷Don't miss it all this week on #BoldandBeautiful! 🌷 pic.twitter.com/pZzfxcg62G

— Bold & The Beautiful (@BandB_CBS) April 28, 2019
Things are taking a turn. And we cannot figure it out. But, we do hear that Hope is going to remain oblivious to what is going on with Thomas. Sally is going to come clean to Wyatt about what is going on with her and Thomas, which we do know is definitely not what he thinks is going on with her and Thomas. And he might even feel more than a little stunned by the realization that he jumped to conclusions and things are just wrong. Meanwhile, Brooke is going to speak to her husband about something that might not seem like a big deal at first, but she will be stunned by the direction their conversation takes. Will this change their marriage forever, or will it not make that much of a difference?
We also know that Thomas is spiraling. We get that he is suffering. He is suddenly a single father with a little boy who desperately misses his mommy, and he's not sure what to do. His son has latched on to Hope and formed such a bond with her, and we think that he is falling into that feeling with his son because he can have a mom for his child and somehow take his pain away, but it's all wrong. It's so wrong. He will continue to use his son and all the people in his life to get to her, to get her to leave Liam, and to get what he wants in life, and he will hurt people in the process.
Stay tuned for more The Bold and the Beautiful and be sure to check out TVOvermind daily for the latest The Bold and the Beautiful spoilers, news, and updates.