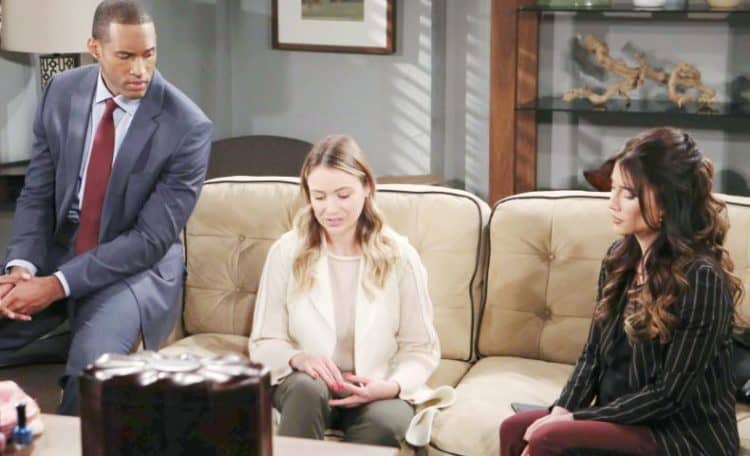 The Bold and the Beautiful fans are all kinds of upset about things right now, and we get it. We know that so many things are going on, and it's hard to keep up. For one, we got to see Florence realize that her friend Reese is in a big situation that means nothing but trouble. She knew that he was involved in something that might not be very good, but she had no idea until yesterday just how serious this problem might be. She's not sure what to do at this point, but she's already too involved in this to make things right. She's in too deep, but she's going to figure out a way to make this right in her own world. She's got to look out for herself at the moment, and that's good news for her. But, will this work for him, too, if she's able to clear herself and make things work in her own life?
And what about Hope? It almost crushed us to see her upset when Liam told her that Steffy is not only the mother to his baby already, but she's about to become the mother of another baby, too? She's adopting this baby, and Liam is proud of her and all on board with her decision to give their daughter a sister. Hope, however, feels that this is a punch in her own gut and a horrible thing to do to her. She's taking it personally, and that's a prime example of where her head is right now. She lost her baby recently, and she just feels that Steffy is doing this to get to her, and that Liam supports her because he loves her more, and that he's not in pain over the loss of his own daughter because of this. And she's so wrong.
What's Happening on the Bold and the Beautiful
"You belong in my daughter's life." – Liam 😢 #BoldandBeautiful pic.twitter.com/SUFp7JkhSi

— Bold & The Beautiful (@BandB_CBS) January 28, 2019
If this doesn't warm your heart…nothing will.
What's Next on the Bold and the Beautiful
A stolen baby, a rigged adoption, and it's just the beginning. 👶 See what happens this week on #BoldandBeautiful! pic.twitter.com/y6SThNVa9e

— Bold & The Beautiful (@BandB_CBS) January 27, 2019
Things are looking up for Ridge when he hears that he is going to be a grandfather yet again. His baby girl had a baby girl this year, and now she's about to have another one. This time, she's adopting a baby and she's going to add to her family and make it grow. He's so happy about this, and we are going to see him become very emotional as he works on this in his mind. He's happy to know that she's a loving mother who will do anything and everything in her power to make sure this baby is loved and treated well, and he will not stop at anything in the meantime. He's so happy for her, and he's so happy that things are working out for her.
But then there is Hope, how who wants to know that is going on. She is going to run into Buckingham at the doctor's office, and she's going to demand answers about all of this. There is nothing that will make them feel good about any of this, and she's not going to get over this or accept it anytime in the near future. She will not find things working in her favor, and she will not allow herself to feel any happiness about this new baby in the life of her nemesis and stepsister. And the fact that Liam is all supportive of this will only make it so much worse for her.
Stay tuned for more The Bold and the Beautiful and be sure to check out TVOvermind daily for the latest The Bold and the Beautiful spoilers, news, and updates.
Tell us what's wrong with this post? How could we improve it? :)
Let us improve this post!