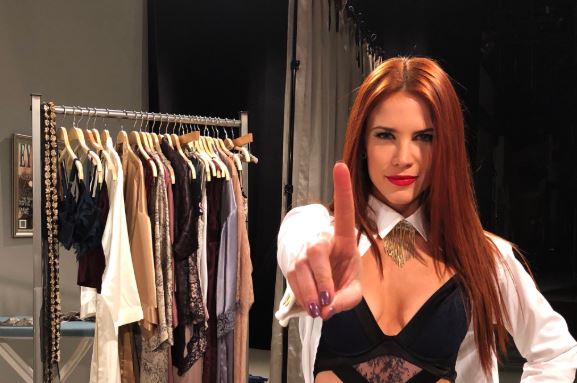 The Bold and the Beautiful fans saw that Ridge stopped and asked his wife to stop spending time with Bill. She's spending too much time with him, and he's not happy about it. He's not happy about anything that is going on in his life right now, and we cannot help but wonder if there is something that he can do to save his marriage at this point. Bill knows what happened with the judge, and he wants to know what to do about it. He's already asked Brooke about it, and she's not sure what she should do to make this situation feel a little better about any of it. There's a lot happening in the eyes of everyone right now, and there is something that can be said of that if you sit back and think through it. He was right to ask her to stop this, but she might not agree with him.
Then there was the fact that things got a little bit crazy at the fashion show. Steffy modeled her own best piece, and she killed it. Leo seems to appreciate it, and Liam seemed to appreciate it, too. We can't say the same for Hope, and we cannot say that Steffy can even handle what is going on in her own life with the people who are part of her life. She's upset with Brooke, too, because she cannot seem to concentrate and do her job at the moment. She's not someone who is happy about all that went on in her life, and there is nothing that can be done about any of that. She's not happy that her stepmom is in this situation, and that's part of her life right now. Everyone is a mess. There is nothing that we can do but wait.
What's Happening on the Bold and the Beautiful
Today's the day! Make sure to tune in to #BoldandBeautiful to see Steffy's big moment. ❤️ Get ready for some show-stopping looks on the Forrester Creations runway! 🙌 pic.twitter.com/XgRkQqBAIa

— Bold & The Beautiful (@BandB_CBS) November 8, 2018
It turns out this is a big day, and you didn't want to miss it. If you did, though, you can watch her online to find out what you missed and how it all went. She did a great job, so there is that. She's someone who will definitely make it her mission to make you happy, and this is one of those times.
What's Next on the Bold and the Beautiful
https://twitter.com/BandB_CBS/status/1059143239540719617?ref_src=twsrc%5Etfw
The end of the week is going to be a little crazy for all the people involved in their own personal drama, and we cannot help that at all. We cannot stop the fact that this is all going on and that this is all a thing. We know that things aren't always as they seem, but we also know that things are a bit stressful for all of us. We do want to see that things will change, but we cannot. We cannot help that Emma is going to want to do it when Xander asks her to make the next step in their relationship. This is not something that we can even handle in any capacity, and it's something that we cannot handle in any other way. She wants to do this so badly, and she's willing to ignore the signs that this is not a good idea.
Bill has to get Ridge to fall apart. And he's brining someone who is an IT expert into the mix to get to the bottom of all this. Brooke has said nothing to him at this point, but we wonder if this new turn of events will change her mind about that. Having someone come into that situation and try and fix things is a bit of a mess in every single manner. She's a disaster in every situation. She's not someone who will get this situation to see any better if she continues to insert herself into it. It's all ugly and unattractive to us.
Stay tuned for more The Bold and the Beautiful and be sure to check out TVOvermind daily for the latest The Bold and the Beautiful spoilers, news, and updates.