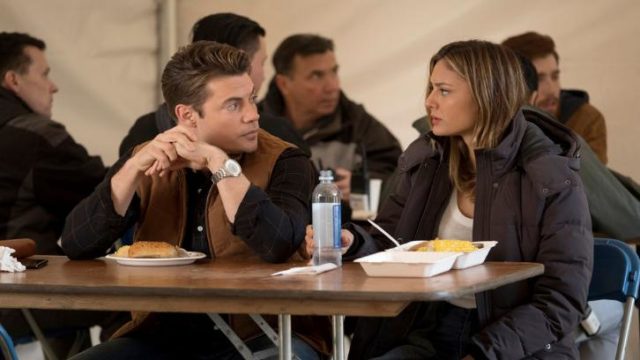 The Arrangement has had Megan flip-flopping on whether or not to go through with her plans to take down the Institute. It's been a little frustrating to watch Megan's fear and indecision take hold of her. Though Megan isn't as decisive as we would have liked, she did take a big step forward in her search for allies. The problem is, it may have come at a cost of her closest ally.
Kyle and Megan both have a lot of pressure to make "Technicolor Highway" great. Random tabloid gossip about Megan and her co-star Xavier is one thing. But no one, absolutely no one, was ever supposed to find out about Megan and Kyle's contract marriage. Kyle's star can handle the bruises from this, but Megan's cannot. She has yet to establish herself as a legitimate star worth every penny a studio can throw at her. And she's a woman. If there's a fall to be taken from this, it will be her taking it. The only bright side is that people are more likely to believe an affair than a contract marriage.
It makes sense to invite Xavier and his girlfriend Nacine to a very public beach outing where they could "prove" to the paparazzi that there was no drama between them. Unfortunately, Xavier has been harboring some secret feelings for Megan. Nacine takes no time to melt down, believing that Megan is playing her. But both Megan and Kyle are caught off-guard by this news. It's hard to smile for the cameras when the world is imploding around you.
If Megan really plans on going through with her marriage to Kyle, she couldn't learn from anyone better than Deann. They may be different people in different circumstances, but the commentary is more about the world they live in, and how it has molded what marriage is. Marriages can be based on and around multiple ideals. A Hollywood marriage has its own formula, even for a couple not in front of the cameras. A marriage molded by the Institute of the Higher Mind creates a whole other dynamic. Terence and Deann have a unique marriage because of their business ties. It is actually very surprising that they don't have a marriage contract like Megan and Kyle's. The one thing everyone can agree on is Megan's point. They are the last people who should be trying to create a family. Children need stability, and a couple with an open relationship whose marriage serves them each a professional purpose is anything but stable.
To say nothing of the fact that Deann is still mourning the loss of her girlfriend, a woman Terence didn't know about until now. It probably would have been easier for Terence if Deann had been with Wes. They've both been with different people, but Terence had no knowledge of his wife's decades long affair. He never minded an open sexual relationship, but an emotional affair is different. It leaves Terence feeling raw.
As to Megan's side project, I wasn't entirely sure where her head was at. Zack offered her disturbing details on a platter, and she shut him down. Now we know it was the fear that got to her. Thank goodness if was just that, because for a second it looked like she was content to let things be. In actuality, it was Shaun we should have been worried about all along. For the last few episodes she has gotten way too close to Terence. Without realizing it, she's molded herself into the Institute's beliefs. Yet she hasn't lost her own identity. If there was a picture of the perfect new recruit, it would be Shaun, not Megan. This slow build of the Terence/Shaun relationship is complicated. On the one hand, Shaun's genuine friendship brings Terence a kind of peace he so desperately needs. On the other hand, Shaun knows who Terence is behind closed doors.
Megan gets some fire back when Terence pushes Kyle to do an extensive interview about IHM. Zack takes her to two other IHM followers secretly looking for a way to take Terence down. Scary stories aside, Megan still seems like she is half into this plan.
Not to be insensitive to Megan's "I love Kyle. It's complicated," argument, but it is almost guaranteed that she will need to choose between Kyle and justice.
The Arrangement Season 2 Episode 5 Review: "You Are Not Alone"
Summary
The rifts in unstable Hollywood relationships continue to deepen on The Arrangement.