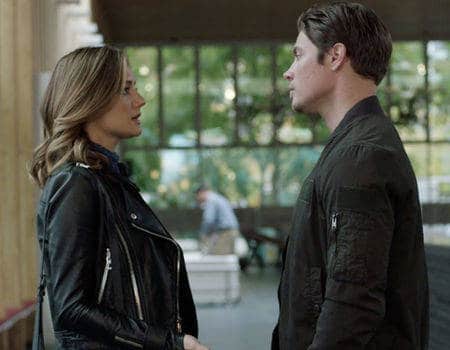 It takes a lot to shock Hollywood these days. It's a town that has seen it all, done it all, and learned how to manipulate the sleazy narrative. The Arrangement has broken down those moments in a stellar way while still trying to give its core couple the authenticity they crave. Yet even when Kyle and Megan get to the point of dangerous honesty, they have nothing to fear from each other. The show has had its share of shocking moments, but even the most cynical of viewers could not have predicted the final minutes of this season's penultimate episode.
Megan is uncomfortable, and caught quite off-guard, when Kyle fails to tell her the publicity roll-out for his upcoming film. Megan has been much more understanding than most women would be of some of the things she's been asked to do for the sake of Kyle's career. But I don't know of anyone who would be altogether comfortable being asked to fake a love triangle to boost publicity for a film. Megan has already been living by one contract, so living by another seems a bit excessive. Instead of adhering to the studio's plan, Kyle diverts. He sweeps Megan off her feet with a beautiful proposal of marriage! The studio might not be happy about the change in plans, but Kyle and Megan certainly are.
Terence moves forward with the First Life Initiative, even hiring Shaun as his in-house council because of her work putting the project together. But he finds it difficult to get the project off the ground without Kyle's help. To be fair, Terence does genuinely miss Kyle's friendship. Once again, it's up to DeAnn to clean up the mess the boys make. She tries being nice about it, but now we'll know what DeAnn will do in order to accomplish what she thinks is ultimately beneficial for everyone.
Megan has deep skeletons in her closet, much more than Kyle knew or she herself was willing to admit out loud. When she told Kyle about her stepbrother molesting her, you could tell it was the first time she had spoken about it out loud in years. What she didn't tell Kyle was how Evan died. The person who has been stalking Kyle and Megan and who broke into their home isn't someone from his past, it's someone from hers. Megan accidentally killed her stepbrother in self-defense, but she let someone else take the blame for the crime. Kyle is shocked by Megan's confession, but doesn't turn away from Megan. Terence on the other hand takes it way too far. Because Megan breached her contract by committing criminal fraud, all bets are off. Megan tries to run to protect Kyle, but she should have been running to protect herself. Terence and DeAnn kidnap Megan and take her to the Institute's secondary facility to "focus on herself", as they would put it.
Were you shocked more by Megan's confession, or her kidnapping? Sound off in the comments, and tune in for The Arrangement's season finale next week on E!.
The Arrangement Season 1 Episode 9 Review: "Sins"
Summary
The Arrangement's original masterminds take back control of the narrative in the first season's penultimate episode.