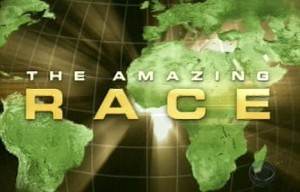 Once again, the Race Around the World has begun for the chance to win One Million Dollars cash! Tonight's premiere had everything we love about The Amazing Race: a beautiful location, adrenaline pumping action, a winner, a loser, and of course, Phil!
Love 'em or hate 'em, there's no denying, Jeff Schroeder and Jordan Lloyd, the show-mance couple from from this past summer's season of Big Brother, are the stars of this premiere episode. They can be quite a polarizing couple… most people either love them for their adorable chemistry, or hate them for their utter stupidity/naivete. Either way, at this point, they're ratings gold, and if they accomplish nothing else, they've done what they were put on the show to do — get people talking about The Amazing Race!
This season starts in sunny Los Angeles, California where our contestants include such notables as:
Caite Upton — the former Miss Teen USA contestant trying to overcome an embarrassing moment in the spotlight, and her model boyfriend, Brent
The Cowboy Brothers, Jet & Cord
Father/Daughter Team, Steve & Allie (Steve coached the 2008 Philadelphia Phillies World Series Champions)
The Gay/Straight Brothers, Daniel & Jordan
High-School Sweethearts, now married for 17 yrs, Dana & Adrian
Extremely Fit Grandma and her Granddaughter, Jody & Shannon
Undercover cops, Louie & Michael
Best Friends/Lawyers/Moms/
Superheros (naw, it just sounded like that should come next) Monique & Shawne
Bully Husband/Wife, Joe & Heidi
Lesbian Princesses, Carol & Brandy
and… Jeff & Jordan — a couple dating long-distance that met on the reality show Big BrotherGot all that? No need really, we'll come up with fun nicknames and descriptions as we go along, and one of them you won't ever remember again after tonight anyway.
So the first task is to make it to LAX airport from the starting point using only Public Transportation! Personally, I don't live in LA, but if it's anything like Atlanta, this isn't going to be easy! And as the Princess Lesbian couple says 'using public transportation to us is like not using the valet-parker'. Really ladies? This is not the way to garner support from a public in the midst of economic crises! The cowboys were cute though, noting how they know nothing about public transportation because in their town they only have one light, and it's always blinking yellow. I thought that was only true in movie dialogues. Anyway, Jeff and Jordan score by finding a public bus first and asking how to get to the airport using the bus system (with at least two other teams on their tails listening to every word). Soon enough they all figure out how to make it to LAX either by bus or train.
Once at the airport they have to catch a flight to Santiago, Chile! The first three teams to LAX are able to catch a flight that arrives a full hour earlier than the rest of the teams.
And we come to our first Team JJ comic relief moment — Jeff: I think we're going to Guatemala? Jordan: China?
Then later on the bus to LAX — Jordan: I've never heard of these places. Jeff: Haven't you ever watched 'Where in the World is Carmen San Diego?'LOL — these two are gonna crack me up!
While at the airport the teams find enough time to snark a bit about each other — gossiping about who Jeff and Jordan are, what the Miss Teen USA contestant said that was so embarrassing, and the Lesbian Princesses were wishing the first flight to have bad weather or mechanical failure to delay their flight… Um, did they know someone on the ground crew? Because that's exactly what happened! Due to a mechanical problem with the plane, the first flight was delayed and all three teams that arrived first: Jeff & Jordan, the married high-school sweethearts, and the superhero/lawyer/moms, had to reschedule their flights for the later one with everyone else!
Once they get to Santiago, Chile, they must catch a bus to Valparaiso, also known as the San Francisco of South America due to it's steep hillsides. But the Cowboys have a problem! While in the US, they exchanged all their money from US Dollars to Brazilian Dollars — which isn't going to do them much good with the bus driver wanting Chilean Dollars! Picky, Picky, Picky! So it's back into the airport they go to exchange their money again. Luckily they got it done before the bus left and lost no time in relation to the other teams.
And now we have a taxi cab race where all our teams are having fun using the words 'andale'and 'rapido'. After the cowboys start muttering the same words followed by 'por favor'we get a great shot of a taxi cab driver grinning and shaking his head. I loved it! The teams are making their way to their first challenge: a high-rise cable walk the length of a football field, after which they'll receive their next clue. Miss Teen and her boyfriend make it there first with Team JJ a close second. The straight brother was the first to fall off the cable, but managed to glide his way to the finish line hanging from his safety cord and pulling himself down the line with his arms while his body dangled. Brandy, of the Lesbian Princesses was shaking so bad on that line it looked like she was being electrocuted!
Once again, Miss Teen and JJ teams are 1st and 2nd out of the challenge with the Gay/Straight brothers a close 3rd. The next stop is to paint the exterior of some houses, which is really more like the facade of a townhouse, however, no one can find where/what they're supposed to paint! Team JJ found the right place first and easily passed the Miss Teen Team to take over 1st place. They get their Pit-Stop clue to make their way, on foot, to a 90 year old chalet, to meet up with our ever-so-cool host, Phil Keoghan.
Meanwhile back at the cable walk, we finally see the Cops start making their way across, as well as the Married Sweethearts — whose husband chose to do the task with a fear of heights… probably not the best decision as he falls off the cables and has to be dragged back! Also the Grandmother/ Granddaughter (now known as Team Grands) and the Cowboys make their way to the cable walk.
Back at the Chalet, I'm sure Phil is wondering, 'Who's gonna be the first team to cross the finish line?'Well, it's Jeff and Jordan of course!! Oh how this is going to please so many obsessive Reality TV fans — and probably infuriate even more! Either way, Jeff and Jordan and their first place finish on The Amazing Race tonight absolutely LIT UP the twitterverse. Job well done JJ! They win a travelocity trip to Vancouver complete with a whale watching trip and they get to luge down the Whistler Sliding Belt. The second team to finish was the Miss Teen Team, Caite and Brent — however, after the cable walk, the teams were supposed to take the 'funicular', a funny name for a car that takes people up and down the steep hillsides, much like a multi-person ski lift, back down the hillside, which they did not do (they walked down instead), so they get a 30 minute penalty.
Meanwhile we see the Superhero-Lawyer-Moms painting houses, and the Gay/Straight Brothers lose their paintbrush. And the Father/Daughter team? They walk into some house that has some painters INSIDE and start helping them! Now, everyone else is painting the EXterior, but they walk right in and start painting the INterior as if it's exactly what Phil told them to do himself! Meanwhile, the workers are muttering in Spanish that they have no idea what these two people are doing in there! HA! So after they finish the interior of this home, they ask the workers for their next clue and they look at the Father/Daughter team like they are absolutely insane! Fabulous!
The second team to finish was NOT the Miss Teen Team, but rather, while they were waiting out their penalty time, Monique and Shawne, the Superhero/Lawyer/Moms hit the mat. Then the Cowboys, Jet and Cord, finish as team #3. Then the Gay/Straight Brothers, Daniel and Jordan hit the mat, however, they incur a 15 minute penalty for losing their paint brush! Team Teen, Caite and Brent are still sitting out their penalty with 4 minutes left on the clock. But to add insult to injury, Father/Daughter team, Steve and Allie,(when did they find the right house to paint?) AND Bully Husband and Wife, Joe and Heidi (who came out of nowhere) hit the mat at the same time as teams #4 and #5. With a minute left on Caite and Brent penalty time, the Princess Lesbians, Carol and Brandy, hit the mat as team #6. FINALLY, Caite and Brent are checked in as team #7. But hey, if you HAVE to learn a lesson the hard way on this show, day one is the best time to do it. On another note, if you're gonna go on The Amazing Race to show the world you're not as boneheaded as youtube shows you to be, you might want to learn to follow directions FIRST!
Dan and Jordan, the gay/straight brothers, finish their penalty and check in as team #8, and the rest of the teams trickle in… except for one. Remember the Married High-School Sweethearts? They're STILL back at the cable walk. After Adrian fell off the cable and had to be dragged back, all of the other teams had already finished the task, but bless his heart, he tried to do it again in hopes of catching up. Unfortunately, Adrian fell off again and after all the teams had checked in at the mat, Phil made the unusual step of meeting them AT the challenge to tell them the bad news. Dana was extremely supportive and proud of her husband for continuing to try and they would have been a nice couple to get to know. Unfortunately, we probably won't remember their names tomorrow.
I gotta say it one more time…. CONGRATS JEFF AND JORDAN!!
And now that I have that out of my system (I think), I'll also say that this looks like it's going to be a great race! One thing I thought was missing tonight was that we didn't get to see too much of the relational dynamics we so love to watch. Perhaps it's because we are still getting to know *who* the teams are, and hopefully next week we'll begin to see how well, or not so well, they work with each other. Next week we'll definitely get to see some alliances start to form, which will of course leave the other teams outside of the alliances to fend for themselves. I can't wait!
What was your first impression of this season's Amazing Race? Are you rooting for anyone yet? Do you love or hate Team JJ? What was the funniest bit to you? Share your thoughts about the episode below, positive, negative, funny or serious, I want to hear them all!
Until next time, Have a great week everyone!