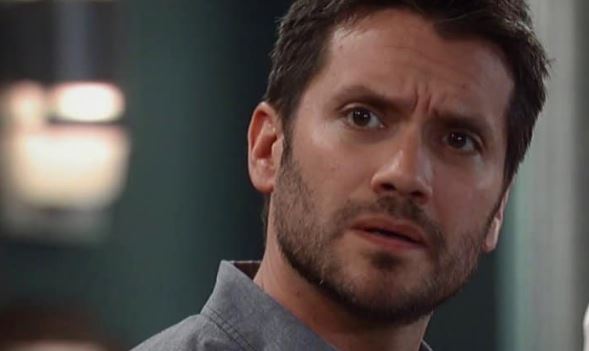 Daytime television is filled with ridiculous drama and exciting story lines, but it's also filled with a lot of death. General Hospital might be filled with more death than other shows specifically because the show is set in a hospital — you know, where people die. But that's not all. We know that there is a lot that might happen when people die around Port Charles. For one, they might just come back. They might not ever really be dead. That's a thing. You have to get accustomed to that kind of thing, too. It's a whole thing they do. Some deaths are sad, some are dramatic, and some are total believable. Remember when Stone contracted HIV and then AIDs and he died in his hospital bed? That was a totally believable death that totally killed us all because we knew it was a final death. There's no coming back from that. But, there is coming back from a lot of other deaths because they are beyond ridiculous and unbelievable. And these are our three favorite deaths that aren't really that good.
Helena Cassadine
We all know that Nikolas is a man who made a mistake or two over the years, but he's a genuinely likable guy in other situations. He had a rough life as a Cassadine. He faked his own death a time or two to make up for the fact that his family is totally insane and crazy and not all there at all. He is someone who didn't have many chances to get it right because of his grandmother and her craziness, and he proved that to us when he poisoned her. He wanted her to die for the simple fact that he didn't want her to make anyone else aware that he was back in town and not at all dead because he was living as someone else. He wanted to keep his identity a secret so much that he poisoned his own grandmother and killed her so that she wouldn't say anything. Nice, right?
Stavros
He's a man who died a few times, so you're probably wondering which death we are talking about. Or, you are not wondering because you already know they were almost all so ridiculous that it doesn't even matter which one we pick. The truth is that we are picking one that makes us cringe every single time we think of it. We are talking about that one time when he was falling into a bottomless pit and then came back a while later. He and Luke — shocker — were in the middle of a fight when he was pushed. He caught himself on the ledge, and he was there doing all the horrible things like laughing maniacally and acting like a total fool. And then he did all he could to make it right, by falling into the pit of his own accord. He did it, he made it happen, and he didn't even think twice about it. And that was creepy. Weird, and then some.
Stavros — Again
Remember that time he was totally obsessed with Lulu? He wanted nothing more than to be with her, even though she did not want anything to do with him. She reminded him so much of Laura, and he wanted to be with her for the rest of his life. But that wasn't good news for Lulu when he kidnapped her and took her hostage. He tried to freeze her body so that she would come back at some point and be with him, but he forgot that things don't always work out like that. Luke and Laura were able to come back and save her, and then they put him into the freezer when they got her free. They saved her from the cryogenic chamber — along with her husband, Dante — and she was brought back. But while they were doing that, they locked an unconscious Stavros in a room that was just very cod. Laura then turned down the cold air even more, and that froze him to death. And that was not the first time he'd been frozen to death — which obviously did not work — so we are wondering what made them think it would work a second time.