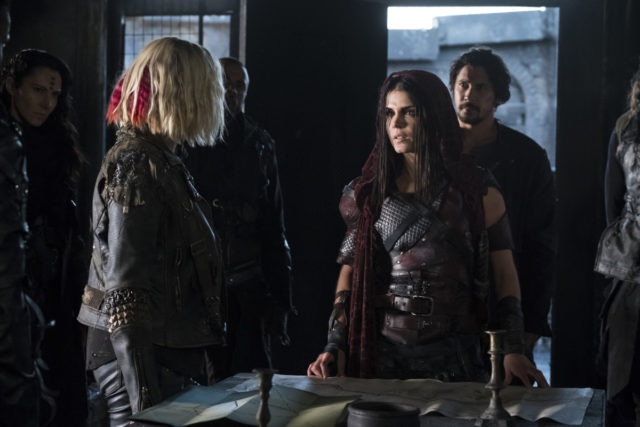 Sometimes The 100 is an action packed show filled with fighting and killing. Other times, it's a different kind of show that has strong emotional stakes with twists and turns at every corner. This week, it was most certainly the latter. The good news is, both of those shows are excellent shows and entertaining to boot.
"Shifting Sands" is truly an illustration of what I love about The 100. I love that it can put on so many different hats and still be entertaining. Action is a central part of what makes this show so fun to watch, but many of the best moments in "Shifting Sands" were emotional payoffs or even quiet, non-verbal moments for individual characters indicating growth or development in their relationships. The character relationships are the lifeblood of the show, and this episode did a lot to feed that.
Of course, the primary relationship focus centered around Octavia, Bellamy, and Clarke, as they tried to find balance in the new hierarchy. Octavia sees them both as the cause of the issues, but slowly comes to recognize that she needs them. One of the best moments of the entire episode came when Clarke expresses to Bellamy while they're separated from the rest of the group how much she admires Octavia as the leader of Wonkru. Bellamy then uses that opportunity to express his admiration for Clarke for surviving on the ground. This moment was important for several reasons (BESIDES feeding the Bellarke fans) like showing Octavia in a more positive light.
There were plenty more explicit and implicit emotions at play throughout "Shifting Sands" that were less prevalent but still important. Murphy, for instance, making a sacrifice so that Monty and the others could get where they needed to go, led to Emori silently joining him on the run, a pivotal moment in their relationship. Indra told Octavia that she loved her, perhaps not returned in the same way, but it was a major milestone for a pairing that's existed for a long time. Further still, Kane offered (repeatedly!) to betray Octavia and keep himself and Abby alive. All of these moments, sometimes surrounded by action and sometimes not, gave each scene higher emotional stakes and overall really worked in the show's favor.
For all of the emotional weight given to this episode by The 100 writers, who have proven themselves time and time again to be incredibly talented people, there was still plenty of action and twists and turns to be had. I was able to predict about three minutes before the reveal that young Mr. Shaw had been the one to disable the missiles. As exciting as the prisoner story and impending war has been, Shaw being a wildcard gives the whole story an extra layer. Every bit of that story was exciting.
Here are a few other thoughts:
The first real scene with the prisoners in the valley was interesting to me for a couple of reasons. One, it drew an interesting parallel to the first day that The 100 spent on the ground. It also inconspicuously revealed that most of the prisoners are not trained fighters, which is important to note.
"I thought you'd be funnier". Perhaps Madi is the funniest of them all.
"I'm glad you're alive, big brother"
My social media feeds give lots of attention to Eliza Taylor and Bob Morley, and rightfully so. They're both excellent actors and at times have carried the show on their shoulders. That said, I don't think Marie Avgeropoulos gets enough credit. She's gone through incredible transformations as Octavia and has played them all seamlessly, being wholly believable and still somewhat terrifying as she does it. I predicted long ago that Octavia would be a leader in this world and Avgeropoulos has risen to that challenge in every way.
One of the best non-verbal moments of the episode was the exchange of looks as Clarke saw Bellamy reuniting with Echo, and then Octavia's reaction to the exact same moment. Dismay, alarm, confusion, and anger, all conveyed without saying a word.
I feel like I run out of ways to explain how much I love this show, so I truly hope my words are doing it justice. But honestly, The 100 is just consistently good. It writes the characters well. It doesn't make anyone do anything weird to further the plot. The action keeps things moving. It's fearless and moves along at a pace unmatched by other network television shows. There's a ton of nuance and subtlety in the same show that has big explosions and battles. I just can't endorse this show enough.
What did you guys think? Did you enjoy the episode? Let us know!
The 100 airs Tuesdays at 9/8c on The CW
The 100 Season 5 Episode 5 Review: "Shifting Sands"
Summary
Clarke and Bellamy march with Octavia as she moves on the valley, while Murphy and Raven try to negotiate on this week's excellent episode of The 100