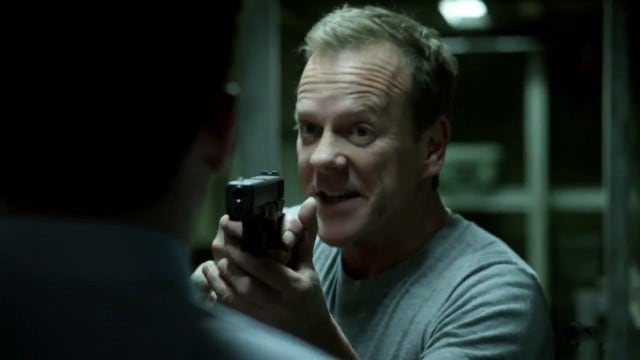 I watch an incredible amount of television. Whether it's on Netflix, through On Demand, or even when I somehow have time to watch a TV show live, I always find myself sitting in front of the screen, loving every second of my favorite stories or discovering new ones that I've grown to love just as much. Out of all the television I watch, though, I've come to realize that there are just some shows that are simply made for guys. No, that's not me saying a woman couldn't enjoy a specific TV show, just because it caters more to a male viewer, but when it comes down to it, these are the ten TV shows that every guy should watch.
Justified
If you're not already watching Justified yet, I only have one question for you. Why not? Justified is literally filled to the brim with stuff that guys love, starting with two amazing performances by Timothy Olyphant as Raylan Givens and Walton Gogigns as Boyd Crowder. Both these guys get to utter the best dialogue on television, and whenever they're called to say something "tough" or "cool," it never feels fake. These two characters, plus the great supporting cast (Art, Tim, and Rachel are amazing), some of the best action on TV, and that modern Western feel that can be found in every episode make Justified one of the manliest TV shows out there.
Game of Thrones
I would hope that everyone reading this article already watches Game of Thrones, but if for some inexcusable reason you don't, here's two simple reasons why it's a TV show every guy should watch: so much violence and so much nudity. In all seriousness, though, there's a lot more that Game of Thrones offers than just epic sword fights and an endless amount of incredibly attractive women (although it still has both of those). The show isn't black or white – it deals with the gray aspects of morality, and there's really not a true villain to be found in all the characters. Everyone, whether it's for self-preservation, honor, or power, has their understandable motives for the extreme actions they take, and it's amazingly entertaining to watch it all play out. Plus, there's dragons. I mean, come on, guys. Dragons!
24
By the end of its eighth, and what was thought to be at that time, final season of 24, I could understand why people were growing tired of the show and its familiar tropes. There was always a mole somewhere in CTU. Outrageous or uninteresting subplots filled in the gaps between the action (remember Kim and the cougar?). And no one ever believed Jack until it was almost too late. Yet what I've realized with 24, especially since it's come back with 24: Live Another Day this year, is that at its best, 24 is an intense, suspenseful thriller, and at its worst, it can become a mindless action movie. As a male, that's a TV show that speaks to me on both fronts (although, for the record, Live Another Day has been much more of the "good" 24 than the "bad"). And ultimately, you've got Jack Bauer at the center of it all, and who doesn't want to watch Jack break a dude's neck with his legs or hear him yell out his favorite catchphrase over and over again (you know what I'm talking about)?
Supernatural
There's two reasons why I chose to put Supernatural on this list. First, it, in my opinion, provides of the toughest, coolest, and most awesome TV characters out there in Dean Winchester, who is played with perfection by Jensen Ackles, one of the most underrated actors on TV if you ask me. And second, Supernatural, at its core, even if it's gotten away from this idea a little bit in its later years, is a TV show about family and what it means to be a brother. That to me is a message and a theme that makes this show worthy of this list. It's not about the ghosts or demons or monsters – Supernatural is all about brotherhood, and that's something that every guy can use in his life.
Firefly
Did you watch Star Wars for the first time, see how awesome Han Solo was, and almost wish the guy was a TV character so you could get to see him every week? I know I did, and if you did, too, I have your solution: Captain Malcolm Reynolds and Firefly. Reynolds, portrayed by Castle's Nathan Fillion, is the spiritual descendant of Han Solo, as he leads his team of good-hearted smugglers around the galaxy, looking for their next job. He's cocky and stubborn, but he always backs its up with his toughness and bravery. Plus, if Reynolds alone isn't enough to get you interested, Firefly is a combination of both sci-fi and Westerns, essentially making it a show about space cowboys. Plus, it's only 14 episodes long (plus a movie), which isn't a big investment, and all available on Netflix. Check it out and see what you think.
https://www.youtube.com/watch?v=JirVEszqWsw
Chuck
What if you were actually forced to become James Bond? But you couldn't be as cool or smooth as he is in the movies – you were still you're normal dorky self. That's essentially the concept of Chuck, which takes a normal guy and thrusts him into the role of working for the CIA. This show is great for guys to watch for so many reasons, whether it's all the nerdy video game references or the gorgeous Yvonne Strahvoski. However, what makes Chuck the perfect show for any dude to watch (and one of my personal favorite TV shows of all time) is that Chuck, the character, never loses that "every man" quality that makes him so easy to relate to. Whether you're wondering if he'll save the day or get the girl, you always feel like you're right there beside him, going through it all yourself.
Friday Night Lights
Ever think there's no good sports shows on TV? Well, actually there was one – Friday Night Lights, which focused on the town of Dillon, Texas and its insane passion for its football teams. What makes Friday Night Lights such an amazing TV show (and one that's so great for all guys) is that it uses football to help tell a great story without making football itself the story. The best sport stories are always about what's happening on the field as much as what's going on off it, and that's a perfect balance that Friday Night Lights masters with ease. Plus, by the end of it, you'll be wishing that Coach Taylor was your dad. Trust me.
Smallville
Smallville is a TV show for every guy, because it shows the difficulties of growing up as Superman in the most human way possible. The struggles that Clark faces, especially in the earlier seasons of the show, are issues that all guys face at some points in their lives. Smallville was a show about Superman and how he was able to embrace his destiny, but more importantly, it was a story about how to take the difficulties in your life and learn from them, about what it truly means to be a man.
https://www.youtube.com/watch?v=2t3y16jArjw
Arrow

Everyone flocks to the movie theaters to see the new Marvel films, but what they don't know is that the best superhero story being told right now is on every Wednesday night on The CW. Specifically during its second season this past year, Arrow really found itself and became an action-packed, adrenaline-fueled action thriller every week, with the best stunt work and action sequences I've seen in any show on any network. Add in the fact that every single character on the show is compelling and interesting (yes, eve Laurel), and you've got the summer's best blockbuster right here, just spread out across 23 episodes and made on a tenth of the budget.
Mad Men
You had to know that Mad Men would show up on this list at some point. Now, even though Mad Men is one of the most well-written, gorgeously show, and impeccably acted shows on television, I'm going to cite a couple more shallow reasons about why guys should watch it. First, because you want to be Don Draper – he's a morally complex "ladies man," struggling with his past, who is also the most suave guy in the room always. Second, the sixties setting is great – the constant drinking and smoking in the office and just the way people talk on the show is so much fun to watch. And lastly, the women are gorgeous, and if you don't believe me, look up Jessica Pare, January Jones, and Christina Hendricks and tell me they're not stunning. Put all these together, and you've got one of the best shows out there for guys to watch.
Photo via YouTube