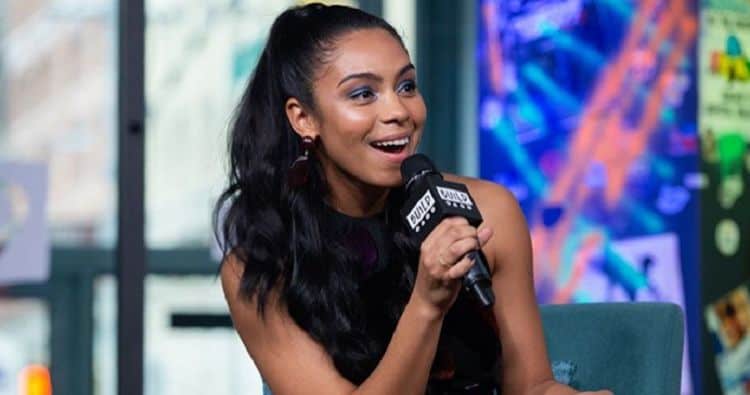 Taveeta Syzmanowicz' name may not be familiar to you yet, but you've probably seen her face on the new USA series, Dare Me. In the show, Taveeta plays a high school cheerleader named RiRi. On top of her role in Dare Me, Taveeta has also appeared in Netflix's October Faction and Nickelodeon's Make it Pop. Although she may seem like a new face in the the industry, Taveeta is no new comer. She's been working in the entertainment business for several years and she already has a very impressive resume. Since her carer is clearly on the rise, now is the perfect time to learn more about this talented young star. Keep reading for 10 things you didn't know about Taveeta Szymanowicz.
1. She Has Mixed Heritage
Taveeta Szymanowicz comes from a very diverse background. Her mother is Polish and her father is from the Caribbean island of St. Lucia. Her parents eventually ended up in Canada. Both cultures played a major role in Taveeta's upbringing and continue to influence her as an adult. One of Taveeta's favorite foods is a strawberry flavored Polish dessert.
2. She Studied Dance
Throughout her career Taveeta Szymanowicz has proven that she is a woman of many talents. However, her first love was dance. She began taking dance classes when she was just six-years-old, but eventually abandoned dance to pursue sports. As a teenager she rediscovered her passion for dancing. She attended the Cardinal Carter Academy for the Arts where she studied dance and she is trained in ballet and modern dance.
3. She's A Blogger
Taveeta Syzmanowicz hopes to use her platform to inspire and empower other young women. She created a blog Veeta Girl that she uses to share helpful information, fashion tips, life advice, and resources. Unfortunately, it looks like the blog hasn't been too active over the last couple years. That's probably because Taveeta's career has really taken off and she's been busy with her acting work.
4. She's From Toronto
Canadian celebrities are definitely leaving their mark on the American entertainment industry and Taveeta Syzmanowicz is no exception. She was born and raised in Toronto and still considers the city home. According to Taveeta, her favorite thing about being from Toronto is "how diverse and multicultural we are. To be able to walk down the street and see so many different types of human beings is really inspiring. It constantly fuels the love and positive energy that's so important in life."
5. She Considers Herself "Kooky"
Taveeta isn't in the habit of taking herself too seriously. She knows how to focus when necessary, but she also enjoys relaxing and having fun. Taveeta considers herself a very positive person and admits that she is "kooky all the time". There's no doubt that this kooky behavior definitely comes in handy when her career becomes stressful.
6. She's Always Wanted To Be A Performer
Taveeta has wanted to be a performer for as long as she can remember. She has always loved entertaining others enjoys using her singing, dancing, and acting skills to make others happy. Along with her lifelong love for the arts, she also credits her time at the Cardinal Carter Academy with preparing her for a career in show business. She says, "I really feel that without that arts program and me attending that school for six years, I truly would not be the person I am today. It's what fueled the fire for me to want to become an actress and a singer and pursue my dreams as a triple threat."
7. Her Music Is Inspired By Experiences And Memories
Taveeta released her debut single "Resurrection" in 2017 and has been growing her music career ever since. All creative people have a source they draw on for inspiration. For Taveeta Szymanowicz, those inspirations are her life experiences and memories. She especially relies on these things when she is writing music.
8. She's Friends With FrancisGotHeat
Francis Nyguyen, also known as FrancisGotHeat, is a Toronto based music producer who has worked with some of the biggest names in hip-hop, including Drake and Big Sean. Taveeta and Francis were friends in high school and she is also a fan of his work. When she began working on her debut music project, she reached out to him and the two collaborated on her "Fantasy" interlude.
9. She's A Cross Between A Sloth And A Cheetah
If you ask most people which animal they feel they have the most in common with, you'd probably get answers like: lions and tigers. But Taveeta sees herself as two very unique and different types of animals. When asked which animal matches her personality during an interview with Fame Magazine, Taveeta said "It's funny because I'm a very hard working and zealous person so I would like to say a Cheetah, but I would still categorize myself as Sloth if I were an animal because of their laid back and chill attitude. So I would say a hybrid cross between a Cheetah and a Sloth."
10.She Runs Her Own Dance Company
Taveeta is the founder of a dance company called Liberum Dance Project. She started Liberum in 2013 when she was still a high school student. The company uses dance and movement as tools to teach people how to comfortable, confident and free. The company hosts several workshops and events throughout the year.
Tell us what's wrong with this post? How could we improve it? :)
Let us improve this post!