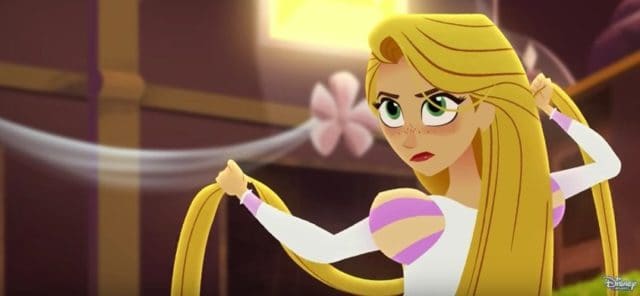 In a few short weeks Disney's spunky hero with the long blonde hair will return to the screen! Tangled's Rapunzel and company will return on the Disney Channel as a full fledged series, introduced by a new made for television movie. Tangled Before Ever After will catch audiences up to what happened after Rapunzel defeated the evil witch and reunited with her parents in the kingdom she was born to lead. Tangled The Series will follow the events thereafter, covering Rapunzel's adventures after she miraculously gets her infamous long locks back. This is all before the Tangled Ever After short released a few years back which bookends Rapunzel's tale. Did you get all that?
The series itself won't premiere until March 24th, but Disney has released an exclusive sneak peek of the movie which will premiere Friday March 10. Now you can watch the first 5 minutes of the movie. The story picks up six months after the events of the movie on Rapunzel's coronation day. Don't expect the Princess of Corona to be a wallflower. If this first sneak peek is any indication of what's to come, Rapunzel (Mandy Moore, pulling double-duty with her role on NBC's This is Us) and Eugene (Zachary Levi) are itching for adventure more than the confines of stone palace walls. After all that time in a tower, why shouldn't she take advantage of her freedom?
You can also take a look at the trailers for the upcoming movie and series to catch the first glimpse of returning friends Pascal the chameleon, Maximus the palace guard horse, and Rapunzel's new friend Cassandra (Broadway favorite Eden Espinosa). Also new to the series will be Rapunzel's previously seen, but never before heard, parents Queen Arianna (played by Modern Family's Julie Bowen), and King Frederic (played by veteran voice actor Clancy Brown).
Rejoin the adventures of Rapunzel when she returns on Tangled Before Ever After, Friday March 10 on Disney Channel.
Tell us what's wrong with this post? How could we improve it? :)
Let us improve this post!