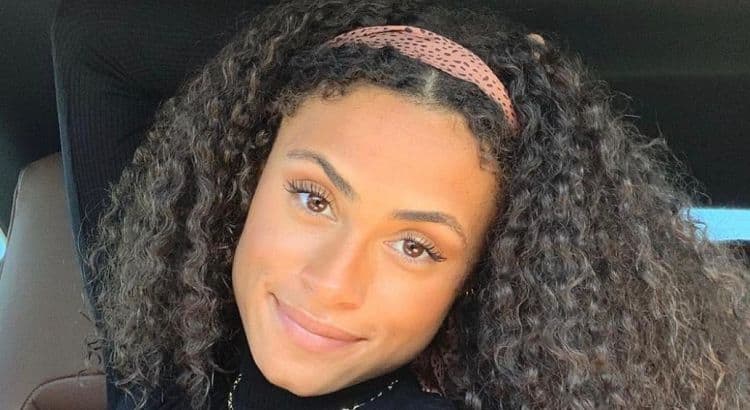 Sydney McLaughlin was probably feeling a lot of pressure leading up to the 2021 Olympic Games in Tokyo. After all, in 2016, she became one of the youngest women to compete in a track event at the Olympics and in 2016 and in 2021 she set a world record for the 400m hurdles. However, if Sydney has been feeling pressure, she never let it show. The incredibly talented track star has always appeared to be calm, cool, and collected but as soon as she hits the track, her competitive side outweighs everything. As she gears up to go for a gold medal in Tokyo, there are countless people across the country — and maybe even other parts of the world — who will be cheering her on. Keep reading for 10 things you didn't know about Sydney McLaughlin.
1. She's A New Jersey Native
Sydney was born and raised in New Jersey where she attended Union Catholic Regional High School and became one of the area's best high school athletes of all time. Sydney comes from a very athletic family. Both of her parents were track stars and her siblings ran track as well.
2. Her Faith Is Important To Her
Religion is a topic that many people tend to shy away from, but not Sydney. She has been very open about the fact that she is a devoted Christian and she always thanks God for her success. In a post-race interview after setting the 400m record, Sydney said, "All the glory to God. Honestly, this season just working with my new coach and my new support system, it's truly just faith and trusting the process. I couldn't ask for anything more and truly it is all a gift from God."
3. She's In A Relationship
Sydney is in a relationship with former professional football player, Andre Levrone Jr. Since Andre has also played sports at a highly competitive level, he probably has a good understanding of Sydney's life and schedule as a top-tier athlete. Based on his Instagram profile, it's clear that he is also a very devoted Christian.
4. She Has Skills On The Basketball Court
Track and field may be the sport that Sydney is best-known for, but it's not the only one she's good at. She's also a beast on the basketball court. In 2016, Sydney posted an Instagram video that showed she has a pretty good shot. However, it's unclear if she ever played basketball competitively.
5. She Loves Helping Others
Helping those in need is something that has always been important to Sydney. She has done some great volunteer work over the years including working with the Central Jersey Chapter of Hope Worldwide to help with disaster relief efforts after Hurricane Sandy.
6. She's A Private Person
Even though Sydney has been spending a lot of time in the spotlight for the last several years, she doesn't appear to be the kind of person who wants to let the world in on her personal life. She likes to maintain a high level of privacy and keep all of the focus on her athletic abilities.
7. She Loves Junk Food
Since Sydney is a talented athlete who is obviously in great shape, most people would assume that she follows a very healthy diet. However, that couldn't be any further from the truth. Sydney told Eat This, "My parents tell me to eat healthy, but I don't. I'm the most unhealthy eater there is. I'll be eating junk food the night before a race, before a race, after a race. Of course, there are times that I need to change that. Before my Rio races, I'll probably be eating salads [laughs], but I love candy, so I'm never going to change that."
8. She Doesn't Let Track Define Her
Lots of athletes who compete at high levels often feel like their sports-related talents are all they have to offer. However, Sydney has gotten to a place where she doesn't feel this way. During an interview with L'Officiel, Sydney said, "…my identity is not found in whether I win or lose a race, what place I get, or how much money I make. Track is not who I am, it's what I do."
9. Allyson Felix Is One Of Her Inspirations
Allyson Felix is one of the most well-known track athletes in the United States. She became even more popular in 2019 when she openly criticized Nike for dropping her sponsorship deal because she was pregnant. Sydney has gotten the chance to train with Felix for the Olympics and says that she has learned so much from her.
10. She Loves Making People Laugh
There's no denying the fact that track is a huge part of Sydney's life, but it certainly isn't the only thing she likes to do. Putting smiles on people's faces is something else that she greatly enjoys. While talking to L'Official, Sydney referred to herself as a comedian.
Tell us what's wrong with this post? How could we improve it? :)
Let us improve this post!