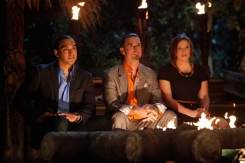 …Los Angeles and the Reunion show! The first vote is for Coach, the second for Sophie. They alternate two more votes apiece. Vote Seven is for Sophie. Jeff reads Vote Eight, "The winner of Survivor: South Pacific…Sophie!" (Sophie received the ninth vote as well.)
Sophie thought she might win because Coach got obliterated during the Final Tribal Council. It's hard to explain how the show changes your life, but it does. She admits that she has a hard exterior that can come off as pretentious, but she had decided to be a bit more like Dawn.
Coach, you were different. Did you play differently? Yup, he was joyous this time. He received the redemption he sought. He's not the arrogant guy he was in his first season. Albert warned Coach not to bring Sophie, so should Coach have brought Rick instead? He replies that he was damned if he did and damned if he didn't. The Jury says Ozzy would have won if he had won the last Immunity Challenge. Ozzy keeps coming back to play because he loves nature so much. He doesn't care about the money; he just wants to win! If he had won, we may never see him again as he;d move to a deserted island with his money. Now he needs to keep working hard. Ozzy gives the children of the world advice on always pursuing their dreams and never giving up.
On the street, Cochran has received positive reactions, but not so much on the Internet. He admits that all of the theory he knew about the game meant nothing when he was actually out there. Jeff asks Brandon what was tormenting him during the game. He was reminded of the bad things he used to do, but he had committed himself to always do right. He wasn't accepted the way he wanted to be when he got home. Russell says he himself made greatness in the game, and Brandon tried to change it, but his nephew did nothing right.
By the biggest margin ever, Ozzy wins the Fan Favorite award over Cochran. Dawn says she learned that you should always face your challenges. Whitney and Keith are a couple. Whitney says the game forces you to trust people very quickly. Edna is pregnant! Christine and Stacey are really close friends. Jim's advice to future players is to trust perceived motivations because not everyone is there to win the game.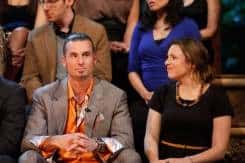 Jeff then reveals the twist for Season 24 of Survivor. Next season, two tribes, Salani (don't think I won't accidentally type my last name over and over again because of this tribe) and Manono tribes will compete against each other, but live together on the same island. Will they share their resources, or make the other fend for themselves. Next season is Survivor: One World.
Season Wrap-Up
Well folks, that was Season 23 of Survivor. I have to say, I thought this was a middling season. The players were better than last season, but there was something perversely enjoyable about watching Rob just play his fellow castaways like fiddles. Yes, Sophie was a deserving winner in that she won three Individual Immunities, and yes, it was great watching Coach and Ozzy thrive in different ways and getting much farther than they should have been allowed to get, but in the end, Sophie's edit made her kind of boring, and ultimately, unfulfilling as a winner. Perhaps the biggest surprise to me over the course of the three-hour finale was the fact that any of them thought Rick would win the game. This was another reminder that watching what the producers choose to show us, and actually playing the game are vastly different experiences. Yes, sometimes the nice guy wins, but that is only if he or she does something to earn it. Coach may have out-thought himself on that decision, and it cost him a million bucks.
Then again, maybe I'm just upset I was pretty far off on my preseason picks. Let's take a look:
My preseason Odds to Win were:
1) Albert, 2) Whitney, 3) Mikayla, 4) Dawn, 5) Keith
6) Brandon, 7) Jim, 8) Edna, 9) Ozzy, 10) Rick, 11) Elyse, 12) Sophie
13) John, 14) Christine, 15) Coach, 16) Mark-Anthony, 17) Semhar, 18) Stacey
The final results were:
1) Sophie, 2) Coach, 3) Albert, 4) Ozzy, 5) Rick
6) Brandon, 7) Edna, 8) John, 9) Whitney, 10) Dawn, 11) Keith, 12) Jim
13) Christine, 14) Mikayla, 15) Elyse, 16) Stacey, 17) Mark-Anthony, 18) Semhar
Now, as I always say, my Odds to Win are not an attempt to predict the order in which people will finish. That said, it is always nice to see results like those for Stacey, Mark-Anthony, Semhar and Christine somewhat mirror my Odds. Of course, on the flip side, Coach vastly outperformed my predictions, and Mikayla vastly underperformed (how was I to know that Mikayla was going to be a she-devil of sex, lust, and desire whose only purpose in the game was to lure Brandon away from his wife?). I'm glad to see my favorite, Albert did at least make it into the Final Three, despite ending up with no shot to win. If there is anything else to be said, it is that I took the preseason view that no new player would be stupid enough to let Coach and Ozzy hang around, especially after seeing Rob destroy his competition in the previous season. I was wrong. Those veterans are great to have around at the beginning of the game because they can help win Challenges. By the time newbies may want to kick them out, they have entrenched themselves into alliances that may supersede any baggage those players arrive with when entering the game. Yes, Ozzy was voted out early, but that was by his design, as he knew he could thrive in one-on-one Duels and providing only for himself. Coach was just unbelieveable. Yes, he may truly be a religious man, but he expertly used Brandon's religiosity to manipulate and control his tribe. True, he didn't win, but the fact he came in second place, when he should have been the first or second player voted out, is a testament to him and the way he altered his game from previous attempts.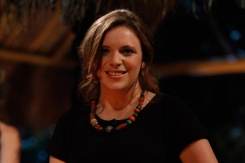 There was nothing all that interesting from the Reunion. Hooray for Edna (on the pregnancy), and for Keith and Whitney for falling in love (sorry ex-boyfriend!), but other than that, it was the Brandon and Coach show. Jeff didn't even bother addressing Semhar, Mark-Anthony or Elyse, not that it was a great loss. As far
Survivor: One World
is concerned, I think it could be really interesting. There could be some major alliance-forming going on from the get-go. Plus, the producers could make them split up to separate beaches at some point, or have the tribes mix in a schoolyard pick at some point a couple of weeks into the game. Heck, they could have everyone arrive without designated tribes, have them socialize for a day, and then do a schoolyard pick. The only real drawback could be that the post-Merge scrambling could be lost because inter-tribe alliances may already exist. Then again, it will be fun to watch players suss those inter-tribe alliances out. I assume Redemption Island will be back, but it is yet to be seen whether any veterans will return (I hope not!). To be honest, no matter what they do, I will be excited come February!!
So, that was Survivor: South Pacific. What did you think of the season? Are you happy Sophie won? Would you have preferred someone else? Did Coach deserve the win? Are you happy Brandon will finally be off your screen? Would you want to see a Russell vs. Brandon season? (Personally, I never want to see a Hantz ever again.) What do you think of the One World possibilities? Are you psyched for February? Please leave your comments below. As always, I will be back next year when the new cast is revealed to size them up and give my Odds to Win. Thank you so much for reading this season. If you have any suggestions of things you'd like to see in this space next season, please let me know. Until then, I'm off to prepare my audition video (again!!).