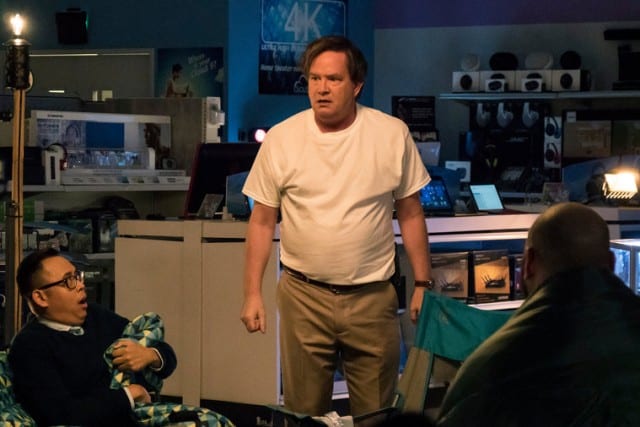 It's so easy for me to relate to Superstore. Everything that I've experienced working in various environments has culminated in hearty laughs at Every. Single. Joke. I really, REALLY hope that the non-retail folk are watching, absorbing, and taking detailed notes, because it's a wonderful window into a world that people don't normally see.
This week on Superstore: A customer who will not get out of the store causes everything to be set back. Glenn finds out there are signs he forgot to hang up, and makes everyone stay late to help him finish it. Because they stayed late, everyone gets locked in the store overnight. Since they're stuck for the night, they search for opportunities to make the most of their situation. Everyone confesses their biggest regret. Dina makes her play for Jonah.
Has anyone ever worked overnight in a big-box store? The latest I ever left was 1 a.m., and the earliest arrival was 5:30. I always wondered what it would be like to spend the evening there with little to no supervision. That's basically what this episode guessed (or perhaps knew). It would be "fun", as Jonah said, to ride motorized bikes around the store, or play video games on every screen in the electronics episode. I honestly had fun just imagining myself being a part of it. It was awesome.
There was so much meat to this episode and it was so easy to reconcile with my retail past. Aside from the jerk that wouldn't get out of the store at closing time (Free advice: know what time it is and get the heck out. Employees have lives.), the strongest part of the episode was the bonding between employees. They played never have I ever, they revealed secrets, and they all became a little more closely bonded by the end. Every good show thrives on character relationships, and they came out of "All-Nighter" feeling much more like a unit.
I love this cast, but it's the nuanced characters that really give this show its edge. Not only are all the characters extremely true to life (not to flaunt my retail experience again, but it's just so relevant) but they are just the right type of exaggerated to be entertaining and still grounded.
If there was one part I didn't particularly care for, it was the Dina/Jonah photo room moment. I'm just not sure that moment needed to come to fruition so soon. I think both of those actors are hysterical, and perfect in their roles, but this scene just happened to soon. Maybe it's because they're building to a Jonah/Amy moment down the road? I'd prefer that they develop some of the other characters they've introduced.
As always, here are some of my favorite quotes/moments from the episode:
"If you're still in the store, you're being a dick!"- Garrett, saying something every retail worker has thought. I'll spare you the rant.
"Scout. Taffy. FDR. Pikachu. You guys are in charge." How may birds does Dina have, anyway?
"You can call the game 'signage fever'." – Glenn
"I don't regret having this baby, I just wish I'd had it later. Or earlier like most of my friends."- Cheyenne
"The backsplash in the employees bathroom is like a B- at best."- Glenn, trying to insult Cloud 9
"Glenn is right. This backsplash is unremarkable."
Ultimately this episode was just another excellent installment on what has been a really great show so far. There's so much truth that can be gleaned from watching a show like this, and everyone who has held a similar job can relate. They really rely on the humor that comes from truth, and it's working brilliantly.
What did you guys think? Did you enjoy "All-Nighter"? Let us know in the comments!
Superstore Season 1 Episode 9 Review: "All-Nighter"
Summary
The gang gets stuck in the store all night in this week's excellent Superstore.