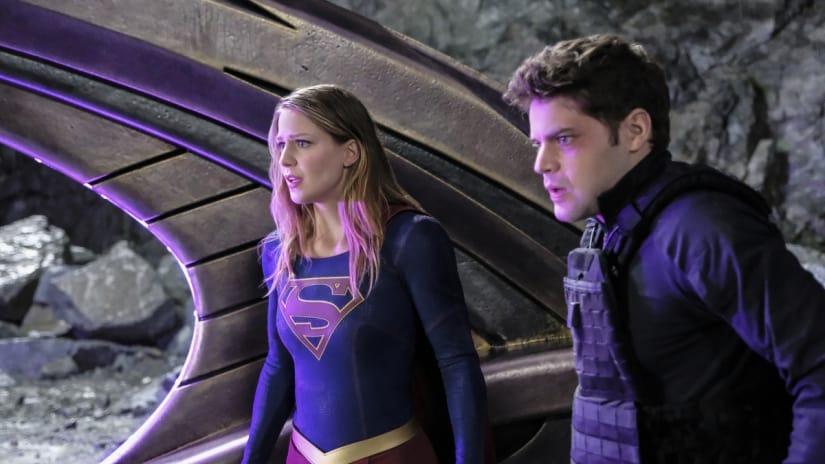 In it's first episode back from the winter hiatus Supergirl returns with a Kevin Smith directed episode, "Supergirl Lives." Smith has started jumping in to direct various DC TV episodes for the CW network within the last year and it has seemed to be a very beneficial relationship for everyone so far. He does a great job with the episodes that he is given and the fans normally eat up what he delivers, which is a nice break from the show's norm. Supergirl has been extremely solid through the first half of it's second season and "Supergirl Lives," continues that streak with an episode that might not be it's greatest, but also doesn't do anything ridiculous or unusual.
The plot to this episode comes across as very generic feeling for the most part. It feels like a leap to get people in front of the portal without any questions asked and keeps the idea of everything rather shallow. Supergirl is heavily reliant on it's characters, and this episode is a great example of a time when the show is willing to sacrifice the structure of a background plot in order to put the main focus on how it impacts the characters. "Supergirl Lives," spends a lot of it's time with the dynamic between Kara and Mon-El as well as Winn's increased time doing field work on missions. Winn's storyline felt like it was rushed in order to be crammed into a single episode rather than be shown as a long-term growth. The biggest issue with his fear of being in the field is that by the episode's end his newfound attitude and confidence don't feel earned for someone who was as scared as Winn was at the start of things. It was definitely a necessary story for Supergirl to address but would have been better drawn out across a longer amount of time.
While the story itself was nothing to rave about, "Supergirl Lives," does dive into the characters and their ability to balance having a personal life and being able to fully dedicate themselves to the important work that comes with defending the city. However, a lot of the episodes character decisions also feel extremely hit or miss and like retreads of already covered ideas and developments. Kara and Mon-El spend the episode on a planet without powers and struggle with the argument of whether or not they have a duty to only watch out for themselves or to always be heroes and protect the people. The idea was one of the original flaws Mon-El struggled with when the character was first introduced but eventually felt like something he was moving past. It was frustrating to be watching something that had already been covered on the show, but in the end it did lead to an important conversation between him and Kara; Mon-El is fully committed to becoming a superhero. It could have just been that this was Supergirl's official final push for Mon-El to realize that he wants to take on the hero lifestyle, but it was a questionable way to reach their end of episode conversation.
The other relationship dynamic that Supergirl touched on was Alex and Maggie. For once viewers got to witness Alex fully happy and comfortable with herself since coming out. It was really nice to watch Alex be herself and not be bottling something up at first, but the episode quickly made sure the character would get in her own way and complicate things. On one hand, it does seem appropriate to have Alex immediately call into question the importance of her relationship when something important goes wrong, but that doesn't mean the show's writing has to dramatically make her break up with Maggie. Alex deserves to be happy and Supergirl has built up this relationship as something viewers should get used to having on the show, so it would be nice if the episode's would focus on the great story and chemistry going on with Alex and her relationship.
Supergirl has always been the most consistent DC TV show since it started airing, and rarely is an episode going to be bad. However, "Supergirl Lives," felt like a way to bring the series back as if the viewers forgot everything that happened in the show's first half of the second season. A lot of the stories, while told well, felt like partial retreads which made them less exciting. The characters all remain great but sometimes it would be nice to not have them get in their own ways. Most of the decisions in this episode feel like a reminder of everything that is building in season two of Supergirl, which looks to have a promising second half ahead, but the show shouldn't be afraid to continue pushing forward with it's ideas and taking new steps towards the future with the ongoing stories.
Other Thoughts:
Man they just care less and less about revealing the heroes identity with each new DC TV show that comes out.
Winn facing the same situation of being on the ground with a gun pointed in his face felt a little cheesy at the end. Only because it was the same exact situation….
Can't we just keep Alex happy all the time??
I'm super excited to see Mon-El's official quest to become a full hero in the back half of this season. I think it will be a lot of fun. It won't bother me to see him given the traditional red suit blue cape combo, but I still think it's a no brainer to stick him in the simplistic black shirt red emblem Superboy look.
Supergirl Season 2 Episode 9 Review: "Supergirl Lives"