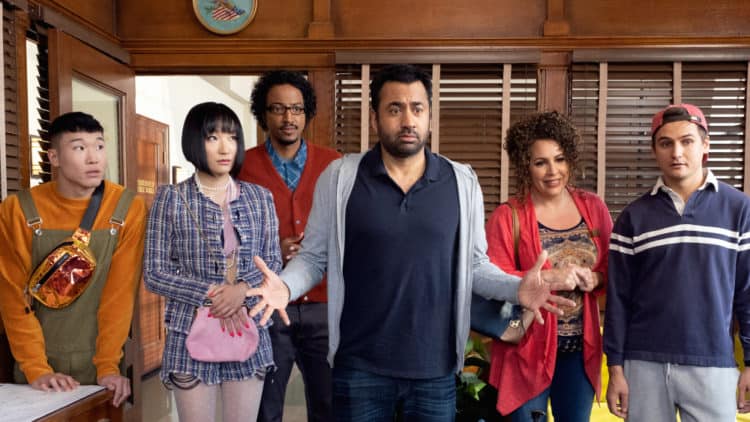 "Sunnyside" is an NBC comedy series created by Mike Schur and is set in the heart of New York City. It revolves around Garrett Modi, a young man and former New York City councilman who lost his cause and got thrown out of office. Now crushing at his sister's house, he sees a shot at redemption when a group of immigrants approaches him for help to get American citizenship. The captivating trailer that has left viewers intrigued was released on May 12th, 2019 before the official premiere of the show. This series focuses on the diversity of different ethnic backgrounds, depicting the highs and lows that immigrants face while trying to get a shot at a good life.
1. It is a Mike Schur production
Mike Schur co-wrote its screenplay alongside Kal Penn, David Miner, Matt Murray, and Dan Spilo. He is an American actor, writer and producer best known for his outstanding work in "The Office," an NBC comedy series. More of his creations include "Brooklyn Nine-Nine" and "Parks and Creations" that aired from 2009 to 2015. He is the executive producer in this new series, and his optimistic comical approach always leaves the viewers wanting more.
2. Kal Penn stars in it
Kal Penn is a highly-decorated American actor, producer, comedian, and former civil servant. He served in the Obama administration as an Associate Director of Public Engagement in the White House. He is best known for multiple hit shows and movies such as "Designated Survivor," "Harold and Kumar Go to the White House," "House," and "The Big Bang Theory." Penn stars as Garrett Modi, a young New York City Councilman who was elected but forgot about the very people who helped him to get to the top. He gets lost amid the glamor and power of politics. When his career ends, and he goes to crush at his sister's house. A group of immigrants approaches him, believing he can be of help in their quest to live the American dream. He sees this as a chance of absolution, but only if he remembers where he came from and stays focused.
3. It is a comedy show
The television series captures the viewers' attention through immense humorous and rib-cracking moments as Modi struggles through a crisis. The cast comprises a majority of comedians. It features Los-Angeles based comedian Jun Ho and renowned comedian Kiran Doel who is well known for her appearances on "How to Get Away with Murder," "Weed," and "Grey's Anatomy." According to the New York Times, Kal Penn mentioned to them that from the way he relates to themes, it sounds cheesy that he stars a comedy series. He further said that he likes to make people laugh and loves all his viewers.
4. It addresses immigration
Over the years, immigration has been a burning issue. According to the Channel Guide Magazine, Kal Penn admits that his love for the '80s sitcoms inspired the ideology of this show. He further states that he imagined of a modern-day 'head of the class' teaching citizenship or a civics class and it evolved from there to the series. This ideology is then presented in comic form simultaneously enlightening and making people laugh.
5. It sheds light on American politics
Executive Producer Mike Schur squeezes lots of racial and political drama out of a City Council in his previous work "Parks and Recreation." Kal starred in "Designated Survivor" as a top employee in the white house. His tenure in the white house as a real-life employee and as an Associate Director also adds significantly to his political experience and brings about exciting elements to the political scope of the show. Furthermore, it revolves around a careless politician with a ruined career looking to bounce back to the political scene by advocating for his immigrant employers.
6. Osmany Rodriguez directs this television series
Osmany Rodriguez is a renowned American film director and editor mostly known for "Saturday Night Live," "The Last Man on Earth," and "Vampires vs.the Bronx." According to IMDB, Osmany Rodriguez was nominated for the Primetime Emmy Award for Outstanding Short Form Variety series. He also got nominated for his work on Saturday Night Live that premiered in 1975. In the upcoming comedy. Osmany plays an immigrant called Oz Rodriguez.
7. Sunnyside addresses youth lifestyle and preferences
Modi's lifestyle alone is an ideal explanation of the desires of the modern youth. He manages to ruin his career after becoming the youngest New York City Councilman and drugs played a part in his downfall. The immigrants who approach him for help need nothing else but only to become American citizens and live the American dream.
8. It casts immigrant actors
The casting director Allison Jones puts together the ensemble of immigrant actors perfectly fitting their respective roles in the show. The seven different immigrants span over a wide range of cultures, adding taste and diversity to the series. The show helps to curb racism both directly and indirectly. Additionally, it will help shed light on the lifestyle and challenges immigrants face day in day out, that remain unaddressed.
9. It will be airing on NBC
The comedy series "Sunnyside" that premieres September 26th will be broadcast on NBC every Thursday at 9:30 pm. In May 2019, NBC ordered "Sunnyside" to as they look to kick off the season with an impressive selection of series. It will join top shows in the NBC television lineup including "The Blacklist," "Chicago Fire," "Law & Order: SVU," and "Superstore" among more captivating series.
10. Why the title?
Although the series does not give the exact location of the filing, we can assume that it happens in Sunnyside. It neighbors Queens, stretching east of Long Island, and south of Astoria. The area is popularly known for its numerous ethnic restaurants with the most delicious meals, relatively cheap housing stocks not forgetting the ethnic diversity of the residents. Perhaps the fact that it is one of the most diverse neighborhoods in New York could explain why NBC chose to name the show after the place.