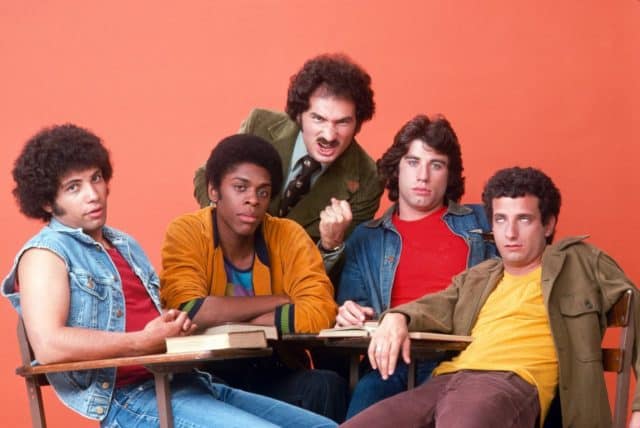 A lot of us might not have caught the show Welcome Back Kotter as it could have been before our time. But there are still a lot of people out there that remember the show fondly and could possibly sing part of the theme. In this day and age though the show is more of a nostalgic reference than anything, and the theme song has largely been forgotten by most. It's too bad really, Welcome Back Kotter had a great theme and was a good show during its run. Of course with the number of TV shows that have come out since the TV became a big thing it's hard to hold onto anything by memory for very long. But Kotter was a show that a lot of people connected with and happened to enjoy throughout its run and it still brings back a lot of good memories for many people.
For the theme song the producer, Alan Sachs, wanted something along the lines of a Lovin' Spoonful-like theme for the show. Originally titled Kotter, the program would take on a whole new meaning once John Sebastian, the singer of Lovin' Spoonful, took over. After Sachs and Sebastian met and discussed what was needed they came to an understanding of what had to be created in order to launch the show and Sebastian went to work. It wasn't easy though since he had to think of a rhyming scheme and Kotter wasn't really a useful name when it came to obvious and useful rhymes. For a theme song things have to be fairly simple, as making them too difficult and too challenging can turn the viewer off before the show even starts. So instead of focusing on rhyming the character's name Sebastian decided instead to take Kotter's story and make it the premise for the lyrics. If you can recall, Kotter went back to teach at the same high school he'd graduated from, and he was assigned to a group of students that were just about the same as he'd been in high school, remedial learners that the system had just about given up on. Sebastian chose to focus on the story in order to come up with the lyrics, finding it necessary to put a positive spin on Kotter's position in the show.
This was what caused the producers to change the name of the show to Welcome Back Kotter, as the lyrics spoke of a man that was coming back to his old school in order to do some good and instantly recognized the teenagers for what and who they were. The song was an instant hit when it came out and eventually sold well over one million copies. For a TV theme song that seems like a huge accomplishment, especially considering that the song might have gone by the wayside once the show was taken off the air. But during the show's run the song was one of the hottest things around, and the program itself was a standout hit since it touched upon a very real subject and yet kept it light and airy enough to allow it a sense of comedy and drama.
Originally the song only had one verse and was meant solely for the TV series. But thanks to the popularity of the show the song became something that people wanted to hear more of, and so Sebastian took the time to finish it up and create a full song out of it. The song was used during the closing credits of the show as well, with some final episodes playing the entire track without the instrumental section. The idea of Welcome Back Kotter was an inspirational one at least, a former student was now coming back as a teacher and meant to do some good in his old school. He didn't fully expect to see the students he got but he made do with what he had. Making friends with his students and creating a rapport was fairly easy for him because at one time he'd been in his students' place and had heard people say that he was never going to make anything of himself.
Welcome Back Kotter provided a very poignant lesson when it came to the public school system, yet even now it seems that lesson was taken at entertainment value and little else. Back then the problem of what to do with troublesome students wasn't any easier than it is now. But what was shown was that a teacher that is willing to dive into the trenches and take on the most challenging moments with the most difficult students can work wonders if they're ready to show that they not only care, but are willing to go every extra mile that's needed with those students in order to show them that they can do whatever they want.
Tell us what's wrong with this post? How could we improve it? :)
Let us improve this post!