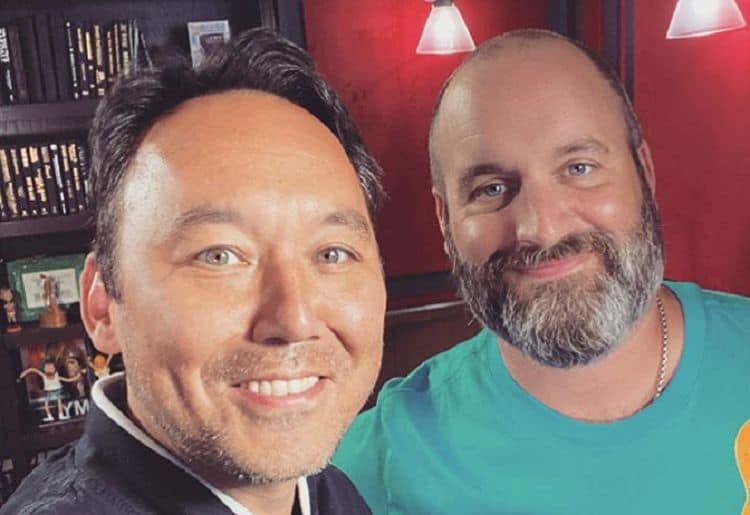 Steve Bryne's life and career are proof that having a good sense of humor can get you a long way in life. Well-known for his skills as a stand-up comedian and actor, Steve has made an entire career out of making people laugh and keeping them entertained. He is most famous for creating the show Sullivan & Son which he also wrote and acted in. Needless to say, Steve is the kind of guy who can do it all. His most recent project is the 2020 comedy film, The Opening Act, which he directed and wrote. Even though he doesn't have an acting role in the movie, his presence can still be felt – which is a mark of how talented he truly is. Keep reading for 10 things you didn't know about Steve Bryne.
1. He Started A Boy Band
Since Steve is a funny guy, you can probably already guess that his boy band wasn't exactly the serious kind. He started a comedic boy band called Sausage Party which consists of random guys he finds in the audience of his shows. They might not be the next Backstreet Boys, but still make the crowd go wild.
2. He Loves The Band Oasis
His boy band may not be serious, but Steve is a serious music fan. He's always loved the British band Oasis which disbanded in 2009. If you're not familiar with the group, one of their most famous songs is the 1995 hit single "Wonderwall". The song went on to earn the band two Grammy nominations.
3. He's Opened For Kanye West
Steve has gotten to do lots of cool things over the course of his career, one of which was opening up for Kanye West. His celebrity openers don't stop there, though. He also got the opportunity to open up for Mariah Carey after her original opener was no longer available.
4. He's A Husband And Father
Steve definitely isn't the type of celebrity who relishes in sharing every detail of his personal life with the media, however, we do know that he is a devoted family man. He has been married for almost a decade and while we know he has children, it's unclear how many.
5. He Loves Interacting With Fans On Social Media
Social media has been a game changer in a lot of ways, but especially because it gives people the chance to communicate directly with their favorite celebrities. Some celebrities don't respond to fans' comments and questions, but Steve isn't like that. It's very common for him to respond to people's comments on Instagram and he loves getting the chance to interact with the people who support him.
6. He Studied Theater
By the time Steve finished high school, he knew that he wanted to make a career out of entertaining people. Steve is a graduate of Kent State University in Ohio where he earned a bachelor's degree in theater. After college, Steve got a job working at a comedy club where he was responsible for minor tasks such as sweeping the floor.
7. He's A New Jersey Native
Steve was born in a northern New Jersey town called Freehold Township to a Korean mother and an Irish father. He was raised primarily in Pittsburgh which is likely the place he considers to be his hometown. Even though he now lives in the Los Angeles area, he remains a big fan of Pittsburgh sports.
8. He's Been Enjoying Quarantine
The COVID-19 pandemic has impacted countless people all over the world. Due to the highly contagious nature of the virus, people have been spending more time in the house and many large productions and events have been put on hold. For many people in the entertainment industry this has been a nightmare, but Steve says he's actually enjoying it. During an interview with Bonnie Laufer Krebs, Steve shared that he is thankful for getting the chance to spend extra time at home with his family.
9. He Never Planned On Being A Comedian
It's clear that Steve has a natural talent for making people laugh, but surprisingly, being a comedian wasn't something he really ever saw himself doing. He had no interest in comedy until he started working at the comedy club after college. Once he decided to give it a try, he became hooked instantly.
10. He's A Colin Quinn Fan
Since comedy wasn't something Steve ever planned on doing, he wasn't heavily invested in the comedy community until he started going shows himself. Over the years, he has enjoyed watching and learning from other comedians and he is a big fan of Colin Quinn's work.
Tell us what's wrong with this post? How could we improve it? :)
Let us improve this post!