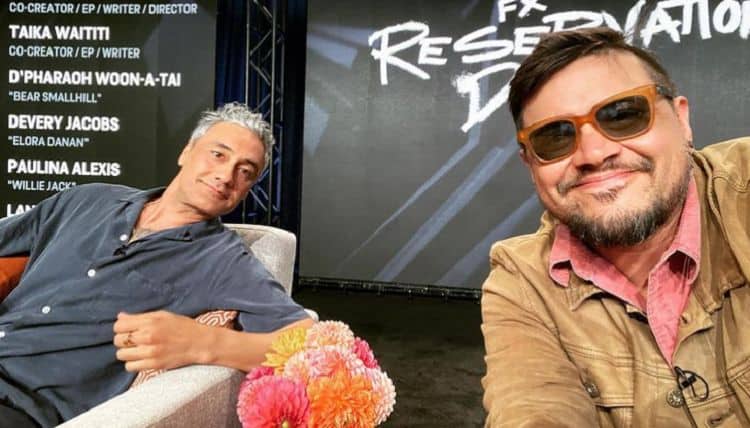 Sterlin Harjo's journey in the entertainment industry has certainly not been an easy one. As an Indigenous filmmaker, he has had to work extra hard in order to get his work seen. For years, he faced rejection solely based on the fact that people did not want to fund stories about Indigenous people. However, over the last few years he has made considerable progress and recently got a major opportunity with his new Hulu series Reservation Dogs. The groundbreaking series is already changing the way Indigenous Americans are portrayed on screen and many are hoping it will continue for years to come. Here are 10 facts you didn't know about Sterlin Harjo.
1. He's From Oklahoma
Sterlin was born and raised in Oklahoma, a proud member of the Seminole Nation of Oklahoma. His identity and origins have been integral to his career path, influencing even the location of Reservation Dogs filming in Oklahoma.
2. He Likes To Inspire Others
Sterling is an incredibly creative person, and he delights in entertaining people through his art. However, his ultimate ambition is to inspire others. He hopes that his work will empower people, particularly those in his community, and remind them that they can pursue their dreams.
3. He's In A Comedy Group
Sterlin is most well-known for his writing and directing, but that's not the only way he has contributed to the entertainment industry. He is a founding member of the sketch comedy group The 1491s. Over the years, the group has performed at numerous venues.
4. He Hasn't Done Any Acting
Actors are the ones who receive the most attention, so it's not surprising that many people in the industry attempt to get in front of the camera at some point. Nevertheless, Sterlin doesn't seem to have any desire to act. As of now, he doesn't have any acting credits and there is nothing to indicate that he intends to begin acting.
5. He Has Interesting Advice For Other Filmmakers
When asked for advice during an interview with SFCC, Sterlin, having been through enough in his career to have a good idea of what it takes to make it, said, "It's such a personal journey as a writer. Everyone is different. I think people know if they are writers or not. If you are, you write, and you get inspired by reading or whatever inspires you. Maybe it's music, film, or art."
6. He Likes To Draw
If you thought directing and writing were Sterling's only talents, you were mistaken. He also has other artistic abilities. He enjoys drawing and has displayed a few of his sketches to his fans on social media. Hopefully, he'll share more in the future.
7. He Didn't Study Filmmaking
Most people would likely assume that Sterlin went to film school, but that wasn't actually the case. While speaking to Geek Girl Authority, Sterlin said, "I had no formal education in cinema. I attended the University of Oklahoma's Film and Media Studies program, but I had no training in the practical aspects of making a film."
8. Family Is Important To Him
Sterling comes from a very close family, and his relationships with his loved ones are extremely important to him. He often shares photos of his family on social media, and it's evident that they have had a significant impact on his creativity. As far as we know, Sterling is currently single and does not have any children.
9. He Believes That He Is An Activist
As an Indigenous person, Sterlin firmly believes that he has a duty to use his platform to raise awareness about things that affect his people. He told Geek Girl Authority, "…as a Native, you are an activist because you are in a resistance. You were born into it. In other cultures and communities, it's easy for people to say, 'I'm the filmmaker (or whatever), they're the activists.' There is no second string with us. If you have a voice, it is up to you to use that voice to help your people."
10. He Doesn't Believe In Writer's Block
Most writers openly acknowledge their struggles with writer's block from time to time. However, Sterlin prefers to think of it differently. In an interview with SFCC, he said, "I don't consider it writer's block. It's more like a puzzle. The stories are already there, I just have to unlock them […] whether that means leaving my comfort zone, or being more consistent, or whatever. It's a mystery."
Tell us what's wrong with this post? How could we improve it? :)
Let us improve this post!