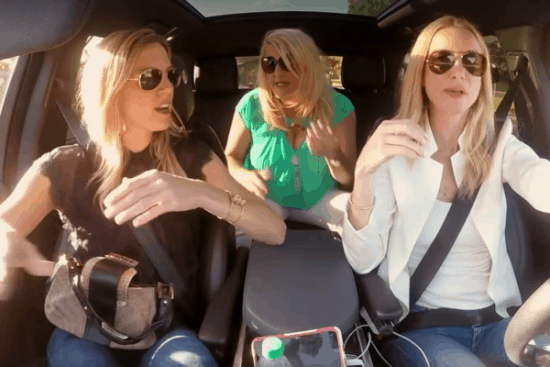 While the rest of the United States is curious about the four stars of Sweet Oklahoma, wondering what life is like in what is considered by many to be a bastion of conservative living, Oklahomans are looking at the quartet with fascination and surprise. Pumps (Angie Sullivan), Josh and Jennifer Welsh, and Lee Murphy; along with five kids and numerous dogs, are persevering in great Oklahoma tradition to overcome the hardships of their lives. They haven't hidden much of anything from the audience. Their backstories are up front and center, and their struggles are those of every man…. peppered with real emotions and real language. Everything they say and do is hanging out in public to see. So, what you see is what you get with these witty characters.
Collectively they are real people; recovering from addiction, surviving divorce, losing homes, legal trouble, drinking, cussing, loving families, and the day-to-day stuff of living. Early reviews by fans indicate that the show is hilarious viewing. They love it…haters… move over.
Lee, Pumps (Angie) and Jennifer are all divorced single mothers raising children, and they are proud of the show.
The three friends appreciate the series because it shows that they love their families and each other. Jennifer spoke for all three by saying that they are proud of being able to work full time, create the series, and support their children. All three experienced heartbreaking divorces, but they have moved on to a place where, as Pumps says, they want the best for each other. In fact, Jennifer gave Angie her nickname. For 23 years, the two have been friends, and Jennifer called her "Angelina Pumpkintina" at one time. Eventually, the nickname "Pumps" simply stuck.
Pumps would prefer that the show be aired everywhere except Oklahoma City.
The trio of friends, including Lee and Jennifer, explained that they were nervous about how the outspoken series would be accepted, and weren't looking forward to "apology tours". Jennifer and Lee mentioned that they were both excited and terrified of what would be aired on the series. They all were feeling overwhelmed. Pumps let it slip that nerves are making her sweat…but we shouldn't repeat where.
Josh T. Welch was a popular Oklahoma City lawyer, until he was disciplined for bribing a police officer.
According to The Oklahoman, in an article by Nolan Clay published in May 2012, Josh resigned from practicing law. He emailed a statement to the newspaper, stating that his family and his personal sobriety were more meaningful to him than his professional position as an attorney. He accepted full responsibility for his conduct, and expressed "enormous remorse and regret" over the circumstances. Welch and another attorney were placed on probation for obstructing a police officer and the Supreme Court temporarily suspended them. They were both fined and placed on probation for two years.
Pumps has an ex-husband whose nickname is Spanky.
According to Peter, writer at The Lost Ogle; the independent, local, obscure and sarcastic blog reporting on all things social and based in Oklahoma City, Pumps is not the perfect stereotypical Oklahoman woman. The Lost Ogle links to the website purported to be for her ex-husband's law firm. He is reported to be an Oklahoma attorney ranked for by his peers with a Martindale-Hubbell rating of "AV" for professional excellence. The blog also links to the District Court for Oklahoma County, showing that their home in Nichols Hills, purported value of over $400,000, was foreclosed in 2015. The Lost Ogle expresses the author's concern that negative stereotypes about Oklahomans would be supported by the reality show.
Jennifer and Josh are natives of Texas; only Angie and Lee are native to Oklahoma.
When Jennifer was seven, she became a resident of Oklahoma City. Josh has lived in the city almost his entire life. He's been sober for more than a year and a half. Angie Sullivan is originally from Tulsa, but grew up in Oklahoma City. She has a degree in elementary education from the University of Oklahoma. She met Josh in law school. Jennifer was hired to be Angie's interior designer. Lee Murphy is an Oklahoma City native, too, but she has lived in Boston and San Francisco and attended college in Virginia. She sells medical devices.
The four main characters are setting out to challenge conventional views of conservative Oklahoma and deal with the wealthy Nichols Hills city area with eccentric, light-hearted, irreverent and spicy humor. Peeking into this exclusive and expensive neighborhood portrayed through their brash and loud viewpoints is what promises to keep Sweet Home Oklahoma cooking.
Tell us what's wrong with this post? How could we improve it? :)
Let us improve this post!