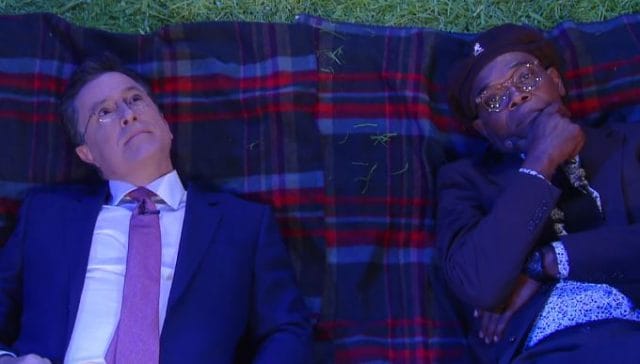 Samuel L. Jackson stopped by The Late Show With Stephen Colbert last night to promote his new film, The Legend of Tarzan, which also stars Alexander Skarsgård and Margot Robbie and hits theaters tomorrow, July 1. And while Jackson and Colbert talked about some interesting topics during their interview, he didn't really get deep with the Late Show host until they were under the stars together for Colbert's latest edition of "Big Questions With Even Bigger Stars."
In the video below, Colbert and Jackson talk about everything from nicknames (Jackson doesn't allow Colbert to call him by his), what you would do if you were stranded on a desert island, and if there's a difference between "just living" and being alive. The two of them go back and forth with highly entertaining questions covering a incredibly wide range of topics, but there's one specific question from Colbert that is easily the best of the bunch. The Late Show host turns the table on Jackson by using the actor's signature line from all of his Capitol One commercials.
"Hey Samuel L. Jackson," Colbert says."I've always wanted to ask you this: What's in your wallet?"
"A whole lot of money," Jackson replies, smiling.
Watch Stephen Colbert and Samuel L. Jackson tackle all the "big questions" together in the video below. Also, if you're a fan of Snakes on a Plane (and really, who isn't? That movie is hilarious and ridiculous in all the best ways), you're in for a huge treat when Jackson answers Colbert's question about original sin.
[Photo via YouTube]