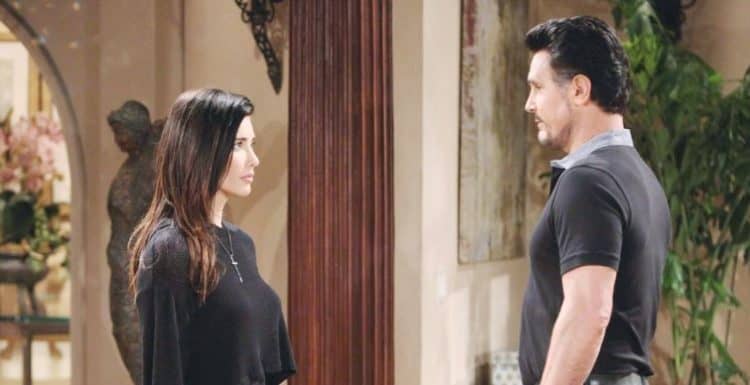 The Bold and the Beautiful fans watched and entire week of just Steffy and Liam and Hope and their issues. We saw a quick minute when Zoe, Emma, and Xander had a chance to speak, but it's all been a giant array of just these three and their parents. And we are still beside ourselves. We saw Hope and Liam give way to a moment of passion in her dressing room during which Steffy walked in and saw the entire thing. We saw a terrible fight, Brooke tell her daughter that since Steffy and Liam are only engaged, he is single and totally free game. She then told Liam the same thing. And then we saw Ridge lose his mind on his wife and his stepdaughter. We saw Steffy go straight to Bill, and we saw Justin repeatedly tell both of them this is a terrible idea.
Steffy is getting what she wants, even though it's not what she wants. With her stake in Forrester and the 12.5 percent she convinced him to sign over to her the moment they become husband and wife, she's a wealthy woman. She told Liam it's over, and he knows that she's with his father now, and that means there probably is not a moment of hope for the two of them. On that note, he ran right back to Hope, and they will probably live their life happily ever after until someone else comes along or Steffy decides she's made a mistake. Either way, Hope is, once again, his back-up plan and she has no idea that's her role in his life. She's just trying to be with him and raise their baby, and she's not really concerned about being the second best.
What's Happening on the Bold and the Beautiful
Sally definitely knows how to pull off the perfect shade of red. 💋 Happy #NationalLipstickDay from #BoldandBeautiful! pic.twitter.com/9YbGKTXC8m

— Bold & The Beautiful (@BandB_CBS) July 29, 2018
This weekend was a very important national holiday. If you missed National Lipstick Day, are you really even living? We aren't sure you're getting the most from your life if you did miss it, but it's all right. Just put on your favorite shade of gorgeous, and move on from it. We think it's time for you to pay more attention to these holidays, but it's even more important to pay attention to how right it is that Sally Spectra can pull off the most gorgeous shades. She's got some serious talent, but she's also got the ability to look spectacular without much effort at all.
What's Next on the Bold and the Beautiful
Playing with fire 🔥- playing for keeps. 👰Tune in to see what happens this week on #BoldandBeautiful pic.twitter.com/1lWPjsA0Fw

— Bold & The Beautiful (@BandB_CBS) July 29, 2018
It's the day that we have all been waiting for. It's the day when things are going to take an insane turn for someone, and we think that that person is Ridge. His daughter already agreed to marry Bill Spencer, and she's not doing it for love. He claims he loves her, but she's protected herself because she knows that he will eventually grow tired of her and move her out of his house without parting with his money and the things that she feels are the most important tot her. She's not going to be left alone in that capacity ever again, but she's also going to make sure she's taking care of her daughter. She's giving her everything she can, and she' happy about that. But for now, she's marrying him and living a life of total revenge.
What does that mean for Ridge? Well, it means all his worst fears are coming true. He feels devastated, and he will blame Bill for this. Then he will blame Hope and Liam and Brooke, if we are not mistaken. They are so close to not being married anymore. They can't make it through this if they can't get their stuff together and stay out of their kids' lives. Wyatt is not amused by this news, either, and he warns their father that he will never have a positive relationship with Liam again. Bill, however, doesn't care — at all. He's not a fan of Liam's anyway. He feels his son is too concerned about how people feel about him and how good they think he is.
Stay tuned for more The Bold and the Beautiful and be sure to check out TVOvermind daily for the latest The Bold and the Beautiful spoilers, news, and updates.