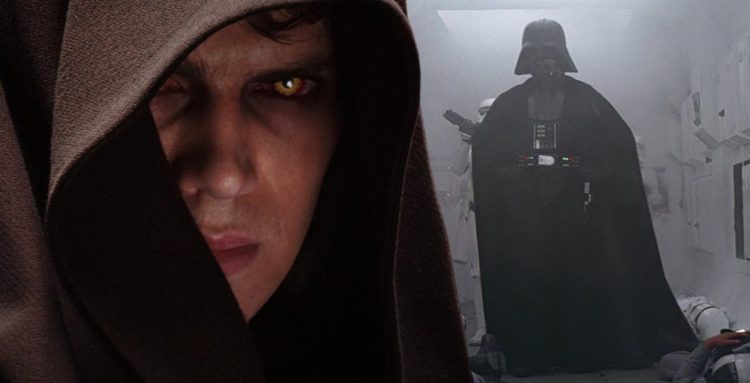 If we're being honest with ourselves, The Star Wars Ring Theory is in some ways an attempt to get people to stop hating on the prequels as much. It's a chance to show fans that while the prequels are still not what they really wanted, they are in sync with the original trilogy as they've basically taken similar themes and created a story that was meant to compliment the original films. It's a great deal more involved than this but it's also a theory devised to dig into Lucas's mind and attempt to divine the meaning that so many want to believe in when it comes to the explanation behind one of their favorite film franchises. The Ring Theory is unfortunately one of the many things that is brought about when people believe that they and those that think like them are given leave to simply approve or deny what is good or bad when it comes to cinema. In essence people come up with these theories to make themselves, and others of like mind, feel better in order to weather the supposed destruction of those films that they happen to favor.
There's the main problem with Ring Theory, though it does manage to bring correlation to the original trilogy and the prequels. There are a few issues with it however.
It's mostly conjecture.
People tend to talk themselves into a frenzy about whatever it is that they want to believe. Theories, hypothetical musings, all of it has a place in an area of discussion and is interesting enough to listen to. The downfall of this comes when those that believe they have a solid line on a train of thought believe that they are the ones that have come up with something that people should be able to embrace and believe as truth. Ring Theory sounds appealing, as it brings together many similar elements that have never been endorsed by George Lucas, who admittedly never gave it much thought until it was brought to his attention. The problem is that fans have attempted to know the minds of storytellers more than once in the past, and have usually come close to the mark without hitting it. Unfortunately the idea that anyone can know the story better than the narrator is one born of both arrogance and ignorance that collude to cause an individual to believe that they are more knowledgeable about a subject than the person who created it. This is where the conjecture comes from, when people assume too much and being to formulate ideas that, while sound enough when first formed, still manage to influence the storyteller rather than being influenced by them.
It's just that, a theory.
A theory has several definitions, but one among them that seems to work in this instance is that it is the analysis of a set of facts in their relation to one another. It's very true that the prequels and the original trilogy do have a strong correlation, but the Ring Theory to Star Wars would have us believe that The Phantom Menace correlates more to Return of the Jedi than to A New Hope. Common sense would argue against this while Ring Theory would contend that the two are more similar than Hope and Menace. It does make sense when the similar themes are brought into play, but the moment the story is brought up for consideration the theory begins to fray quite a bit and the themes cease to matter quite as much. That unfortunately is the nature of a theory, it plays upon the facts without creating any concrete links between them initially. Theories are quite sound at times as they are tried, tested, and eventually used to make solid connections between one line of thought and another. The Ring Theory however has already been accused of bringing more meaning to the series than was originally intended, and thus its integrity rests upon the shoulders of the one that created it. This unfortunately creates a rather untenable position for the originator of the theory as it brings into question their personal biases and the idea that they simply want these similar themes to make sense when placed alongside one another.
To be fair, it does hold some merit.
If you look forward then you can see how this same theory has begun to take hold in the newest additions to the Star Wars franchise. The Force Awakens brought forth a menacing villain that was controlled by a seemingly spectral presence and the emergence of a new hero that looked to the horizon and dreamed of bigger things. The Last Jedi, which is still reviled unfortunately by fans, created a tragic backdrop for the heroes, a seemingly hopeless situation, and the sacrifice of a beloved hero, thereby making it look as though the First Order had the upper hand. Are there other plot devices that would argue with this? Of course there are, that's why the Ring Theory isn't perfect, even when it goes into the rings within rings scenario. But like all theories it is a collection of thoughts and beliefs that are drawn together to form a connection between facts.
It's also something for people that want to believe there's something deeper to the movie to ponder in their spare time.