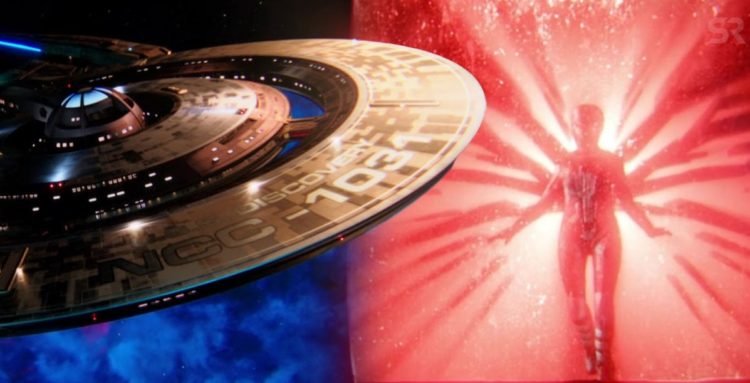 If there's anything that's been learned from any Star Trek show at this point it's that you don't know everything that's going to come and you can't possibly anticipate every move that the writers are going to make. That would be kind of obvious when it comes to Star Trek: Discovery since the Red Angel A.I. is kind of messing things up with some folks as far as making it difficult for people to really understand what it is and why it's there. As of now though there are clues that exist that could possibly explain its identity as the Discovery's A.I., but from a thousand years in the future. It's already been discovered that the Discovery has managed to survive all the way into the 33rd century, meaning that these starships are not only built to last but are obviously built to evolve as well. The onboard computer, as fans came to realize, had upgraded itself and taken the name of Zora. That does seem to indicate that the Red Angel is in fact Zora, the self-upgrading A.I. from the Discovery.
At this point the Red Angel has also been linked to several signals in space that it has either created or is somehow related to. A few of the signals have been investigated and have led the crew to rescue missions that have saved several individuals and even saved a population from being completely wiped out by the Ba'ul. On top of that there is a connection that the Red Angel has to Spock as well, since it visited the Vulcan when he was a boy and seem to have an affinity or a purpose behind visiting Spock and possibly driving him a bit mad.
While the Red Angel isn't a space god, as we know thanks to Saru's heightened eyesight, it is a humanoid in a mechanized suit that is exhibiting technology that is well beyond anything the Federation can come up with. It also seems to have a very feminine shape, making a case for it to be possibly be Zora. And, as we already know and as is normal for just about any Star Trek show, time incursions are quite possible for the Red Angel as it seems to do this with impunity. The only issue with this is that the Red Angel is, as you would guess, going back in time to keep certain things from happening and keeping people alive that already were fated to die in various conflicts.
In the episode, Calypso, the Discovery was seen floating alone in space, surrounded by encroaching darkness and pinpoints of light as it waited for new orders. The ship had been waiting for a millennia as it had been abandoned by its crew. Upon beaming a human named Craft aboard after discovering his escape pod however, Zora did introduce herself as the ships A.I. and went on to explain that she had been evolving for the past thousand years. Unfortunately for Zora, Craft did eventually leave to return to his family, leaving her all alone yet again and drifting through space. This is believed to be what could have affected Zora in such a way as Craft leaving could have spurred her to seek human contact and thereby become the Red Angel, a being that was capable of traveling through time to affect the past. It's not too hard to believe since Zora would possess roughly 100,000 years of galactic history that had been recovered from an earlier episode, and there was undoubtedly mention of time travel throughout the histories.
The whole idea of Zora using a humanoid body isn't anything new since she did create a holographic body for herself. As she's been evolving it's not hard to see how she might fashion a humanoid form from various materials on the ship that could be used for the purpose she desired. However, if the Red Angel is in fact Zora there are a lot more questions to think about than there are answers to ponder. One burning question would be why she's so fixated on Spock, while another would be why she sees fit to go back in time and save so many people with the knowledge that it could very easily lead to a time paradox that could prove problematic for many people across the galaxy. One can only imagine what it might mean for the crew when they discover that their ship is attempting to find ways to change the past with its future self and therefore disrupt a great many things throughout the universe.
Whether the Red Angel is entirely benevolent or another shoe is about to drop is uncertain, but it should be fairly interesting to watch. While Discovery doesn't seem like the most loved of the Star Wars shows it is bringing a few interesting questions to bear at this point.