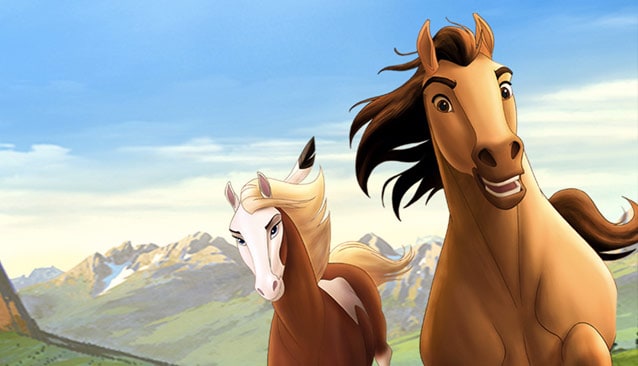 Spirit is one of the only animated films featuring animals that is not given to granting them human voices, as the narration of the main character is taken over by Matt Damon. The story however is something quite stunning as it goes through the life and times of a young stallion named Spirit that is captured when his curiosity gets the better of him and finds him in the company of the US Calvary. From that point he refuses to be broken and at one point is about to be shot when a young Native American frees him and returns with Spirit to his tribe. At this point however the stallion still isn't willing to be ridden and continually tries to escape. When the US Calvary attacks the village however he saves the life of the young native that freed him, earning a life debt while also being captured by the soldiers again. Eventually Spirit is freed once more and the natives simply turn him loose as he refuses to be broken, allowing him to return to his herd.
Here are a few things you might not have known about the movie.
10. The opening scene took nine months to develop.
The animators were going for a very realistic yet still animated look that would sweep the audience into the story in a way that would take their breath away. Unfortunately Spirit was kind of forgotten soon after its release.
9. A Kiger stallion was the model for Spirit.
These were at one time considered feral horses that existed in the wild and were rather hard to tame simply because they'd never known a master or been ridden by anyone. It was a perfect example for Spirit obviously.
8. Real horses were recorded for all the audio.
The horses communicated in their natural sounds and everything that had to do with the horses was recorded from actual audio of horses in action. There were no special effects used to produce the many different sounds that horses can make.
7. The cloud formation behind the eagle in the opening sequence was made to look like a herd of horses.
The imagery in this film was simply amazing since it was done with a purpose and was meant to invoke a sense of awe and wonder within the audience that would get them on board with just how serious and how wonderful the story really was.
6. Tom Hanks and Robert Redford were considered for the narration.
Both men are great when it comes to narration but for a movie such as this they didn't seem quite right since Tom Hanks is more the storyteller type and Robert Redford seems like the kind of narrator you count on when you need a full-life biopic on someone.
5. The Native American camp appears to be in Yosemite.
There are a lot of familiar landscape details and surrounding areas that suggest this and to this date no one has really said otherwise. A viewer has to remember that this was set during the time of the Indian Wars during which the US committed a great number of atrocities and the further west the tribes were pushed the more the soldiers pursued them.
4. This was the third Dreamworks animated film to receive a G rating.
Given that there was a little bit of violence in the film and yet not enough to really worry parents there was no other way to go but with a G rating since much of what happened could be explained to children and broken down throughout many different conversations. Adults might know the history a little better but the story itself is something that's tame enough to be delivered to kids.
3. Cimarron could be in reference to one of two things.
It could be used when describing a feral horse or it could be used to describe the Seminole tribe that was depicted in the movie. Either way it is a word that finds definite use within the movie and in the right context.
2. There was a special effect that was cut near the end to keep the film a little more grounded.
During his jump over the gorge the animators were going to superimpose a set of transparent eagle wings over Spirit's back as though to describe just how he managed to make the jump, or to show that he had something watching over him. But it was left out since it wouldn't have made a great deal of sense to many people.
1. There's only one other buckskin-colored horse in the film.
This horse is spotted behind Rain, Spirit's love interest, when they're reunited, and is kind of there and gone within a few frames so it's rather hard to see. Otherwise Spirit is very distinctive and unique throughout the film.
It's a touching and very powerful film that's still somewhat popular today.