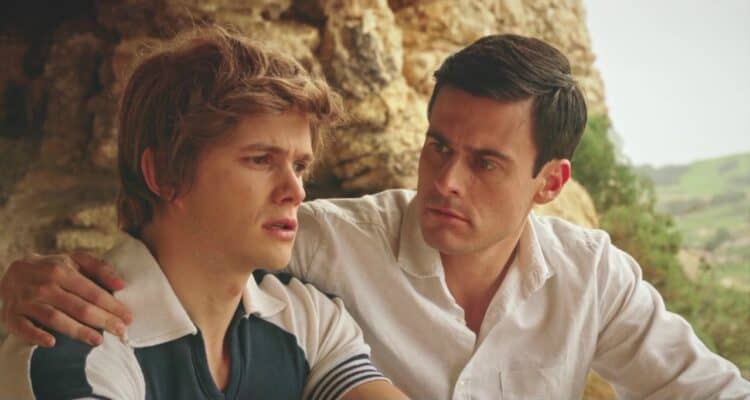 The romantic war drama film Firebird hit theaters last April 29, directed, co-written, and co-produced by Peeter Rebane in his feature directorial debut, and is based on Sergey Fetisov's memoir The Story of Roman. Set at the height of the Cold War, it follows the story of a young soldier who forms a forbidden relationship with a fighter pilot. The film stars Tom Prior, Oleg Zagorodnii, and Diana Pozharskaya. The film premiered last year at several LGBTQ+ Film Festivals including the 35th BFI Flare: London LGBTIQ+ Film Festival and at 45th Frameline: San Francisco International LGBTQ+ Film Festival where it won an honorable mention for Best First Feature. The film has received relatively positive reviews so far, and in a review by The Hollywood Reporter, they wrote, "Firebird rails against soul-crushing intolerance and the small-minded watchers and snitchers among us. It offers a well-meaning valentine to someone who encouraged the man he loved to follow his heart, even if he couldn't bring himself to do the same." If you're done watching Firebird and you're looking for the next film to watch, here are five of our movie recommendations.
Names in Marble
The 2002 Estonian film Names in Marble (Estonian: Nimed marmortahvlil) is directed by Elmo Nüganen and stars Priit Võigemast, Indrek Sammul, and Hele Kõre. Although not a love story, the film shares a similar setting with Firebird and tells the story of young students fighting for independence. It is based on the novel of the same name written by Albert Kivikas in 1936 about the Estonian War of Independence. The film has received positive reviews from critics and in an article by Variety, they described the film as "a nationalistic rallying cry." They added, "It all has a very chaste, '40s feel, with fresh-faced boys and girls finding camaraderie and a sense of purpose. Crisp, attractive lensing nicely captures the Nordic light."
Maurice
Just like the characters in Firebird, the 1987 British romantic drama film Maurice based on the 1971 novel of the same name by E. M. Forster also features a forbidden relationship. The film was directed by James Ivory and stars James Wilby, Hugh Grant, and Rupert Graves, as well as Denholm Elliott, Simon Callow, Billie Whitelaw, and Ben Kingsley in supporting roles. The film follows the story of a man named Maurice who tries to come to terms with his sexuality when he befriends a classmate Clive Durham when he enters Cambridge. The Guardian gave a five-star review of the film saying, "Its fascination and power are even more intense 30 years on. Maurice is a revelation. It tells us much more about a certain kind of unformulated English discontent, suppressed hysteria and the idealised longing for beauty in the aftermath of the Oscar Wilde trial."
The Favourite
The 2018-period black comedy film The Favourite shares similar elements with Firebird despite belonging to very different genres. The film was co-produced and directed by Yorgos Lanthimos, from a screenplay by Deborah Davis and Tony McNamara. Without spoiling some of the film's plot, the film also centers on the lives of three people who are connected to each other in some way. Set in early 18th century Great Britain, The Favourite follows Abigail Masham (Emma Stone) and her cousin Sarah Churchill (Rachel Weisz) as they compete to be Queen Anne's (Olivia Colman) Court favourite. The film received positive reviews from critics and won several accolades including Best Actress (Olivia Colman), at the Academy Awards and the Golden Globes, and earned ten Academy Award nominations. The film also won seven BAFTA Awards including Best British Film and Best Actress in a Supporting Role for Weisz, ten British Independent Film Awards, and eight European Film Awards including Best Film, Best Director, and Best Actress for Colman. The New York Times published a review of the film and wrote, "The Favourite," with a profane, erudite script by Deborah Davis and Tony McNamara, is a farce with teeth, a costume drama with sharp political instincts and an aggressive sense of the absurd."
Carol
Just like Firebird, the 2015 romantic drama period film Carol tells the story of a forbidden love affair. Set in 1950s New York, the plot centers on Carol, a woman grappling with divorce who after a chance encounter, begins to form a complicated relationship with Therese Belivet, an aspiring photographer. Carol is directed by Todd Haynes with a screenplay by Phyllis Nagy and is based on the 1952 romance novel The Price of Salt by Patricia Highsmith. The film stars Cate Blanchett, Rooney Mara, Sarah Paulson, Jake Lacy, and Kyle Chandler. The film received critical acclaim and won several awards including five Golden Globe Award nominations, six Oscar nominations, and nine BAFTA Award nominations, and was ranked as the best LGBT film of all time by the British Film Institute. A review by Empire praised Blanchett and Mara's performances saying, "Blanchett is brilliant — she so often is it is easy to take it for granted — but Mara is the longer distance to travel, from confused girl to grown woman, and her versatility and sensitivity is simply stunning. She is very Other — "my angel, flung out of space". But she is also Us."
The Handmaiden
The last on our list is the 2016 South Korean erotic psychological thriller film The Handmaiden directed by Park Chan-wook and starring Kim Min-hee, Kim Tae-ri, Ha Jung-woo, and Cho Jin-woong. The film is inspired by the 2002 novel Fingersmith by Sarah Waters. The film is set during Japan's colonial rule over Korea and follows the story of a handmaiden who conspires with a conman and a pickpocket to go after the fortune of a Japanese heiress. The film is critically acclaimed and won Best Film Not in the English Language at the 71st British Academy Film Awards, and was selected to compete for the Palme d'Or at the 2016 Cannes Film Festival. The Guardian gave a glowing review of the film with a five-star review saying, "It is certainly a brilliant adaptation of Sarah Waters' original novel and a film about something that most other movies can only guess at: pleasure and rapture."
Tell us what's wrong with this post? How could we improve it? :)
Let us improve this post!