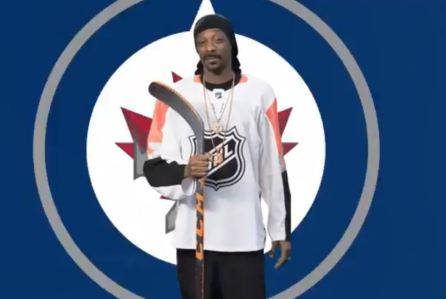 This is something you wouldn't expect to see if you were a Snoop Dogg fan back in the day. Snoop Dogg explaining hockey rules and culture in a video series for the NHL Playoffs seems like someone's idea of a joke, but it's all too real. Apparently Snoop is a big fan of the sport and can guide a person through all the rules and the culture of it as well, which is impressive since there are a lot of sports fans that couldn't even tell a person just how the rules work and why they were applied. In fact some people that have been watching their respective sports for a while couldn't even go into half the depth that Snoop seems able to do with hockey.
Take a moment and try to get over the shock of it and then realize that it's still real. Snoop Dogg has been known for a lot of things throughout his life but being a hockey fan was something that he managed to keep to himself for a lot of the time. It's just not something that was fully expected or even thought about by fans all over the world. This is the guy that with Dr. Dre and a few select others set the rap world on fire when he came in, laying down tracks that were snapped up by everyone that heard them and turned into such humongous hits that his name started being heard on everyone's lips as some of his biggest songs would be blasting on the radios of those passing by cranked up to full volume. To think that he's been so involved with a sport such as hockey is kind of awesome really since it shows a side of Snoop that a lot of people don't get to see. But then if you've been watching you might have noticed that he's been getting into a lot of things as he's been getting older that you wouldn't have ever thought to see him in as a younger rapper.
Remember his dealings with Martha Stewart? How many people would have thought that possible back in the day? Jaws probably dropped the first time he got to sit with Stewart, but it wasn't the first time he'd done anything that people would be surprised by. Snoop has kind of been toning it down for a good while now as he's become more of a family man in his older years. He's still a musician and still a rapper without a doubt, but he no longer seems like the angry young rapper that had a lot of stuff to say and even more to get off of his chest. Some people might go too far and say that he sold out but honestly even though he's calmed down a lot and isn't quite the same person that performed the Doggystyle album, he's still the same person that he's been all his life, just older and wiser at this point.
But hockey, yeah, that was a surprise.
"The one and only 99 + 2 – The Greater One" @SnoopDogg is ready to see what the @NHLJets are made of in the playoffs. #StanleyCup pic.twitter.com/Vug4fwYjh0

— NHL (@NHL) April 5, 2018