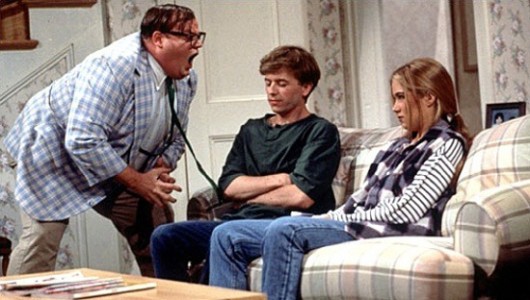 If you're a huge SNL fan, like me, then you'll be happy to hear that they have posted hundreds of their classic skits on Their YouTube channel. Until now, you could only see their amazing stuff from yesteryear on Hulu but not anymore. It's all there, including their shows from the 70s, like:
"Two Wild & Crazy Guys: Computer Dates"
The numerous TWCG skits on SNL starred the amazingly funny Steve Martin and Dan Ackroyd as those crazy Czech boys, the Festrunk Brothers. Dan played Yortuk and Steve played Georg. In this hilarious skit, the two are expressing their disappointment in their computer dates because they didn't turn out to be American foxes. Instead, they are Croatian sisters played by Laraine Newman and the late great Gilda Radner. The show aired on May 22, 1978.
And then, there were the 80s with skits like:
"Hanz & Franz: Reply to Jimmy the Greek"
Hans and Franz were played by Dana Carvey and Kevin Nealon. In this one, they are making an angry reply to Jimmy "The Greek". Apparently, Jimmy had asserted that the thighs of black people were much bigger than those of white folks. Their reasoning was that their thighs were surely a lot larger than those of Sammy Davis Jr. and Michael Jackson. This hilarious skit aired on the January 23, 199, SNL show.
OK, moving right along to the 90s:
"Wayne's World: Aerosmith"
In this Wayne's World skit, Wayne Campbell is, of course, played by Mike Myers and Garth Algar is played by Dana Carvey. In it, they are welcoming Aerosmith to "Wayne's World". The great Tom Hanks plays Garth's cousin Barry who makes it all happen because he was one of Aerosmith's roadies. This truly amazing skit was part of the SNL show that aired on February 17, 1990, and will probably go down in history as one of the best ever.
Out of the 90s and into the early 2000s:
"Mick is Pointing, Pointing, Pointing at Himself"
So, what could make a skit better than having the always funny Jimmy Fallon starring in it? Well, how about Mick Jagger? In this hilarious skit, Mick heads for his dressing room and ends up having a little talk with himself in the mirror but his mirror image is actually Jimmy. They discuss the moves that Mick will be doing on SNL while keeping things fresh. The skit and the show aired on December 8, 2001.
And, there's so much more. So, if you're in need of a good belly laugh or two or ten, you've got to check them all out at. There are tons of them and each one is simply funnier than the other. You could spend hours watching them all. I know I did. So, go ahead, what're you waiting for?
https://www.youtube.com/user/SaturdayNightLive
Tell us what's wrong with this post? How could we improve it? :)
Let us improve this post!