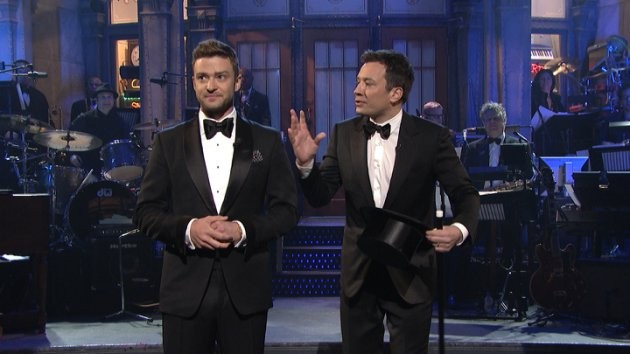 Saturday Night Live celebrated its 40th anniversary last night. Rather than simply throwing together a clip show to commemorate this landmark achievement, we were treated to a star-studded live show. And what an incredible extravaganza it was! Cast members, musicians, and celebrity friends spanning four decades were all invited to share in this unforgettable night.
Even if you don't keep up with SNL regularly, chances are you were watching for your own personal "golden era" nostalgia. That's what made this event so special and family-friendly for the most part. Twenty-somethings were all probably watching with their parents (of which I am guilty!) and yet everyone could laugh together and appreciate the sheer love for this well-oiled machine. Saturday Night Live truly is an institution with New York City serving as its beating heart like Robert De Niro said in his tribute to the Big Apple.
The set up mirrored a normal show, only stretched out over three and a half hours. With a star-studded open, Jimmy Fallon and Justin Timberlake really got the show off to a great start. Famous characters like Debbie Downer and Mary Katherine Gallagher popped up in between JT and Jimmy's musical medley. The credits were a spectacle in their own right, with Darrell Hammond needing to take plenty of breaks in between the expansive guest list from Armisen to Wiig. Steve Martin began the monologue, which drew the likes of Tom Hanks, Alec Baldwin, Peyton Manning, Miley Cyrus, Paul McCartney, and Paul Simon out on stage as well. The two Pauls came out with guitars in hand and performed a duet of "I've Just Seen a Face."
Live sketches are the lifeblood of SNL, so of course there were a handful of them scattered throughout the night. The first of which happened to be Dan Aykroyd reprising his role as the Bass-O-Matic salesman from the very first season. Celebrity Jeopardy returned in maybe the most fun sketch of the night. I would say that and The Californians may tie as my favorites, if only because of the seamless blending of older and younger generations. The Californians twist ending that tied in David Spade's flight attendant character was a pleasant surprise.
After a montage of sports guests and sketches, Jason Sudeikis and Will Forte returned as their ESPN anchors. I have to say this was a disappointment to waste precious time on, but at least it was very brief. Wayne and Garth made their welcomed return back in an SNL-centric Wayne's World sketch. Their top 10 countdown hit on some very current news (calling out on Kanye to stay seated when insulting Beyonce). Out of the whole show, this sketch in particular felt like the biggest inside joke that viewers aren't necessarily privy to. And that's okay, because in the end, this was a huge celebration for all the casts and crews over the years.
Weekend Update got its own segment mid-show with Tina Fey, Amy Poehler and Jane Curtin taking the anchor seats. They introduced a few celebrity pals doing their favorite impressions: Emma Stone as Gilda Radner's Roseanne Roseannadanna, Ed Norton (and Bill Hader) as Stefon, and Melissa McCarthy as Chris Farley's Matt Foley. I was hoping the men who anchored the Update desk would make appearances, and a few did. Norm MacDonald, Seth Meyers, Colin Quinn, and Kevin Nealon introduced the original Weekend Update anchor, Chevy Chase.
There were a couple of other weird segments that sort of felt like time-killers. Chris Rock paid homage to Eddie Murphy, who was famously marking his first return to the SNL studio in over 30 years. Once Eddie came out though, he got his standing ovation and talked for maybe a second, and that was the first and last we saw of him all night. I'm aware there are probably politics behind the scenes that would explain why he wasn't utilized in any sketches, but it is a slight disappointment. Jerry Seinfeld was brought out to basically catch up with Larry David and allow us to play "spot that celeb in the audience." Seriously though, I wouldn't have minded another sketch in that time.
Even the music selection was interesting. Of course, Paul McCartney performed. Miley Cyrus delivered a surprisingly not terrible cover of Paul Simon's song "50 Ways to Leave Your Love." A little later, Christopher Walken (in his only appearance of the night!) introduced Kanye West. As expected, he was over the top. We were all tired by that point of the night, but I doubt anyone else would dare to perform on such a prestigious platform without even standing up. He literally went from laying on his back to crawling on his knees. The last performance of the night went to Paul Simon, a long-time friend and host of the show.
The music didn't stop there,, though. Martin Short and Maya Rudolph as Beyonce took center stage to showcase the musical sketches of the past. Steve Martin made a quick cameo as King Tut, Bill Murray sang the "Jaws" theme song as his lounge singer character, and Jim Belushi and Dan Aykroyd busted out some Blues Brothers.
An SNL anniversary wouldn't be complete without a tribute to another staple: short films. We were treated to a brand new digital short with Andy Samberg and Adam Sandler. It wasn't a That's My Boy spoof — it was better. In the theme of the night, to send-up all aspects of SNL, they sang about a well-known tradition in the history of live television: breaking in scenes. As soon as it started, I was waiting for a Jimmy Fallon shout out, and boy did they deliver. Suddenly, I missed Jimmy and Horatio Sanz a whole lot because when one would crack, the other was never far behind.
Like an awards show, an in memoriam segment honored the talented cast and crew members who have passed away. The absences of Chris Farley, Phil Hartman, John Belushi, and Gilda Radner were all acknowledged elsewhere in the special as well, but this was a nice touch to recognize the lesser known people who were vital to the show in other ways. The latest running gag of the night was mistakenly mentioning Jon Lovitz among the list of the deceased. I guess he'd take whatever he could get, much like Cecily Strong made a crack about Spade taking the rushed flight attendant sketch rather than nothing at all.
As a die-hard SNL fan (and one time audience member!), I absolutely loved the hype leading up to this special and the exciting payoff in seeing so many friends on social media watching along. Red carpet and after-show coverage included, it felt like television and comedy fans in general have finally earned their cool stripes. If you think about it, you'd be hard-pressed to find someone who has absolutely no personal attachment to SNL, especially within the last decade. Thanks to YouTube, the Lonely Island-era of digital shorts revolutionized the way many people keep up with SNL now. Here's to hoping the more critical viewers liked the taste of the current cast and continue to tune back in for the rest of the regular season!
What did you think of SNL 40?
[Photo via NBC]