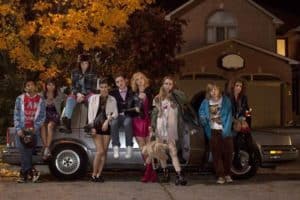 Tonight marked the premiere of the Americanized version of Skins on MTV and I'm not afraid to say that the show delivered, despite a lot of bile being thrown on Twitter about it at the moment.
The first episode introduced us to Tony Snyder (James Newman) and the rest of his party animal friends as they tried to get their good pal Stanley (Daniel Flaherty) to lose his virginity before his 17th birthday. This deed would mostly 'benefit' Tony than Stanley, because he feels that being a virgin is very embarassing and treats it as a bad disease no teen should have. Tony, like his UK counterpart, is a hedonistic manipulator who gets a kick out of pulling the strings of those around him, even dangling his girlfriend Michelle (Rachel Thevenard) in front of Stanley (whose madly in love with her) as if she's a piece of candy.
Tony's destructive nature is a force of it's own even when not directly intentional as evidenced through the calls he makes to each friend at the beginning of the episode. 'Screw what you are doing, what are you doing for me?' is basically the message being served in that entire block of scenes. Another sign of Tony's controlling behavior would be his bed spread, which is covered with (deadly?) spiders, a clue that this young man loves spinning webs and picking off the trapped victims one by one. It also doesn't help that he has no respect for authority figures, which Tony gleefully terrorizes throughout the hour when the opportunity rose. It's safe to say that the machinations of Tony Snyder will prove problematic for he and his friends as the series progresses.
The episode also laid the foundation for future storylines, most notably the possible hook up between Stanley and Cadie (Britne Oldford), which was almost played frame by frame from the original UK pilot episode. Also there is the notion that Chris (Jesse Carere) will pursue a relationship with his teacher, who he clearly had a thing for tonight. Also, expect drug dealer Matt Le Dong to be a thorn in the group's side after they lost his $900 bag of dope in the river. The man is quick as a shadow and can appear in places you would least expect.
Tonight's pilot might be a bit much for American audiences (who flock to MTV's 'debauchery fest without depth,' Jersey Shore like drones), but if you jump ship now, you will miss the phenomenal Tea (Sophia Black-D'Elia) episode next week, which really gets to what makes Skins stick out among any teen drama produced in America since My So-Called Life premiered back in the 90s. While I was initially skeptic of MTV's take on one of my favorite shows, I can say that I am pretty happy with the finished product. Does it need any improving? Yes, but it also needs a chance to find it's footing first. Some of the most popular shows on TV didn't grasp viewers right at the beginning. Hopefully, Skins will find it's voice and join the ranks of those other shows who proved their strut as the weeks went on, because it definitely has the potential. It just needs the opportunity.
What did you think about MTV's Skins?