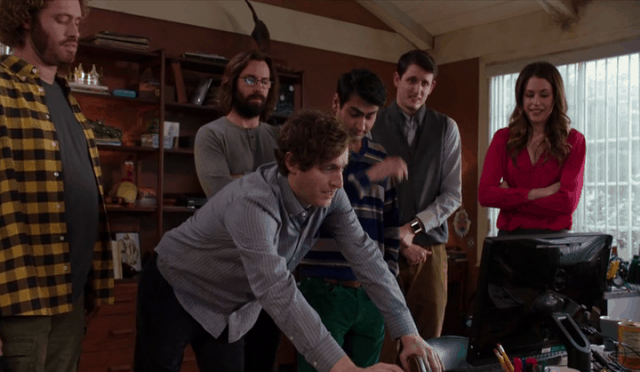 It's been almost 3 seasons and Silicon Valley has been teasing Pied Piper's imminent launch for ages. After all, that's supposed to be the whole point of the show isn't it? Well, it looks like the moment has finally arrived. Pied Piper's launch is imminent and Endframe and Gavin are laughably behind. In the previous episode, I complained about how the plot wasn't moving along fast enough. If I'm being honest here, some parts of this episode felt rushed. I mean they literally ran a 2 day beta and immediately launched the product. No one does that. Literally no one. But after wasting the previous episode with pointless filler, I kinda see the need for the plot to move along.
We start with Richard arguing with the team about not pushing out the beta. It's riddled with platform-breaking bugs so it really shouldn't be pushed out. Except that Gilfoyle's already sent his girlfriend an invite. After some encouragement from Gilfoyle's girlfriend he's finally ready to do it. So they decide to open the beta by inviting a total of 40 people. In case you weren't sure before, then I'm confirming it: This is called the pre-alpha stage, NOT the beta stage. Silicon Valley really slips up by not getting this crucial detail right.
Meanwhile the Bachmanity problems continue. Erlich has to give away all those pointless things that Big Head bought for himself. Big Head's evil business manager is kind enough to inform him that since Erlich was Big Head's business partner, he's bankrupt too. And this is a sign of change. Silicon Valley's always portrayed Erlich as someone who's sort of invincible. This is one of those situations he can't insult his way out of. Although, to be sure he does try. Apparently, Big Head's business manager ran off with some of Big Head's money and now that money's gone. What's more, a self-righteous attorney is threatening to prosecute them if they don't pay the people they hired for that Alcatraz party.
Of course, the solution to Erlich's little problem is right there: the Pied Piper shares. Apparently, at this point, what with the platform officially launching, those shares are sure to cover those expenses. The question is if Erlich can really make the sacrifice. Let go of a ton of potential money to save Bachmanity? The show means for us to believe that he really does sell those shares. I still think that he didn't. If he did, that would be a huge moment for the character. But I don't think he's ready to let go just yet.
Meanwhile, there's another competition going on between Dinesh and Gilfoyle. This time it's about who has more friends. The answer of course is Jared, who's got so many friends that the invitations are too few for him. Gilfoyle just gives his invites away while Dinesh starts sniping people to expand his list of invited people. One of those snipes turns out to be one of Gavin's cronies impersonating Richard's friend.
Now, I don't even know what the show wants to do with Gavin anymore. They're trying to portray him as some sort of supervillain and at the same time they're portraying him as some sort of work psycho. So when they decide to investigate Dinesh's so called friends, they realize that Gavin illegally gained access to the beta and is taking a good look at it. Now, they can't have that. So they fill his devices with malware and burn him out which leads to a panicked total lockdown at Hooli. Now, Supervillains don't get irrationally scared like that. The show needs to decide what to do with him.
Gavin's craziness is starting to cost him dearly though. First, his spying gets reported, now his top engineers have forsaken him. How will he build his platform now eh? It's starting to feel like there's nothing to stop Pied Piper and we'll see what the show does with that.
In the meantime, there's also a backstory with Monica where she doesn't like the Beta when everyone loves it, but in the end she turns it around and encourages Richard to release the platform. Apparently, she passed on Slack, a weird company that now costs 3 billion. Erlich's apparently decided to sell his shares (or has he?). The platform launches in 3…2…1
Best Moments:
"I know exactly where it is. It's at the bottom of the bay."
"I don't want to count our chickens before they hatch, as 3% percent of hatchlings are born mutated or dead."
The Security Manager getting yelled at by Gavin.
The attack on Hooli and Gavin's response.
Gavin's top engineers quitting…again.
Finding out who Gilfoyle's real friends are.
PIED PIPER IS FINALLY LAUNCHING PEOPLE!
Silicon Valley airs Sundays at 10:00 PM on HBO.
Silicon Valley 'To Build a Better Beta' Review
Summary
This week's Silicon Valley covered the big launch of Pied Piper along with a potential character development moment for Erlich.