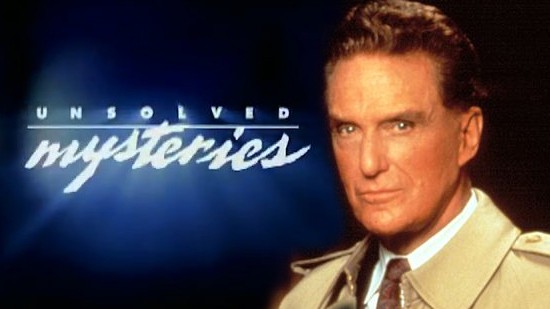 Unsolved Mysteries was at one time one of the most popular shows on TV. I can still recall sitting down with my family in the evenings to watch and be amazed by whatever strange and unusual happening might have been dredged up to be put on display. For the longest time Robert Stack was absolutely great as the host and the face of the show. But of course like all things this show had to go by the wayside when interest waned and people moved on to other things. But now that enough time has passed, perhaps it's time to revisit the show and think about sprucing it up enough to make it a desirable program again.
The biggest concern at this moment would be to figure out just who could take Robert Stack's role. No one could ever take his place, not even Dennis Farina, who hosted the show until it finally dropped off the map in 2010. Networks will still show reruns, but that's about as close as anyone's been able to get to the original wonder of the program for a while. Stack passed away in 2003, and Farina sadly passed in 2013. Both were exceptional hosts and yet even if they were still with us their advanced years might very well make a return to the show rather difficult if not impossible. So that leaves us with the idea of just who could fill that spot.
Two possible choices are Patrick Stewart and Ted Danson. Both men show an exemplary knack and a stunning amount of charisma. They are both highly regarded in their roles and could quite easily step into the gap to host a new show. Both men have enough charm to become the next face of the show and enough poise that they would have little if any problem taking up the mantle that Stack and Farina once occupied. In many ways the role is nowhere near as challenging as anything they've ever done, but it is an important position all the same.
The show itself would have to be revamped only a little. Updated technology and research methods could be applied to the old template and obviously new and newly uncovered mysteries would need to be employed into the show to make it interesting. Also, in this highly-sensitive world that we live in there would need to be a healthy regard for what might make people uncomfortable and what would be deemed as acceptable. From that point it would be wise to figure out just what the show could get away with and what would be deemed offensive by the FCC and could possibly derail it before it ever got going.
Unsolved Mysteries was a great show in its time and could be in this time since people tend to love unresolved issues no matter how much they might protest otherwise. It's the drama, the story of an unsolved case, and the unknown that thrills people no matter what they say. People love a good tale that never seems to reach a conclusion.
Tell us what's wrong with this post? How could we improve it? :)
Let us improve this post!