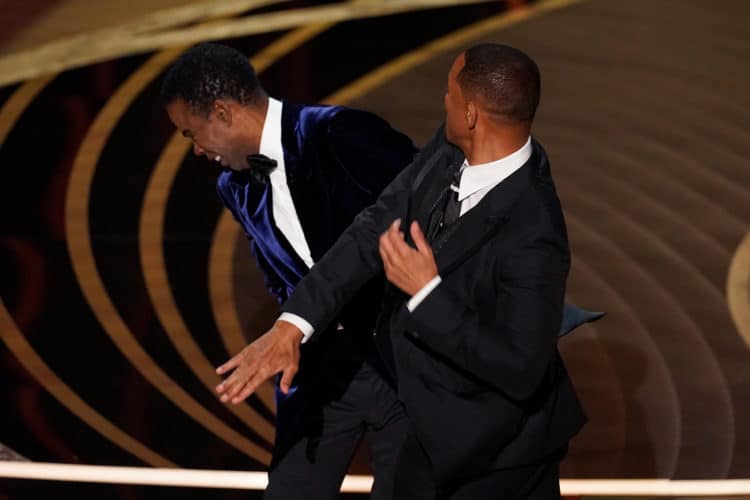 If you have been a longtime Will Smith fan, you've probably been waiting to see him win an Oscar. One can argue he was robbed for his second nomination back in 2006 for the Pursuit of Happiness. I mean, come on, whenever he cries in a movie, it's just so frigging hard to not cry yourself. The man just has that kind of power in his performances. Before he was nominated for the Pursuit of Happiness, he received his first nomination for playing Muhammed Ali back in 2001. The movie, which is actually titled Ali, showed him in one of his first serious roles, proving that he can do far more than just play the funny kid from Bel Air. And when he's not doing that, he's actually pretty good at playing a convincing action hero.
As a guy who grew up in the late '90s and early 2000s, it was pretty hard to not be a fan of Will Smith. And I just have to say, I do think I'Robot is one of his most underrated movies. I actually saw him in that and thought he was the best action hero who can also be funny. Oh, and of course, there is one of his most roles in Bad Boys. Okay, so I haven't seen the last Bad Boys, but it's pretty hard to not associate Will Smith with the Bad Boys movies. After seeing him in so many action movies, I can hardly see him as young Will in the Fresh Prince of Bel Air. But hey, that just shows his incredible range as an actor. He can be funny, he can be a tough guy, and he can make you cry.
Speaking of which, that's probably why he won the Oscar recently for his performance in King Richard. Okay, so I must confess, I have yet to have watch King Richard. I have seen bits and pieces of it, but back when it was available on HBO Max, I just never got to watching it. Oh, but believe me, I will check it out very soon and I'm sure I'll discover why he won the Oscar. I may not have seen Will Smith in King Richard, but I have seen his other two movies where he received Oscar nomination. I can already tell, the fresh prince himself deserved this Oscar win.
However, as everyone knows by now, Will Smith winning the Oscar wasn't the big talk of Academy Awards night. The real highlight of the award show was his very unexpected and confusing altercation with comedian icon, the one and only Chris Rock. Seriously, was anyone else scratching their heads after that little incident? For those who aren't familiar with the details, Chris Rock made a rather controversial joke about Will Smith's wife, Jada Pinkett Smith. What Chris Rock said had to do with Jada Pinkett Smith's alopecia, a condition in which the person suffering from it has sudden hair loss that starts with several bald patches. And for those who are curious about the joke itself, Chris Rock told her he couldn't wait for the sequel to G.I. Jane.
Okay, if you were watching the Oscars and heard Chris Rock say that, don't lie. You know you laughed at it. Heck, Will Smith even laughed at it. His wife, on the other hand, didn't seem to appreciate the joke and gave her husband a rather serious look. And several seconds later, just as Chris Rock was trying to continue with his monologue, Will Smith actually walked up on stage and gave him a quick slap. Oh, but it didn't stop there. Chris Rock was being Chris Rock and actually laughed it off, but when Will Smith returned to his table, he literally screamed at Chris Rock, telling him to keep his wife's name out of his effing mouth. Only he really said the actual swear word, and he said it twice. Boy, talk about an unexpected and unfortunate turn of events.
Now again, with Chris Rock being Chris Rock, the man just continued to laugh it off and went on with his monologue. I mean, come on, you got to hand it to this guy, he really did handle this with some serious class. And then the whole ceremony just kept going on as if Will Smith didn't slap Chris Rock in the face. P. Diddy did come out right afterwards and reveal that they would work things out after the ceremony. And as of now, according to him, the two men have indeed worked things out. That's according to him, and I hope he's right.
But let's talk about how things transpired after the slap. Rightfully so, Will Smith would subsequently go on to win the Oscar for Best Actor. He then gave a rather teary-eyed and a bit awkward speech, basically apologizing to everyone except Chris Rock. The ceremony went on and the only thing viewers could think about is trying to comprehend the slap. Without a doubt, that was the biggest and most bizarre moment of the awards show and will probably not bode well for Will Smith. He basically ended the speech by saying he hopes the Academy will allow him back, which seems unlikely. In his own, rather strange way, I do believe he feels ashamed and embarrassed by his actions. But after seeing this, it is appropriate to ask if Will Smith should be stripped of his Oscar.
So what are your thoughts? Yes, his actions were out of line and it is surprising he wasn't escorted out of the show. Thankfully, Chris Rock has decided to not file a police report and he apparently made amends with Will Smith. I hope that's true, but as for whether or not he should be stripped of his Oscar, I'll just say that he should not be stripped. His behavior has nothing to do with his performance in King Richard. Although I have yet to have seen the movie, there is a reason he was nominated and won the Oscar. I believe it was a well-deserved Oscar win and despite his actions at the ceremony, I do not think he will be stripped of his Oscar.
We can agree to disagree, but again, I believe the incident with Chris Rock has nothing to do with his Oscar win. Will Smith has always been a phenomenal actor and I believe it's about time he has won his first Oscar. There will be consequences for this incident, which I believe the Academy will probably suspend him. He does deserve to be awarded for his performance in King Richard because the Oscars are about recognizing talent and not actions outside of the movie.
With that in mind, he also does deserve to face whatever consequences the Academy will bring on him. I'm still a fan of Will Smith and I do not believe this incident is a reflection on his overall character. Everyone has had a bad moment where their emotions got the best of them. I believe he can come back from this and I hope to see his next stellar performance after I watch King Richard.
Tell us what's wrong with this post? How could we improve it? :)
Let us improve this post!