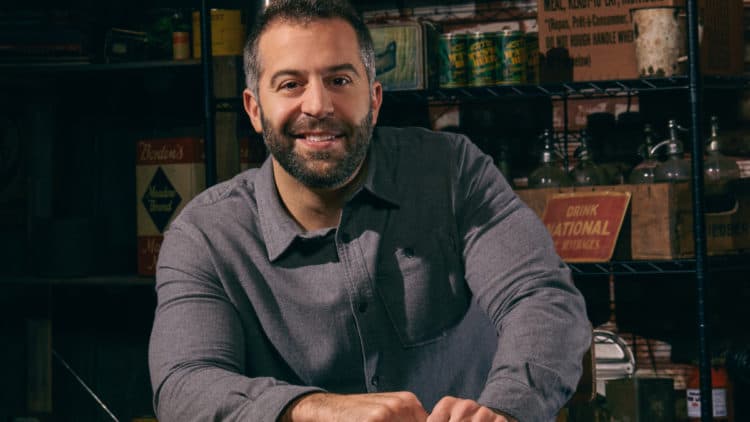 No matter where you're from, food is probably a pretty important part of your life. For most people, food is about more than just survival. Throughout history, food as played an important role in in ever culture. This is something Josh Macuga is currently exploring through his show, Eating History. Josh is a collector who has a deep rooted love of history, and now he's made a job out of exploring old foods. Lucky for us, he's decided to take viewers along for the ride. Continue reading for 10 things you didn't know about Josh Macuga.
1. He Comes From A Long Line Of Collectors
Josh is a collector by trade, but he isn't the first person in his family to enjoy collecting things. According to Josh, "I come from a long family of collectors. My dad collects hats and toy soldiers, and old liquor decanters. My uncle Dan was like the main collector in the family. He collected coins, car banks and a lot of old soda or liquor bottles."
2. His Dream Job Is To Host Jeopardy
Some would probably say that what Josh is doing now could be considered a dream job. However, Josh has other plans in mind when it comes to his career goals. Since he was a child, his dream job has always been to be the next host of Jeopardy.
3. He's Also An Actor
Josh's love for being in front of the camera isn't anything new. He has lots of experience in the entertainment industry and built up a good list of acting credits over the years. He has appeared in a few short films and TV shows throughout the years.
4. He Has A Podcast
In the last few years, podcasting has become one of the most popular ways to share content. As a result, a lot of creators have decided to add podcasting to their portfolios. Josh became a part of the podcasting community as one of the hosts of the podcast, The Afternoons with Josh, Ken, and Amanda. According to the show's bio, the podcast is focuses on "news of the week, sports memories, the latest in pop culture, and help you get through life itself."
5. He Has His Own Show On YouTube
Josh Macuga is definitely on his A-game when it comes to releasing quality content on a regular basis. He has a self-titled YouTube show. He also posts other videos on his YouTube channel including interviews and skits.
6. The Weirdest Food He Ever Ate Involved A Moose
It goes without saying that Josh probably comes across a lot of strange foods in his line of work. After all, Eating History is all about eating old foods that most people wouldn't dare to touch. Out of all the things he's eaten, Josh shows exactly which food was the weirdest: jellied moose nose.
7. He Likes Cod Liver Oil
Many people haven't even tried cod liver oil, but it still has a reputation for being gross. However, Josh Macuga would have to disagree. During an interview, he said that he was nervous about trying cod liver oil at first, "but it turned out to be pretty awesome. It was really surprisingly good!"
8. He Had A Bad Experience With A Frito
With all of the different foods he's tried, no one would ever guess that Josh's worst experience was with a corn chip. However, this wasn't your average chip. After eating a Frito from 1979, Josh admits that he was nearly brought to his knees by the disgusting taste.
9. He Wants To Try An Original Box Of Cheez-Its
If you have a bucket list, it probably consists of different adventures you want to go on or places you want to visit. Josh Macuga's also includes different old foods he wants to try. Cheez-Its are at the top of his list. But he wants to try a Cheez-It from the snack's original release. For the record, Cheez-Its first hit shelves back in 1921 which means that at this point, if he were to get his hands on an original box it'd be almost 100 years old.
10. He Likes To Watch Documentaries
When Josh isn't eating old food filming for the show, he enjoys relaxing and watching TV. Docuseries are among his favorite thing to watch. If you were wondering, yes, he did see Tiger King. Like many other viewers, he also agreed that it was pure "insanity".
Tell us what's wrong with this post? How could we improve it? :)
Let us improve this post!